Healthy Green Leafy Vegetables: Everyone loves to live a healthy and ailment-free life. For that, you have to adopt a healthy diet in your routine. Remember, healthy green leafy vegetables are the foods, which can provide nutritional value to your health.
Consuming a rich diet with green leafy foods can reduce the risk of high blood pressure, heart diseases, mental illness, obesity, etc.
India is a blend of greenery as our main occupation is agriculture. So, Indian knows the benefits of healthy green leafy vegetables in India.
Don't you want to know about the benefits of eating such vegetables? Obviously, you would love to know the benefits of those vegetables!
Benefits of Eating Healthy Green Leafy Vegetables
India is a rich heritage of agriculture, so healthy green leafy vegetables are the major parts of our country. Let us have a look at some benefits of leafy vegetables:
1. Spinach
Spinach is one of the famous leafy vegetables consumed by most of the Indians in a salad, main course, juice and soup. It is one of the healthiest green leafy vegetables in India. Ask why? It has rich nutrients such as Vitamin B1, Zinc, Carotenoids, Antioxidants and Phytonutrient.
Consuming Spinach will help you decrease oxidative stress, increase visionary power, regulate blood circulation, strengthen your bones, prevent cancer and decrease the risk of asthma. It is famous in Northern India.
2. Drumstick Leaves/Moringa Leaves
The leaves of Drumstick are widely consumed in Urban India because it's one of the green leafy vegetables with rich nutrition such as iron, vitamin c, beta carotene and calcium.
If you eat Drumstick leaves then it will reduce swelling and aches. Moreover, these leaves boost immunity, control cholesterol level in the blood, lower blood sugar and protect liver function.
Both the stem and leaves of Drumstick are tasty and have good health benefits. It is famous in Eastern India.
3. Fennel Leaves
There are numerous health benefits of Fennel leaves, as it has a good source of magnesium, Vitamin C, potassium, calcium, zinc, fiber, Vitamin A, niacin, Vitamin B, phosphorous, Vitamin K.
Fennel seeds and leaves are often used as Indian spice to increase an aromatic flavor and tastes in various Indian dishes.
Eating Fennel leaves can help you in controlling blood pressure, maintaining cholesterol level, preventing anemia, treating respiratory conditions, increase brain function, regulate menstruation, treat constipation, and protect eye inflammation.
4. Cabbage
Cabbage is one of the worldwide famous vegetables which can be eaten as a meal, soup and salad. This leafy vegetable can be in green, white and purple. The antioxidant, glucosinolates and other rich nutrients are good for your health.
Cabbage helps you in losing weight, digesting easily, increase immune power. This vegetable also has the ability to reduce cancer and breathing problems.
Indian Dishes of Green Leafy Vegetables
Long we have discussed the benefits of eating healthy green leafy vegetables. Now, let's know the innovative style to cook the vegetables.
Indians love eating curry with rice and chapatti and if the curry is delicious then we don't forget to say, yummy! None other than we are talking about the royal recipe of North India – Palak Paneer which is made of cottage cheese (Paneer) cubes and spinach leaves (Palak).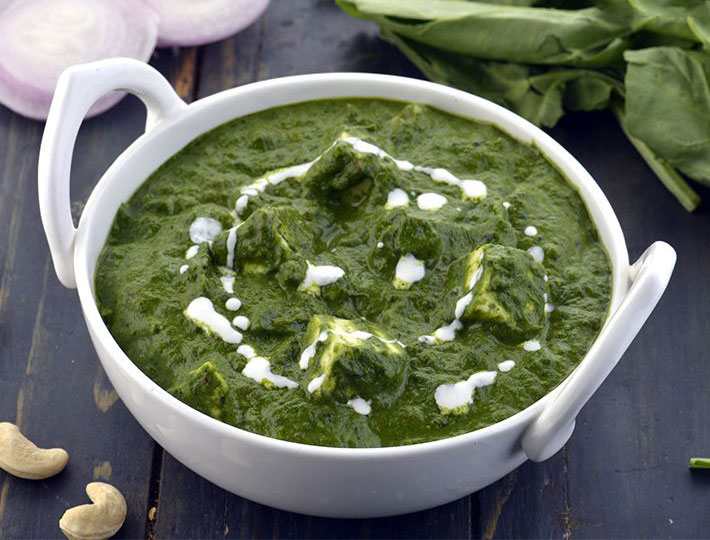 This cuisine is the heritage of Punjab and now it is popular in the whole of India. The vitamin, protein, fat and minerals of the recipe are really good for your health.
You need to combine rich spices, butter, a paste of spinach, and a cube of cottage cheese to make the recipe. Let us enjoy the combination of taste and health together with this leafy green cuisine.
2. Sarson Ka Saag
We use mustard oil in foods and in the body. But do you know many people consume mustard leaves? Sarso ka Saag or Mustard leaves cuisine is one of the traditional winter recipes in Northern India.
You can combine potato, corn or cottage cheese cubes to cook Sarso ka Saag with fresh butter, mustard leaves paste, and some spices such as Methi (Fenugreek) seeds, Fennel leaves, salt and sugar.
Serve this hot healthy and tasty cuisine with different kinds of chapattis such as Makki ki Roti, Gehu ki Roti and Bajra.
3. Methi Chaman
Methi or Fenugreek leaves have nutritional values such as minerals, vitamin, and carbohydrate. Methi leaves help in boosting immunity, blood circulation, and high blood pressure control and reduce the cramps of menstruation.
Fenugreek seeds and leaves are used in various curries. Methi Chaman is a special Indian green cuisine with is made of cottage cheese cubes and grinding of spinach, Methi leaves and Bothua leaves.
This fine paste is cooked by adding mustard oil, salt, spices and lemon juice. Eating this healthy green recipe is not only good for health but it's also tasty.
4. Cabbage Kofta
Cabbage or Gobi Kofta is also one of the tasty Indian cuisines which are made of shredded cabbage, chilli, chickpea flour, chopped onions, garam masala (spice), coconut powder and coriander powder.
The amalgamation of these ingredients help in making round Kofta balls and after frying them, add these balls to the gravy.
5. Pui Saag
Pui Saag (Perennial Plant) recipe is one of the nutritious dishes in East India, especially in Kolkata and Kannada. This stealthy climber leafy plant has low calorie.
It enhances immunity, reduces cholesterol and facilitates digestion. It is also good for obese people and control blood pressure.
Cooking Pui Saag or Perennial plant is easy. You just need to boil the leaves and small steams and add salt, turmeric and sugar as per your taste. This recipe is one of the meals to eat with steamed rice.
Summary
Green vegetables are an essential part of a healthy diet, and are packed with nutrients like fiber, vitamins, and minerals. Some of the options include broccoli, kale, spinach, and green beans. Whether you're looking to add more color to your meals or get your daily dose of vitamins and minerals, incorporating green vegetables into your diet is a great way to stay healthy and feel your good.