Apple Compote Recipe
Apple Compote Recipe is a simple and quick dessert for a busy weeknight.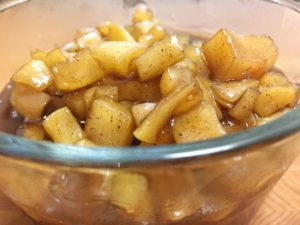 What is a Compote?
A compote is a simple dessert that is made by using fresh or canned fruits which are cut into large pieces and then stewed in sugar syrup. While the fruits are the main ingredient in a compote, they can also include alcohol such as wine, brandy, or rum and can also be flavoured using cinnamon, vanilla, or citrus peels and even grated coconut.
The history of a Compote
Compotes originated in France in the 17th century. In fact, the word compote comes from the french word for mixture and was believed to balance out the humidity levels in the body during medieval times. Therefore initially the french used to serve compotes in the afternoon along with sour cream which is also a cooling agent but later it evolved to a beloved but simple dessert served at the end of dinner.
What is the difference between a compote and a coulis?
A compote and a coulis are both prepared using fruits and that is where their similarities end. A compote contains pieces of fruit whereas a coulis contains pureed fruit.
How to serve compote?
Compote can be served either warm or chilled as a dessert on its own. This is especially great for busy weeknights. You can also use it in the following ways:
Pour a dollop of compote over a slice of cake or ice cream.

Make the humble compote a part of a decadent charcuterie board full of an abundance of cheese and cold cuts.

You can use it to create a layer in your custard or even a yogurt

You can also create a signature sangria by pouring a little bit of the compote in a wine glass and topping it with some wine.

You can also use it as a topping for pancakes, waffles, or even french toast.

Make homemade frozen pops by combining the compote with a little bit of milk and then freezing it in molds.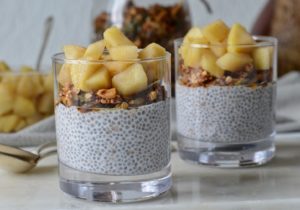 When it comes to making an apple compote, pay attention to the kind of apples you are using. Usually, you cannot go wrong with granny smith, fuji, McIntosh, or gala.
Ingredients:
3 apples

1 tsp cinnamon

2 tbsp butter

2 tbsp brown sugar
Directions:
Start by peeling and dicing the apples.

Place a saucepan on medium heat and allow the butter to melt.

Once the butter has melted completely, add in the brown sugar.

Stir until all the sugar has dissolved completely.

Now add in the cinnamon and the apples.

Cook until the apples turn soft, this should take around 15 mins.

Enjoy as-is or keep in the refrigerator to chill.
Storage:
Keeps well in the refrigerator for up to a week.
Citrusy apple compote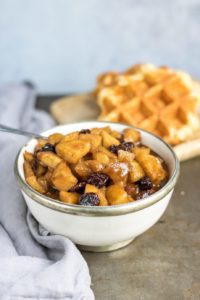 Ingredients:
2 apples

½ cup of orange juice

¼ cup of brown sugar

1 tbsp lemon juice

1 tsp nutmeg

Salt to taste
Directions:
Peel, core, and dice apples and keep them aside.

Place a saucepan on medium-high heat and pour in the orange juice, lemon juice, and brown sugar and stir until the brown sugar has dissolved completely.

Now add in the apples and cook until they are tender and the mixture has thickened.

Add salt to taste and garnish with nutmeg.

enjoy!
Whiskey apple compote
Ingredients:
3 apples

¼ cup butter

½ cup pecans

2 tbsp white sugar

½ cup water

½ cup raisins

1 tbsp whisket

1 tsp vanilla extract

Salt to taste
Directions:
Peel, core, and dice the apples and set them aside.

Add butter into a saucepan and let it melt over medium-high heat.

Add in the pecans and let them cook in the butter for 2-3 mins.

Remove the pecans and place them into a small bowl and set them aside.

In the same saucepan, add the apples and allow them to cook until they are soft.

Now add in the sugar and stir well so that it covers the diced apples.

Pour in the water, raisins, and salt and stir and allow to cook until the raisins increase in size.

Now add in the whiskey, vanilla extract, and toasted pecans and stir well.

enjoy!
We hope you liked our Apple Compote Recipe. For more such recipes information, follow our Blog, foodiewish.com.