Starbucks Cold Foam Recipe – Starbucks cold foam recipe is a delicious, creamy and thick foam that can now be made easily at home with just a few choice ingredients and equipment. There is no doubt about it, Starbucks has revolutionized the coffee game. They gave us delicious drinks that never failed to perk us up and provided caffeinated fuel when we needed it most.
Starbucks Cold Foam Recipe
No doubt we are all fans, but have you ever thought about replicating a Starbucks drink at home? it is not as difficult as you might think.
The evolution of Starbucks from espresso drinks that were way different to other cafes to blended frappuccinos topped with oodles of thick whipped cream to seasonal drinks such as the pumpkin spice latte which is for sure the unofficial drink for fall has been what can only be described as coffee dreams brought to life.
Starbucks latest offering of the cold brew with the newly popular starbucks cold foam takes this evolution a step further. Starbucks began to offer cold foam in 2014 with its American con crema drink which had a coffee spiced foam. Now Starbucks offers you the option of adding cold foam to almost all of its cold beverages including iced lattes, iced cappuccinos, iced chai tea lattes, and even its violet and pink drinks.
So, what exactly is Starbucks Cold Foam Recipe?
The foam that is present over our lattes and cappuccinos is made by frothing milk with hot steam and producing microbubbles. Conversely, starbucks cold foam recipe is made by frothing milk without using heat or steam resulting in a creamy foam that is perfect for topping off cold brews, nitro coffee, iced coffee, and other cold beverages.
Cold foam is made by using non-fat milk as it has a higher protein content than whole milk so when vigorously blended, this high protein milk makes a nice strong foam. Starbucks Cold foam is not very flavourful and does not quickly get incorporated into the drink as it tends to float on top of the drink. So, for a tastier starbucks cold foam recipe, a little bit of flavor is added to the milk before blending it.
These Cold-brew with foam drinks are so popular at Starbucks that they even have a specialized lid design thus optimizing your cold foam experience. These special lids have a triangular hole punched on the top of them allowing you to get both the foam and the brew whilst taking a sip.
Starbucks Cold Foam Recipe
Ingredients to make Starbucks Cold Foam Recipe
Non-fat milk ¼ cup

Simple syrup 1 tsp
Equipment needed to make Starbucks Cold Foam Recipe
Or
How to make Starbucks Cold Foam Recipe?
For the french press
Pour the non-fat milk and the simple syrup into a french press.

Cover it with the lid and move the plunger up and down at least about 30-40 times.

You will notice that it produces a thick and creamy foam.

Pour the foam over the cold beverage and enjoy!
For the milk frother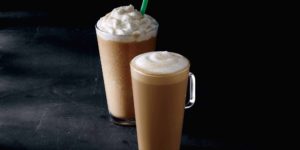 Pour the milk and simple syrup into a pitcher and submerge the milk frother completely in it.

Turn the frother on and froth until the milk starts to thicken, froth for at least 20 secs until the foam produced is thick and creamy.

Now pull the milk frother towards the top of the pitcher slowly and remove.

Pour the foam over the cold beverage and enjoy!
Notes:
While the French press and the milk frother work well to get the desired results, the main goal is to make sure that the bubbles produced are tiny and almost unseen so that a creamy look is achieved.

Never overfill the french press as the quantity would double in volume as the air is pumped.

If you possess neither a french press nor a handheld milk frother, you can still recreate the cold foam by pouring the milk and simple syrup into a transparent jar with a tight lid and shaking vigorously until you are left with a thick, creamy foam.

Cold foam can be used on any cold beverage as an alternative to milk or even in addition to it to make your drink cafe quality.

Take the cold foam craze even further with the addition of flavored cold foam using brown sugar syrup, rose syrup, lavender syrup, etc which is really simple to make.
Summary
Thanks for joining us for the Starbucks Cold Foam recipe! We hope you enjoyed making this delicious and creamy beverage at home. If you have any questions or comments, feel free to reach out. Until next time, happy brewing and enjoy your Starbucks Cold Foam!