Kashmir is heaven on the earth with so many unique food items. Here most of the items are made with meat because of the weather. The climate is quite cold here and that is why people prefer to have spicy food to keep themselves warm.
Here we have given some special dishes from Kashmir which you should try out if you go there.
1. Rogan Josh
Rogan josh is one of the major staple foods of Kashmir. This food was originated from the Mughals who preferred Kashmir during the summertime. It is a Persian dish where the name came from the Urdu or Persian language. In Urdu, Roughan means oil or butter and Josh means braise.
So rogan josh is the braised meat in oil. Some people think that it is from the word red which means Rogan in Urdu. And some people call it Rogan gosht where gosht is the meat. The speciality of this item is its bright red colour came from Kashmiri chillies and the aromatic flavour of so many special spices of India.
2. Aab Gosht
It is a stew item made of mutton and originated from Iran. It is known as the meat juice and served in specially made stoneware crockeries. This is one of the most famous traditional items in Kashmir and the major ingredients in this dish is lamb and chickpeas. If any other type of Aabgosht is available then the variation is only by the beans or peas used in it.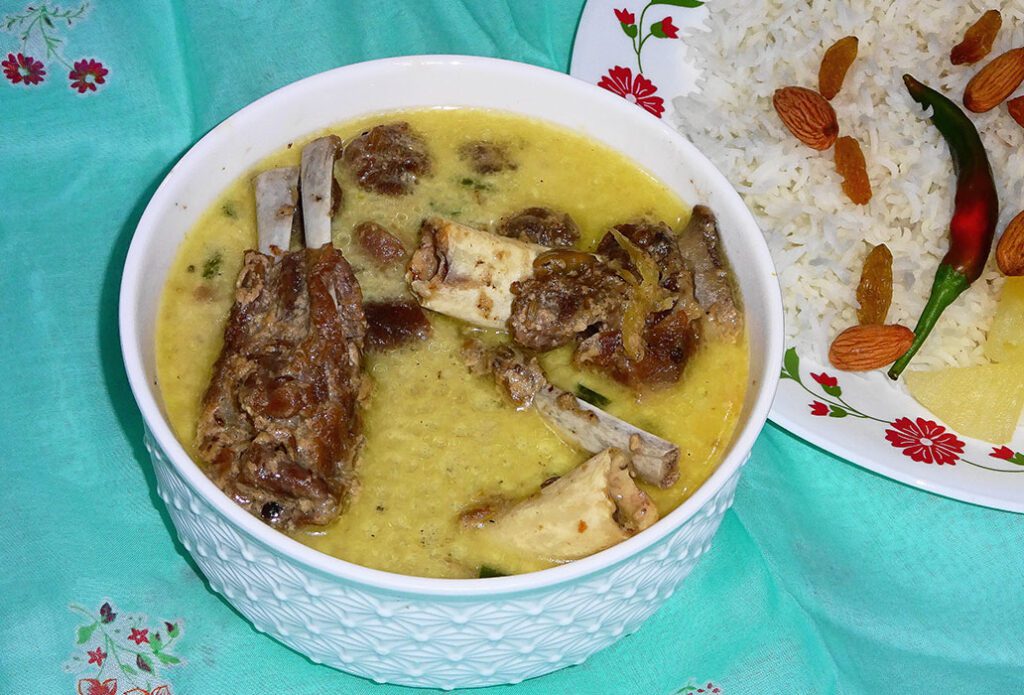 It is cooked till all the ingredients are mashed with the meat and then the broth is also served separated li with some flatbread. It will remind you of the Iranian touch in the Kashmiri culture and that is why if you want to know the actual staple foods from ancient Kashmir then this is a must-try item for you.
3. Modur Pulao
This is an awesome pulao item from Kashmir which is a bit sweet. The major ingredients to make this item are cinnamon, milk, saffron and ghee. You can also use some dry fruits to make it much more attractive.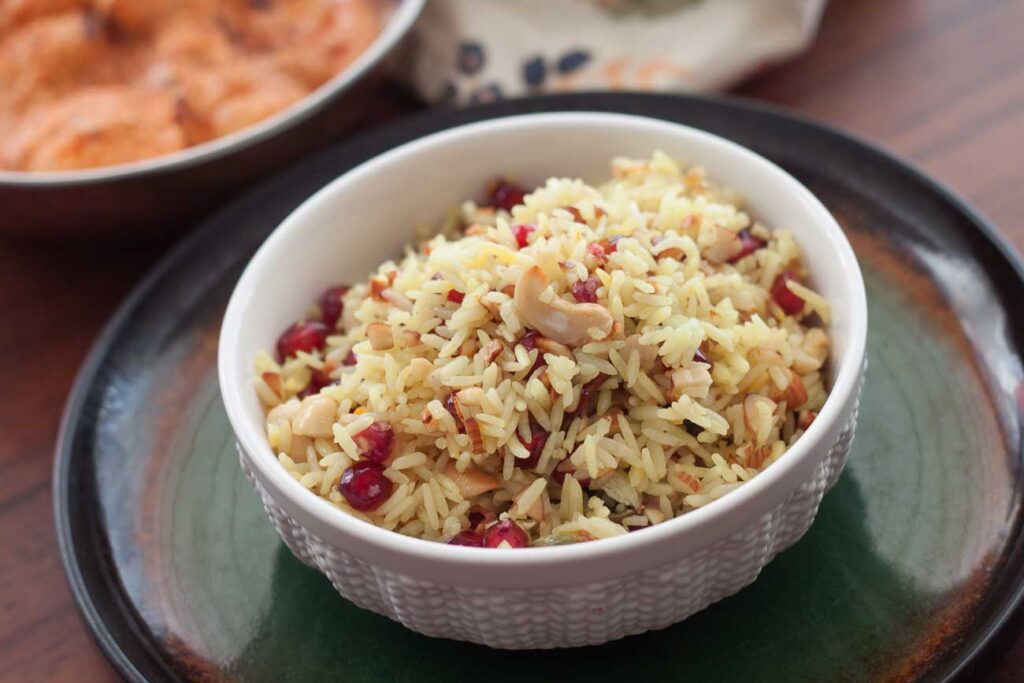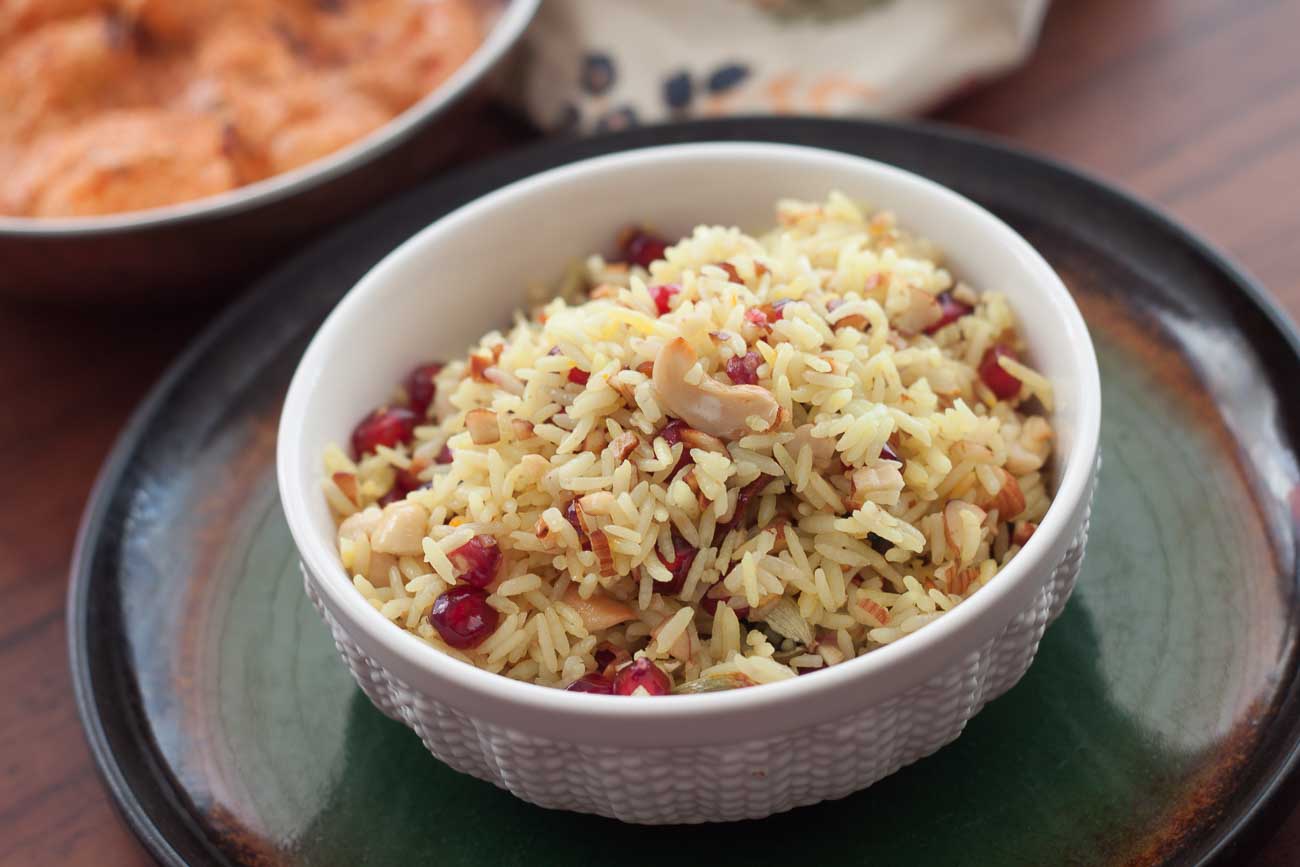 This has a sweet taste and the flavour is awesome because of saffron. Saffron has so many health advantages as well. And it gives a whole different taste to this pulao and if you go to Kashmir then you have to try this item for sure. I can bet that if you try it once then you will want more.
4. Yakhni
This item is quite famous in Kashmir from the time of Samrat (King) Akbar. It is a meat recipe based in yogurt and originated from the Persian cuisine. It is a slow-cooked recipe which was introduced in India in 1586. This is a simple recipe without any rich ingredients like onion, tomato or garlic. Because at that time the pundits in Kashmir used to avoid these ingredients.
So yakhni was a standout item. In some places, you will get it with a little bit of saffron which adds a yellow coloured hue in it. And this ingredient is quite healthy as well.
5. Dum Olav/Dum Aloo
Among so many non-vegetarian items Kashmir has a special vegetarian item named Dum Olav. It is made of potato and it is cooked with so many different types of spices. One of the major spices in this recipe is saunf.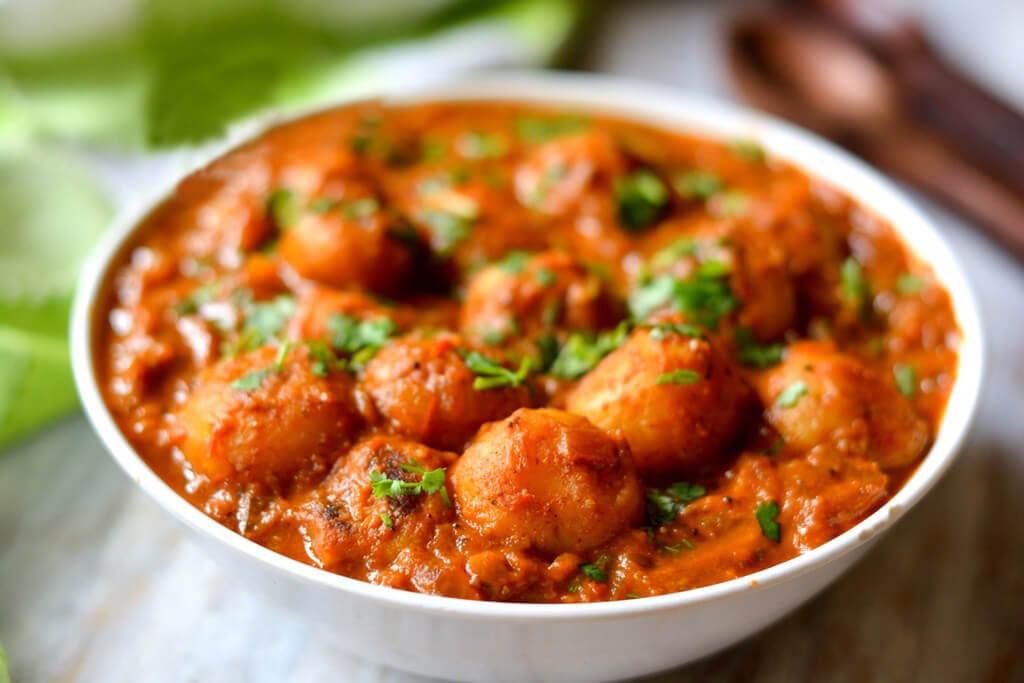 Because it makes the item a bit rich and also it keeps the body warm in the place like Kashmir where weather is always cold. It has a bright red colour because of the Kashmiri Red Mirchi which is extensively available in Kashmir.
6. Kashmiri Muji Gaad
It is a special item in Kashmir generally cooked during some special occasions of the festival. It is made of radish and fish and that is why it is a perfect mixture of the non-vegetarian and vegetarian recipe. You will get an authentic taste of fish as well as some simple flavour of radish in it.
This item is quite hot because of so many spices used in it. In Kashmir, they add some herbs to it to generate a special flavour and also it is quite good for health. Generally, rohu or Katla fish is used to make it. December is the time when it is cooked during the famous festival here named Gaada Bataa.
7. Gushtaba
It is treated as the dish of kings in Kashmir because it is one of the special items of the famous festival of Kashmir named Wazwan feast. It is made with flavoured yoghurt and soft meatballs. It is a traditional dish there and generally, it is served as the last dish just before dessert in the feast.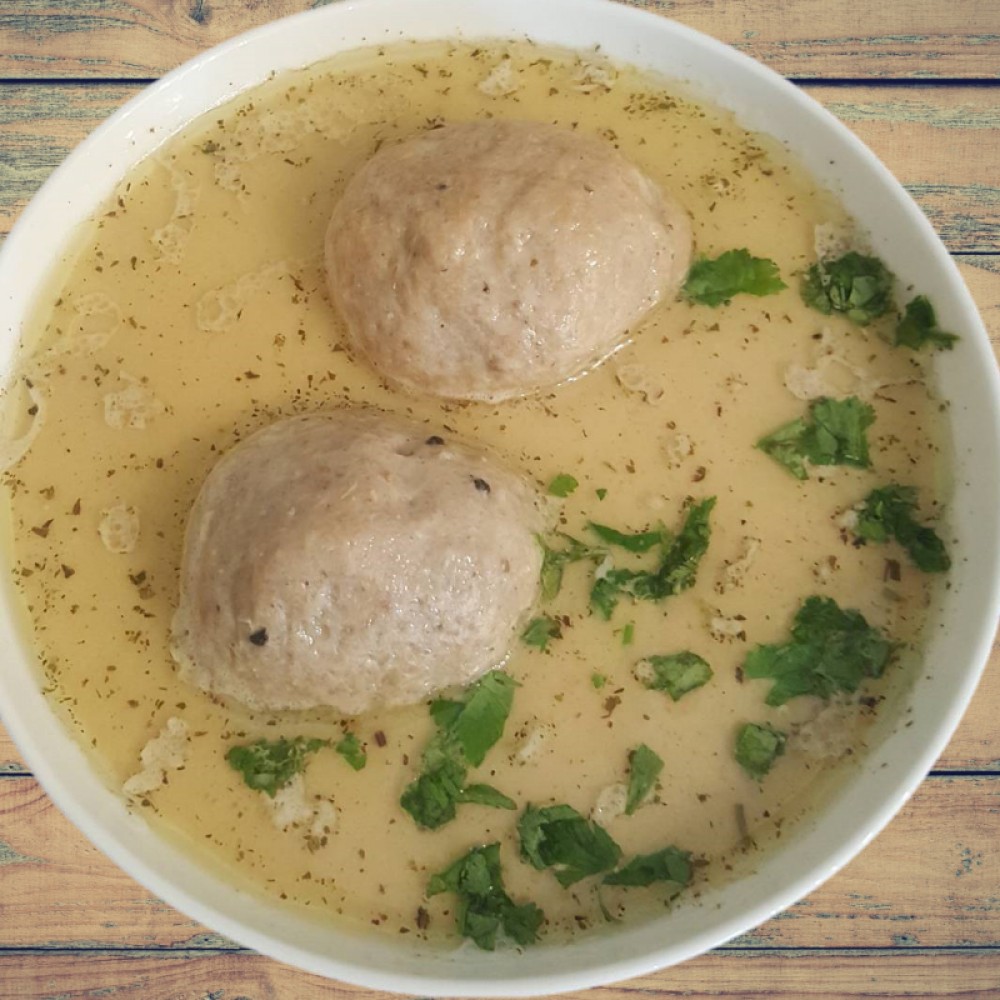 According to the tradition of Kashmir, if you refuse to have this dish from your host then it is a great insult for that person. The mutton is minced finely to make it so that the softness can get melted inside your mouth.
8. Skyu
Skyu is another vegetarian recipe made in mostly village area of Ladakh. It is kind of a pasta recipe and looks like small momos. The main ingredients to make it are some vegetables, wheat flour and goat milk.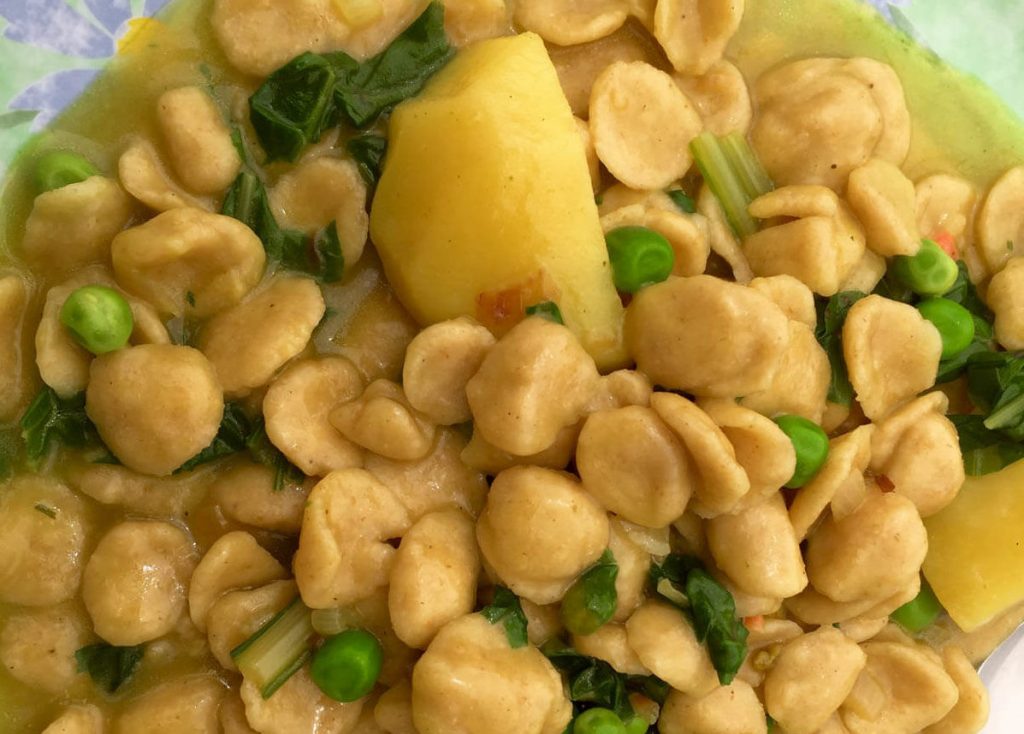 It is just like white sauce pasta but completely different in taste. If you stay in any household in Ladakh in your Kashmir tour then you will get to eat this food for sure.
9. Khambir
Khambir is the dish from Leh and made with bread. Anyone who visits leh will love this food item. Thick crust is there in this bread and generally, it is served with premium butter tea for breakfast in Leh.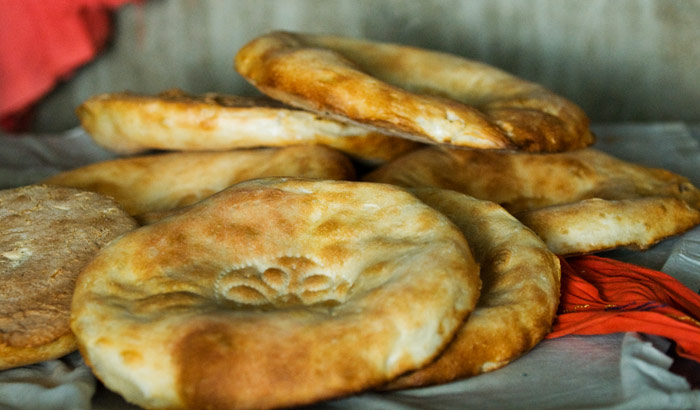 If you go to Ladakh during your Kashmir tour you will find this item in almost all the grocery stores there. And it is treated to be the signature dish of this place.
10. Paba
Paba is a traditional item of Kashmir and you will get it mostly in Ladakh. The main ingredients in this item are wheat and peas. It is served with some Tangdur which is the buttermilk mixed with some wild vegetables.
So these were some unique Kashmiri food items to try out during your visit to Kashmir. Because you will get a lot of varieties of food in Kashmiri cuisine.
Summary
And there you have it, a taste of the rich and diverse cuisine of Kashmir. With its unique blend of spices, aromatic herbs, and delectable ingredients, Kashmiri food is a true celebration of taste and culture. From the warm and comforting flavors of the traditional Wazwan feast, to the juicy and flavorful meat dishes, there is something for everyone to enjoy. So go ahead and explore the flavors of Kashmir, and let your taste buds take you on a culinary journey. Enjoy!