Restaurant Style Rajma Masala Recipe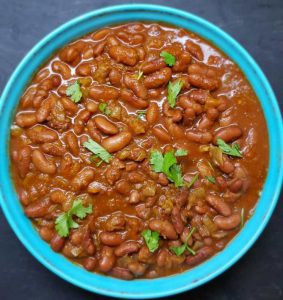 Rajma Masala Recipe: The Punjabi dish of Rajma Masala Curry is made from the kidney beans and is usually served with rice
Type: Rajma Masala Recipe, Indian Food, Punjabi Dish, Punjabi Cuisine
Cuisine: Rajma Masala Recipe, Indian Food, Punjabi Dish, Punjabi Cuisine
Keywords: rajma masala recipe, rajma masala curry recipe, rajma curry recipe
Preparation Time: PT10M
Cooking Time: PT40M
Total Time: PT50M
Recipe Ingredients:
Rajma Masala Recipe: The Punjabi dish of Rajma Masala Curry is made from the kidney beans and is usually served with rice, more often it is known as Rajma-Chawal. It is one of the most famous and mouth watering Punjabi dishes loved by the North Indians.
The specialty of Punjabi food is that it is not only famous and cooked in Punjab but is widespread in whole Northern India. North Indian usually find the dish of Rajma suitable to their taste.
Rajma Masala Recipe Ingredients:
Ingredients are the building blocks of any dish. Hence the major ingredients required for cooking Rajma Masala Curry are as follows:
2 cups of Rajma that is Red Kidney Beans
Salt to taste
1 pinch turmeric powder
1 chopped onion
5 chopped garlic cloves
1 inch chopped ginger
3 chopped green chilies
3 chopped tomatoes
Half teaspoon coriander powder
1 teaspoon red chili powder
Half teaspoon garam masala
2 tablespoon oil
1 cup fresh coriander leaves
Rajma Masala Recipe Instructions:
The steps to make the perfect dish of Rajma for you and your family are provided by us. The Instructions that you have to follow are:
Soak the Rajma one night before the preparation. Next day take it out and wash properly.
Now pressure cooker the Rajma until it is considerably soft.
Heat some oil in a pan and add the ginger, garlic and chilies. Fry them until they are a light golden brown.
Now add the tomatoes and the onions. Mix well and keep on stirring until the masala gets separated from the oil.
Now add the boiled rajma, red chili powder, and coriander powder and garam masala. Stir for a few minutes.
Let the flame simmer and cook until thick gravy is obtained.
Remove from fire. Your rajma is cooked, garnish with the coriander leaves.
The perfect Rajma is prepared for you and your family. Serve with hot rice. It can also be served with hot chapattis.
Summary
In conclusion, Rajma Masala is a flavorful and delicious dish that can be enjoyed as a main course. It is made with red kidney beans and a variety of spices that are slow-cooked to perfection. It is a staple dish in Indian cuisine and is often served with rice, bread, or roti. Whether you are a fan of Indian food or not, you are sure to enjoy this tasty dish. So, next time you are in the mood for something hearty and comforting, try making a pot of Rajma Masala.