Rajasthani Traditional Festive Sweet - Ghevar Recipe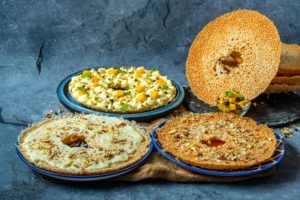 Rajasthani Ghevar Recipe: Ghevar is a Rajasthani delicacy that is most often prepared during the festivals of Raksha Bandhan and Teej
Type: Rajasthani Ghevar Recipe, Traditional Sweets, Indian Sweets
Cuisine: Rajasthani Ghevar Recipe, Traditional Sweets, Indian Sweets
Keywords: rajasthani ghevar recipe, rajasthani ghevar, ghevar recipe
Preparation Time: PT10M
Cooking Time: PT1H
Total Time: PT1H10M
Recipe Ingredients:
Rajasthani Ghevar Recipe: Ghevar is a Rajasthani delicacy that is most often prepared during the festivals of Raksha Bandhan and Teej. It is mouth-watering and quite rich. This dish is quite difficult to prepare.
Rajasthani Ghevar Recipe Ingredients:
2 cups plain flour
5 cups water
½ cup milk
1 cup ghee(for the batter)
2 cups ghee(for deep frying ghevar)
½ tsp. saffron(kesar) soaked in milk
¼ tsp. yellow food colour
2 cups sugar
2 tsp. almonds(chopped)
2 tsp. pistachios(chopped)
1 tsp. cardamom powder
5-6 drops kewra essence
Rajasthani Ghevar Recipe Method:
In a bowl, take the milk and 1 cup ghee and mix well. Add the flour and water to it and mix to obtain a batter of uniform consistency.
Add food colour and kewra essence to the remaining water and add it to the batter. The batter must be smooth and without lumps.
Take an aluminium or steel cylinder with a height of at least 12'' and 5-6'' in diameter.
Fill half the cylinder with ghee and heat it.
When the ghee is hot, add about a glass of the batter to the ghee. This will cause the foam to rise.
Allow the foam to settle and add another glass of batter, as per the size of ghevar desired.
Take care to add the batter at the centre of the hot ghee such that it spreads out and fills the corners of the container.
Using a skewer, pierce the ghevar at some places to loosen it. Let it fry for about 2 minutes until it changes colour.
Remove the fried ghevar from the ghee carefully using skewers and drain out the excess oil.
Allow it to cool.
Take 2 cups of sugar along with 3 cups of water and heat it in a pan until it comes to a boil. Lower the flame and let it oil for another 7 to 8 minutes.
Take a small amount of syrup in a bowl and allow it to cool. Check whether it is of 1 thread consistency. Once the syrup is of 1 thread consistency, remove it from the heat.
Put the sugar syrup in a flat bottomed container and dip the ghevar in it. After a few minutes, drain out the excess syrup.
Let it cool for a few minutes and top it with the pistachios, almonds and cardamom powder.
Ghevar is ready to serve now.
Summary
The Ghevar is a traditional Indian sweet that is popular during festivals like Diwali and Holi. It is a round, disc-shaped sweet that is made from a mixture of all-purpose flour, semolina, and ghee. The mixture is then deep-fried until golden brown and soaked in syrup. Finally, the Ghevar is garnished with various toppings like saffron, cardamom, and chopped nuts. This sweet is a delicious treat that is loved by people of all ages.