Carne picada translates to "minced meat" in Spanish; the stores shelf a variety of these such as cubes, thinly sliced or shaved beef. This spiced, aromatic beef is nothing but ground meat. It is usually made of chuck roast or chuck steak with a small percentage of other beef cuts. These two types of meat are less expensive, and flavourful when slow-cooked.
Carne Picada Recipe
The actual Carne picada does use a mix of half and a half; half beef and half pork. But we will be using bottom-round roast since it is readily available and easier to work with.
The carne-tion
Carne is a common term for meat, hence has a lot to add to it. Like carne picada, carne molida and carne moída refer to the same meat, ground meat. The difference is at carne guisada and carne asada.
Carne guisada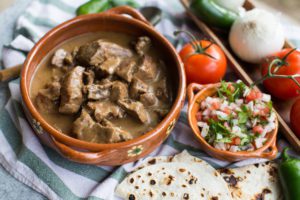 Compared to carne picada, carne guisada makes use of slightly larger pieces of lesser tender cut beef 'sauteed' in little oil.
Carne asada
Asada, literally means "grilled". Here, slices of meat are grilled and served as a whole steak or sliced used in fajitas. While picada meat is cooked into a little sauce.
How to make Carne Picada Recipe?
Fire-roasted tomatoes
14 oz fresh tomato, diced

2- 3 Tablespoon oil (vegetable/ olive)

1 teaspoon salt

½ teaspoon pepper

1 Tablespoon Mexican oregano

1 teaspoon chili seasoning/ paprika
Preheat the oven to 450 F. rinse tomatoes and slice lengthwise. Arrange them on the baking tray, the cut side facing up, this will roast the tomatoes well.

Mix the spices together. Drizzle the oil over the tomatoes and brush with spices.

Place the baking tray in the oven for 45 minutes or until roasted.

Add to the carne picada or enjoy them with egg.
Ingredients
2 pounds round roast, cubes of ½ inch

3 Tablespoon all-purpose flour

1 Tablespoon paprika

1 teaspoon garlic powder

½ teaspoon ground cumin

½ teaspoon cracked pepper

1 teaspoon salt

2-3 Tablespoon oil (vegetable/ olive)

14.5 oz fire-roasted tomatoes
Steps to make Carne Picada Recipe
Cut the round roast into cubes, dry the beef by patting it with a paper towel. Heat oil in a shallow pan, sear the cubed beef on medium flame till it browns

In a bowl, mix flour, paprika, garlic powder, ground cumin, cracked pepper, and salt.

Transfer the meat to a slow cooker. Combine well the seasoning flour mix along with the diced tomatoes.

Cook the meat for 3 hours on high.

Finish garnishing with cilantro.
Pro- tips:
Skip the paprika for fresh peppers; jalapenos, serrano pepper. Anything one you like. However, be aware of the spicy level.

Do not miss the meat searing step, this brings flavor to the meat.

Tomatoes are the reason for the sauce. Subtract or add tomatoes as you wish.

You can substitute the fire-roasted tomatoes for 2 cans of diced tomatoes.
Storage:
Carne picada can be enjoyed the next day if refrigerated, next day just heat and enjoy. Store it in an airtight container and freeze. It will last you for 2 weeks. If frozen, just thaw before heating.
Carne picada pairings: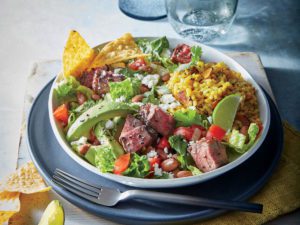 The carne picada goes well with a lot of dishes. From tacos, burrito cowls to fajitas and many more. There is no such rule that says you have to stick to tacos or burritos.
Tacos:

slow-cooked carne picada are an OTP (one true pair). The sour cream, cheese, guacamole, and meat served in the taco shell completed with chilled coke. Something anyone can enjoy any time of the day.

Beef breakfast:

spice your breakfast with mashed avocado, eggs, cheese & corn, toast, and carne picada; these will be a heavy breakfast.

Fajitas:

sauteed peppers and caramelized onion on the tortilla. Full circle with rice, guacamole.

Rice bowls:

beef rice bowl like the Portuguese rice. Create a rice bowl with rice, beans, and carne picada. Add a variety of beans and bell peppers.

Mexican pizza:

Cotija cheese, queso fresco or any other Mexican cheese, jalapenos, black olives and carne picada on flatbread is chef's kiss. The whole flatbread would taste even better if grilled.

Quesadillas:

along with cheese, beans, chopped onions, corn, sour cream, chili, cumin, and red pepper flakes. Finish with tiny pieces of carne picada and Taco bell's creamy jalapeno sauce.

Carne picada con papas:

also called Mexican style picadillo. It is carne picada with potatoes which includes carrots, peas, and green beans.
Summary
Carne Picada is a Spanish term that refers to finely minced or chopped meat. The term is commonly used in Mexican cuisine to describe a type of beef that is ground or diced into small pieces. Carne Picada is used in a variety of dishes, including tacos, burritos, enchiladas, and stews. The small size of the meat pieces allows it to cook quickly and absorb the flavors of any seasonings or sauces it is cooked with. It is a versatile ingredient that can be seasoned with a variety of spices, herbs, and other seasonings to create a wide range of delicious dishes.