Banana puri recipe is a traditional tea-time snack from the coastal region of Karnataka India known as south Canara. They are either served as-is or with delicious coconut chutney. Banana puri originated from a small coastal town in Karnataka India called Mangalore hence they are also called Mangalore buns. Essentially a banana puri is a sweet deep-fried bread that is made using ripened mashed bananas that are mixed along with flour, sugar, and cumin. This sweet and fruity taste of the bananas along with the tanginess of the coconut chutney makes it a favorite evening snack that goes great with a hot steaming cup of tea.
What is Banana puri?
It is believed that banana puri was created by accident when a group of cooks had a surplus of overripe bananas and were lacking ideas. They mixed the banana with flour and this delicious dish was created.
Ingredients for Banana Puri Recipe
Whole wheat flour 1.5 cup

ripe banana 1

Ghee 1 tsp

Cumin powder ½ tsp

Baking soda ¼ tsp

yogurt 2 tbsp

sugar 1 tbsp

Salt to taste

Oil as required for deep frying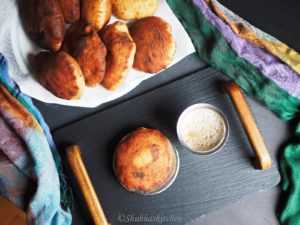 Equipment needed for Banana Puri Recipe
How to Prepare Banana Puri Recipe?
Peel and chop the ripe banana into smaller pieces and set it aside

Take a bowl and add in the banana and the sugar and using a masher, mash the banana completely until a puree is formed.

Now in this same bowl, add in the flour, ghee, cumin powder, yogurt, salt, and baking soda and knead it all together until a smooth dough is formed.

Cover the dough with a lid once it is formed and set it aside to rest for at least 3-4 hours.

Divide the dough into small balls of equal size.

Now place one of the dough balls on a clean and smooth surface and using the rolling pin, roll it into a circle of approximately 4 inches diameter.

Arrange the prepared dough circles on a large tray and cover them with a kitchen towel to prevent them from drying out as you continue to roll the dough.

Now take a small saucepan and pour the oil into it and let it heat on medium-high flame.

Once the oil starts shimmering, place a banana puri on a slotted spoon and place it in the oil, once it puffs up and turns golden brown, flip it and let the other side cook.

Remove the puri and place it on absorbent paper to drain off the excess oil.

Serve this. Banana Puri Recipe immediately with hot tea or coffee and coconut chutney if needed.
Things to Keep In Mind For Banana Puri Recipe
Banana Puri Recipe is a great recipe to make use of any overripe and leftover bananas that you may have lying around the house. In fact, the more overripe the banana, the better.

You can also use a blender to puree the bananas and add the sugar in the following step.

Adjust the sugar as per your liking, you can even omit the sugar completely as bananas are naturally sweet.

While kneading the dough, coat your hands with a little bit of ghee or oil to prevent it from sticking to your hands.
A Banana puri is commonly accompanied by coconut chutney, make your own from the recipe below.
Coconut Chutney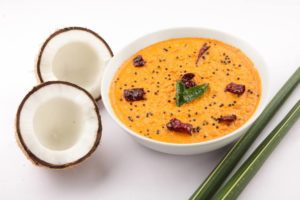 Ingredients for Coconut Chutney
For the chutney
Grated coconut 3/4 cup

Peanuts 2 tbsp

Green chilies 2

Garlic cloves 2

Cumin seeds ½ tsp

Water ¼ cup

Salt ¼ tsp
For the tempering
Oil 1 tsp

Mustard seeds ¼ tsp

Curry leaves 1 sprig

Asoefetita ¼ tsp
How to Prepare Coconut Chutney?
Start by dry roasting the peanuts until they are aromatic and set them aside to cool.

Then in a blender, add the grated coconut, peanuts, green chili, garlic, cumin seeds, and salt and blend until it is well combined.

Pour the water into the blender and continue to blend until a smooth mixture is produced.

Taste the mixture and adjust the salt and spice levels if necessary.

Pour the chutney into a serving bowl.

Now take a small pan and heat the oil and once it is hot, add in the mustard seeds.

Once the mustard seeds crackle, add in the curry leaves.

Add in the asafoetida once the curry leaves turn crisp.

Pour this over the coconut chutney and serve it alongside the hot banana puri.
Summary
Banana Puri is a delicious and easy-to-make Indian dessert that's perfect for any occasion. With its sweet and slightly crispy texture, combined with the rich flavors of ripe bananas, this dessert is a true taste sensation. Whether you're serving it as a snack or as a dessert, Banana Puri is sure to be a hit with your family and friends. So why not try this Banana Puri recipe today and experience the amazing flavors of India? Your taste buds will thank you!