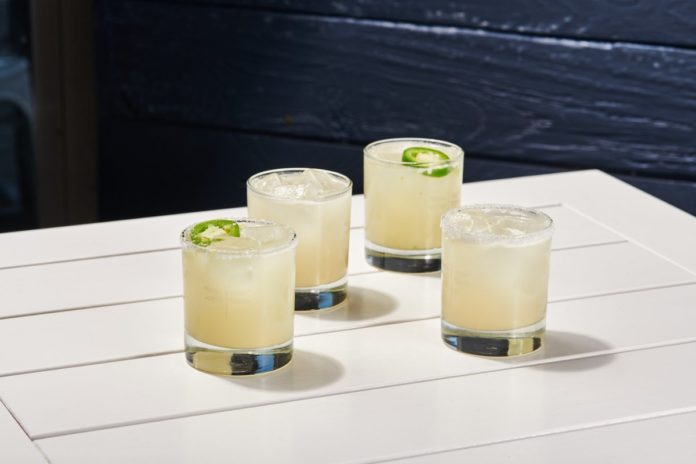 Come the weekend, and aren't we all craving to loosen up and have some fun, and what better way to indulge in some safe fun than whipping up a batch of cocktails?  They are light, indulgent drinks that everyone can enjoy. Margaritas are a mix of delicious citrus flavours with a good dose of alcohol in them.  If you like a good mix of sweet and tangy, then this will surely be your poison of choice.  Have a couple of extra, and you might find yourself light-headed, but they are too good to pass up.
The famous restaurant Bartaco is known for some good cocktails, of which their margarita is considered a classic. This drink has been hailed as the queen of cocktails by some with its tangy, clean flavour and fancy presentation. The Bartaco margarita recipe listed below will give you a very close copy of the one that you will get at the restaurant. Though cocktails are easily put together, the trick lies in layering the liquids one over another and using correct proportions.
How Bartaco Margarita got its name
If you're into history, you might like to read about the history of your favourite drink.  It's an interesting story that begins somewhere in the 1930s when a famous drink was doing the rounds, called "daisy".  This was a mix of lime juice, alcohol, and grenadine.  People could opt for a whiskey daisy, a gin daisy or even a tequila daisy.  Eventually, someone began addressing the drink by the Spanish name for daisy, called Margarita.  As the drink got even more popular, the name stuck with Bartaco Margarita Recipe.
Coming back to Margaritas
The recent pandemic, however, has dampened our spirits and shackled us to our homes.  Use that as an excuse to whip up a batch or two of these every day; after all, haven't we always been told to look for the good one in every situation?
Follow the recipe below, and you will find yourself with an excellent drink every single time.  Offer them to your friends, and these will be requested repeatedly.
Ingredients to make Bartaco Margarita 
1.5 oz libelula tequila
1 oz Combier orange liqueur
Fresh lemon juice of 1 lime
0.25 to 0.5 agave syrup
How to Prepare Bartaco Margarita Recipe
Prepare the glass to begin with. Rub a bit of lime on the rim of the glass.
Take salt on an open plate and invert the glass upside down onto the salt.
Juice 1 lime.  You may add another one if you find the lime juice to be less.
Combine all the other ingredients in a shaker and shake well.
If you are making a large batch, you can also use your food processor to blend the liquids.
Fill the salted glass with ice and pour the margarita over it.
Garnish with some mint leaves and serve while it is still chilled.
Variations to the classic Margarita
There are several variations that you can make to the classic and clean flavours of this lime-based drink.  Some interesting ones are mentioned below:
The story behind this drink is as interesting as its name.  This variation of the drink originated in Jerusalem.  It is infused with rose petals and cumin.  The name pays homage to all the journalists that tramp through the town each year.  It comes out as a good mix of sweet and savoury.
This variant uses canned and frozen limeade and takes the common variation of frozen margaritas to the next level.  It is popular in tropical countries.

This is a smoky and spicy variation of the classic margarita.  It is crafted with mezcal, grilled pineapple, jalapenos, and lime.  It is an uncommon variation but delicious nonetheless.
Garden Variety Margaritas
Have yourself a healthy mix when you add kale and ginger to the mix.  You are sure to notice the grassy flavour of the drink.  The drink is sweet and spicy at the same time, providing a nice kick that will linger long after the drink is over.
Calories in a Classic Margarita
A classic margarita contains 180 calories for a serving size of 6 oz.  This can be altered by the amount of syrup you choose to put in the drink.  The alcohol in itself is not very high in calories.
Summary
In conclusion, the Classic Margarita is a simple yet delicious cocktail made with tequila, lime juice, and triple sec. It's a timeless drink that's perfect for any occasion and can be easily adjusted to suit your personal taste preferences. Whether you prefer it sweet, sour, or a little bit of both, the Classic Margarita is sure to hit the spot. So why not shake one up today and enjoy this classic drink with friends and family!