You have surely heard of the youtube channel Bloveslife. This YouTuber created this "Blackalicious" sauce, and it catapulted her to youtube star status. She made it to go along with her mukbangs. A "mukbang," which comes from the Korean words for eating and broadcasting, is a live-streamed video where the creator eats a large amount of food while interacting with the audience. This delicious sauce featured in her mukbangs became so popular that it is now sold on amazon in a mild or spicy version.
Who is Blove?
Bethany gaskin or Blove is commonly known as a top mukbang star on youtube and is known for eating large amounts of seafood in her videos. She started doing videos on youtube in January 2017 and since then has amassed a considerable amount of followers and fans.
So, what is Bloves sauce?
Bloves sauce, named after the youtube sensation, is a rich, thick and flavourful seafood butter sauce made with spices, herbs, and other ingredients.
What does Bloves sauce taste like?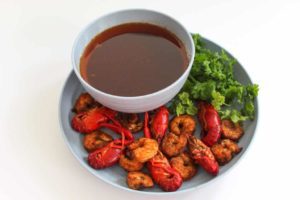 Bloves sauce is a hearty, delicious, and spicy sauce. It goes great with a seafood boil, and if you adore a little heat in your food, you will surely love the taste of this fantastic sauce.
Ingredients to make Smackalicious Bloves Sauce Recipe
How to make Smackalicious Bloves Sauce Recipe?
Start by peeling the garlic and chopping it roughly.

Add the chopped garlic and the chopped onion to a blender and blend until fine.

Transfer the blended ingredients to a bowl and set it aside.

Now take another large bowl and add ginger powder, garlic powder, paprika, black pepper, cayenne pepper, onion powder, oregano, old bay seasoning, cajun seasoning, lemon pepper, chili powder, salt, and brown sugar and mix well and set it aside.

Now place a saucepan on medium-high heat, add the unsalted butter, and let it melt.

Once the butter has melted, add in the blended garlic and onion and cook for at least 3 mins while frequently stirring so that it does not burn.

Now add in the seasoning mixture and stir well to mix it well with the butter.

Cook for another 5 mins while stirring it well, and then add in the hot sauce and Worcestershire sauce.

Cook for another minute or two, and then let it cool down.

Once it has cooled, pour it into a large bowl and enjoy!
Tips to remember while making Smackalicious Bloves Sauce Recipe
Bloves sauce is meant as a dip for seafood. But this sauce is just so flavorful and rich that it goes well with just about anything, including chicken, beef, fish, and even vegetables.

Bloves sauce can be stored in the refrigerator in an airtight container, and it keeps well for at least five days.

You can even freeze it for up to 6 months.

You can reheat a refrigerated or frozen Bloves sauce by placing it in a saucepan on medium heat until it melts.

The great thing about this recipe is that it can be tweaked to your preference. So if you prefer a spicier sauce, adjust the cayenne pepper levels or check the below variations.
Variations of Bloves sauce: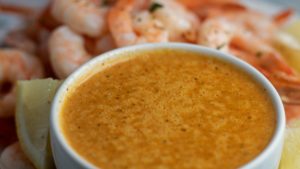 Beer is an excellent addition to a Bloves sauce giving it a nice flavor. Use citrusy or fruit beers.

Honey is also a great addition to the sauce and helps to reduce the spice levels if you do not prefer a spicy sauce.

Add chili oil for a spicier taste. The oil from the chili oil combines with the butter resulting in a rich and luxurious sauce.

Korean red paste is also an excellent addition if you want to bring more spice to this recipe.
Summary
In conclusion, Bloves Sauce is a versatile and flavorful sauce that can enhance the taste of your favorite dishes. It's easy to make and can be stored in the refrigerator for later use. Try incorporating Bloves Sauce into your next meal to elevate your dining experience. Happy cooking!