Bollas Recipe is a South African sweet dish with origins in the Cape Malay region. Let's see in this article how we should make it. It is a popular dish served with afternoon tea and is a favourite for iftar. Bollas are yeast-free round balls, similar to doughnut holes that are deep-fried. These deep-fried balls are then soaked in sugar syrup and then rolled in desiccated coconut.
Difference between goolgoolas and bollas?
Goolgoolas and bollas are similar in all ways except that goolgoolas are eaten as-is and bollas are soaked in sugar syrup and have a sprinkling of desiccated coconut.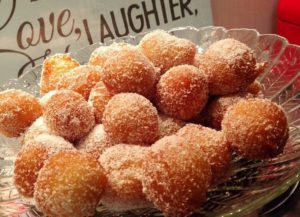 Cinnamon Spice Bollas:
Ingredients to make Bollas Recipe
To make the batter
Self-raising flour 480 g

Baking powder 1.5 tsp

Powdered cinnamon 1 tsp

Powdered nutmeg 1.5 tsp

Eggs 2

Sugar 3.5 tsp

Melted butter 6 tsp

Vanilla extract 1 tsp

Milk 1 cup

Water 1 cup
To make the sugar syrup
Sugar 300 g

Water 1.5 cups
Other ingredients:
Vegetable oil 2 cups

Desiccated coconut 200 g
Equipment needed for Bollas Recipe
Stand mixer

Small saucepan
How to make Bollas Recipe?
In a bowl, whisk the baking powder and flour.

Once it is well combined, add in the spices and set them aside

Whisk the eggs, sugar, and butter using the stand mixer.

Once it is adequately mixed, slowly start adding the dry ingredients from the bowl until they are well combined.

Now add in the milk, water, and vanilla extract, mix well and set it aside for 20 mins.

Heat the oil in a small saucepan over medium heat for at least 10 mins.

Test the oil by dropping a little of the batter into it, if the batter rises to the surface quickly then the oil is hot enough.

Take a tablespoon of batter and drop it into the oil and fry until golden brown.

Remove them from the oil and drain them on a kitchen towel.

Now prepare the sugar syrup by adding sugar and water in a small saucepan and keep stirring until the sugar dissolves completely.

Bring this mixture to a boil until it is sticky and syrupy.

Add in the dough balls one at a time and then roll them in the desiccated coconut and enjoy!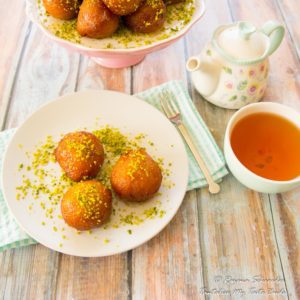 Cardamom and Orange Blossom Bollas
Ingredients to make Bollas Recipe
For the batter
Self-raising flour 280g

Baking powder 2 tsp

Cardamom powder 1 tsp

Salt 0.5 tsp

Granulated sugar 16 tsp

Buttermilk 1 cup

Vanilla extract 1 tsp

Oil 92.5 ml
For the saffron syrup
Sugar 500 g

Water 2 cups

Saffron 10 stamens

Orange blossom water 1 tsp

Fresh lemon juice 1 tbsp

Butter 1 tsp
Other ingredients:
Vegetable oil 2 cups

Ground pistachios 66 g
Directions to make Bollas Recipe
In a bowl add in the baking powder, cardamom powder, flour, and salt. Combine well and set it aside.

Take another bowl and add the sugar and eggs. Whisk together until pale.

Now add in the vanilla and oil and whisk until well combined.

Pour in the buttermilk and whisk again.

Add in the dry ingredients and mix well until a sticky dough is formed.

Take a small saucepan and heat the oil on medium-high heat.

Once it is hot enough, take a tablespoon of batter and fry it until it is golden brown and cooked through.

To make the syrup, add all the ingredients to a saucepan and allow it to boil for at least 20 mins or until a sticky syrup is formed.

Drop the fried dough into the syrup one at a time and then roll it in the ground pistachios and enjoy!
Notes for Bollas Recipe
While frying the dough, it is essential that the oil is heated up. If the oil is cold, the dough will absorb the oil.

Fry only 2-3 Bollas at a time to prevent overcrowding of the frying pan and to ensure that the Bolla is adequately cooked inside.

While making the syrup, make sure it is boiled until it starts to bubble and becomes sticky and thick. If it is thin, it will soak into the Bolla and the glossy coat will not be formed.
Summary
If buttermilk is not available, you can prepare your own by mixing together 250 ml of full cream milk with a tablespoon of vinegar or lemon juice and let it stand until it thickens. You can also just use yoghurt or laban instead of buttermilk.