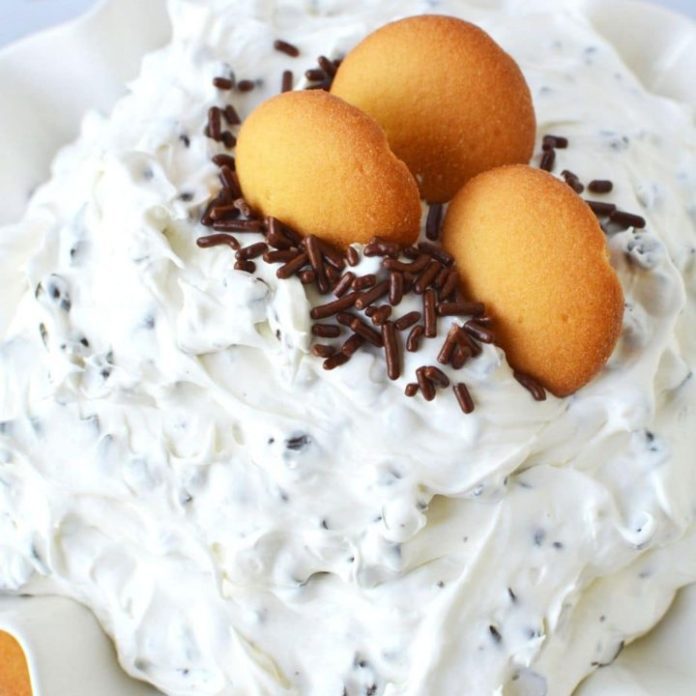 Booty Dip Recipe – If you're looking for a recipe that everyone will go down well with everyone, then the booty dip recipe is just what you need.  This is a light sweet dip to go with your biscuits or crackers or anything you like to eat it with, for that matter. In fact, it can be eaten by itself, one delicious sinful spoon at a time.
Booty Dip Recipe
This recipe is one of those that got famous after someone made a tik tok video on it. If the recipe is the subject of a tik tok video, imagine how quick it would be to put it together.
Why is the booty dip recipe called so?
How exactly the recipe got its name is unknown, but it has been assumed that it was inspired by the number of calories that the recipe contains.  Since this is a sweet dip and is very high in calories, it is safe to assume that one could watch their booty grow if they were to consume this regularly.
What goes well with the booty dip recipe?
This is an ambiguous question that can have any number of answers; however, to name a few, the dip pairs famously with:
Cut fruit of your choice (apples, bananas, pears, etc.)
Graham crackers
Marie biscuits
Cream crackers
Animal crackers (if you're having a kids party)
Put it in the centre of a charcuterie board on a sweet platter
Breadsticks
Cookies
Pretzels
On the side of pancakes
So there is pretty much anything that you can put on the side of this easy-to-make, delicious dip.
Ingredients for Booty Dip Recipe
7 oz of marshmallow fluff
8 oz whipped cream cheese
Approximately 4 oz of whipped topping
1 tbsp brown sugar
12 oz mini chocolate chips
Method of Preparation for Booty Dip Recipe
Combine the marshmallow fluff, whipped cream cheese, and whipped topping in a large bowl.  Use a balloon whisk to mix everything so that it is well incorporated.
Add brown sugar to the bowl and mix well, scraping down the sides of the bowl.  You may use a mixer at this stage to ensure that all the ingredients have been incorporated well into the mix.
Fold the mini chocolate chips in.
Server with something to dip like crackers, cookies, etc.
Tips For The Booty Dip Recipe
Before beginning, the most important thing to do is to ensure that all the ingredients (except the chocolate chips) are at room temperature.  It is impossible to incorporate all the ingredients if they are frozen.
The bowl you are using to make the dip in should be clean and dry, or else the dip might spoil soon.
The crystals in brown sugar are sometimes large.  If you find that to be the case with your sugar, give it a quick pulse or two in your food processor.
How To Store Booty Dip
This recipe stores well for up to 1-2 days in a refrigerator.  Make sure to store it only in an airtight container, as the cream cheese tends to soak up all the odours of the other food in the fridge.
It is also not recommended to freeze this dip as the consistency will be completely altered if subjected to freezing and thawing.
Alterations To The Ingredients In The Dip
You can replace the whipped cream cheese with regular cheese if you wish, but you might have to beat this longer as regular cream cheese is a lot denser.
If the dip is too sweet for your liking, try it without the brown sugar.  A teaspoon of honey also can be used to replace the brown sugar.
Try out different variations of the recipe by playing around with the chocolate chips. Dark chocolate, semi-sweet chocolate, milk chocolate, and even flavoured chocolates can be used to try out what work for your tastebuds.
Try combining different spreads with the dip.  Peanut butter, Nutella, and marmalade are some options you might want to try if you're adventurous enough.
How Many Calories Does The Dip Contain?
Depending on how it is made, this dip might contain 275 to 575 calories per serving.  This seems to be very high on the calorie scale and might give you a scare, but try to remember that you can easily enjoy this dip from time to time by manipulating your portion size.  Also, it is totally worth an extra 20 minutes in the gym, so be sure to try it out once.
Summary
In conclusion, the Booty Dip recipe is a delicious and easy-to-make snack that is perfect for any occasion. Whether you're looking for something to enjoy while watching a movie or need a quick snack to satisfy your cravings, this recipe is sure to hit the spot. With its creamy and savory flavors, this dip is sure to be a hit with friends and family alike. So, gather your ingredients and give this recipe a try! You won't regret it.