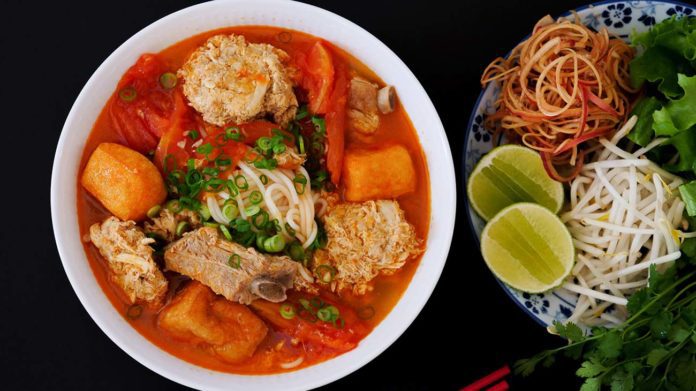 Bun Rieu Recipe is a traditional Vietnamese soup consisting of broth and rice noodles. The soup contains a pork-based broth that has tomatoes, onions, dried shrimp, and a crab paste/egg mixture making it a seafood lover's dream. Bun Rieu recipe literally translated means sea foam noodles where Bun means noodles, and Rieu means seafoam, referring to the crab paste inside this soup.
Bun Rieu Recipe
The tomatoes give this Bun Rieu Recipe its signature red colour and this soup is popular for its beautiful balance of salty and sweet flavours. The pork and dried shrimp make the broth sweet while the crab paste makes it a little bit salty.
Difference Between Bun Bo Hue And Bun Rieu
Vietnamese cuisine is known for its delicious and filling soups and each is distinct due to its broth preparation.
While both these dishes have originated in central Vietnam and consist of vermicelli noodles covered by broth and of course the vegetables and herbs on top that is typical of Vietnamese cuisine, the main difference is that Bun Rieu is a crab and pork vermicelli soup whereas Bun Bo Hue is a spicy beef vermicelli noodle soup.
Bun Rieu also has more of a sour taste mainly due to the tomatoes present in the broth whereas Bun Bo Hue has more of a deeper meatier taste due to the pork hocks and beef present in the broth.
Ingredients to make Bun Rieu Recipe
2 ½ lb pork shoulder
1 diced yellow onion
10 dried shrimp
1 tsp salt
3 stalks chopped scallions
1 tsp chili powder
6 Roma tomatoes
1 can chicken broth
3 tbsp fish sauce
1 cup crab paste
3 eggs
1 lime
½ cup oil
2 packages of vermicelli noodles
1 stalk of green onions for garnish
How to make Bun Rieu Recipe?
Cut the pork shoulder into 2-inch pieces and set it aside.
Now take a large pot and put the pork pieces into it, cover with at least 1-inch water and bring it to a boil.
Discard the water once it has boiled and add more water to the pork. This is to help clean the pork and produce a clear broth.
In the same pot, add in the chopped onion, dried shrimp, and salt. Bring the water to a boil and allow the soup to simmer for at least an hour and a half.
Now take a pan and add in 1 tablespoon of chopped scallions, chili powder, and oil. Saute for 10 secs and set it aside.
Chop the Roma tomatoes into halves and add them to the soup with the scallion mixture and simmer for another half hour. You will notice that the soup gets its distinct red color.
Now whisk eggs and the crab paste in a bowl and set it aside.
Add in the egg/crab paste mixture, chicken broth, and fish sauce once the soup has simmered.
Give the soup a good stir to mix everything well and switch off the flame once the egg and crab mixture floats to the top.
Taste the soup to make sure it is seasoned well. If it tastes bland, add more fish sauce to the soup.
Now to assemble the soup, add some cooked vermicelli noodles to a bowl and pour some soup over the noodles.
Squeeze a lime over the soup and garnish it with leftover green onions.
Make your soup tastier by adding a small spoonful of shrimp paste to your bowl of noodles and serve!
Things to Keep in Mind while making Bun Rieu Recipe
Any cut of pork that has a good amount of fat and bone such as pork shoulder or pork butt can be used to make the broth.
Make this soup your own by adding toppings of your choice. Bean sprouts, fried tofu, and even shredded cabbage work well.
Use dried shrimp in the broth to give it some much-needed sweetness. Just make sure to soak the dried shrimp in water for 10 mins to soften them up and make them easier to work with.
Ingredient Substitutions for Bun Rieu Recipe
You can use white onion if yellow onions are not available
This soup is characterized by its red color so if chili powder is not available, use paprika
While Roma tomatoes are recommended for this recipe, you can use any tomato of your choice.
Use thin rice noodles if vermicelli noodles are not available.
Summary
And that's a wrap for our Bun Rieu recipe! We hope you enjoyed making and eating this delicious Vietnamese dish. If you have any questions or comments, feel free to reach out. Until next time, happy cooking and enjoy your Bun Rieu