The chicken Chasni recipe has been perfected by preparing time and again and hence also has several variations. This can be held in the category of the few recipes that have managed to amalgamate the flavours of the East into the West. This curry is a delicate balance, teetering on the edge of spicy and creamy if made perfectly.
Where Is The Chicken Chasni Recipe Popular?
Surprisingly, this dish is most popular in the home of the famous dish Chicken Tikka Masala, and no, that is not India. Chicken Tikka Masala originated in Scotland when the chef in an Indian chain of restaurants was trying to whip up a spicy curry. Legend has it that the same chain is credited with the Chicken Chasni recipe too, but that is yet to be proved.
What is sure is that this Chicken Chasni Recipe is popular in Scotland and, in fact, outsells the Chicken Tikka Masala by a large margin. Its bold yet creamy flavours might have something to do with that fact.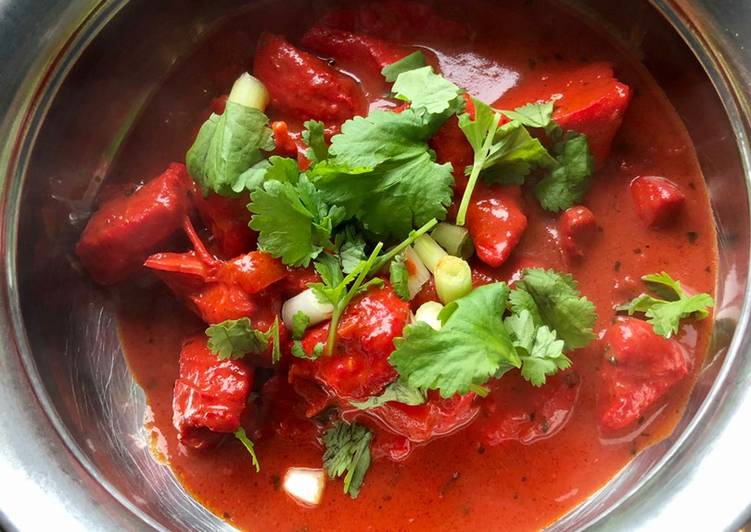 Predominant Flavors In Chicken Chasni
Chicken chasni is a beautiful marriage of sweet, tart, and spicy flavours. The Indian spices used give it the heat; the mango chutney gives it its sweet and sour notes, while the mint adds a freshness to the gravy that will linger on your tongue following each delicious bite.
Though it uses Indian spices, this dish comes across as more of a Chinese food item.
What Kind Of Chicken To Use For Chicken Chasni Recipe?
Broilers are usually the good one when it comes to cooking curries. Some people swear by using only drumsticks for this recipe, but thighs and wings should go well in it, too since they are all succulent pieces of the chicken.
Is The Bold Red Color Necessary?
Though some prefer it, the bold red colour is only an identification hallmark of the dish. Some restaurants even serve it in a pale yellow form. You can feel free to add a bit of food colour if you want that blood-red colour to your dish. Be careful when using food colours as they are high in additives and might cause allergic reactions to some.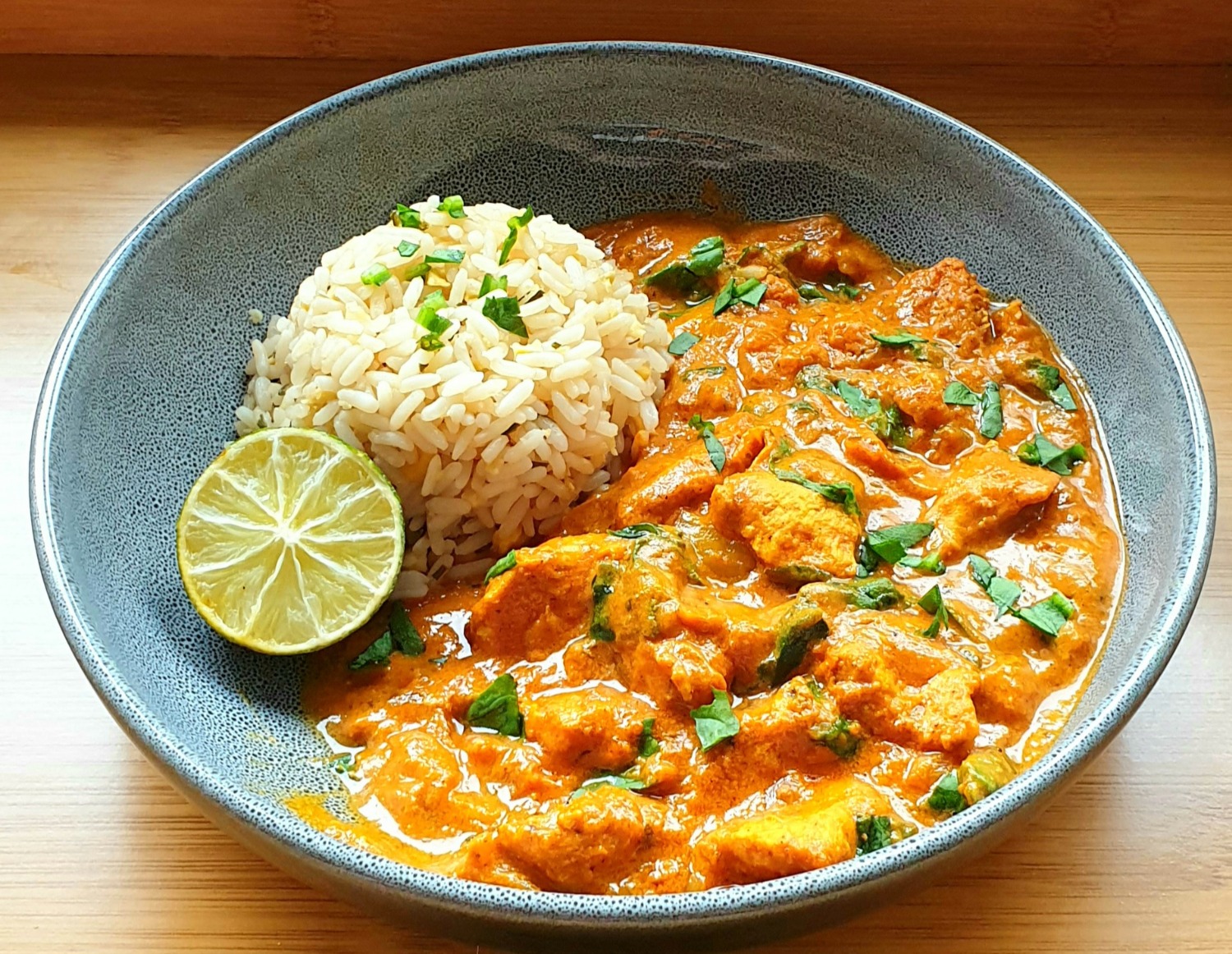 Ingredients to make Chicken Chasni Recipe
2 tbsp canola oil
1 tbsp ginger garlic paste
¼ tsp turmeric
1 tsp ground cumin
1 ¼ cup curry sauce
300 gms pre-cooked chicken
1 ½ tbsp mango chutney
1 tbsp mint sauce
2 tbsp tomato ketchup
70 ml cream
¼ tsp garam masala
1 ½ tbsp finely chopped coriander leaves
Red food colour (optional)
Salt
Method of Preparation for Chicken Chasni Recipe
Heat oil in a frying pan. Add ginger and garlic paste and cook it till the raw smell leaves completely.
Add the turmeric and cumin powders. Let this sizzle for a few seconds, and then add the curry sauce. Let this simmer till it is slightly reduced.
Add the cooked chicken to the sauce.
Add the mango chutney, mint sauce, and ketchup. Simmer this for a while as well.
Once the sauce is thick enough for your liking, you can add the cream. This is also the stage at which you can add your food colouring if you are using it.
Add the garam masala and coriander and simmer for a few more seconds.
How To Serve Chicken Chasni Recipe?
This gorgeous red gravy can be served over rice or with hot bread. Since it is quite similar to an Indian curry, you might consider serving it with rotis or naan bread. A large green salad goes well with the dish too.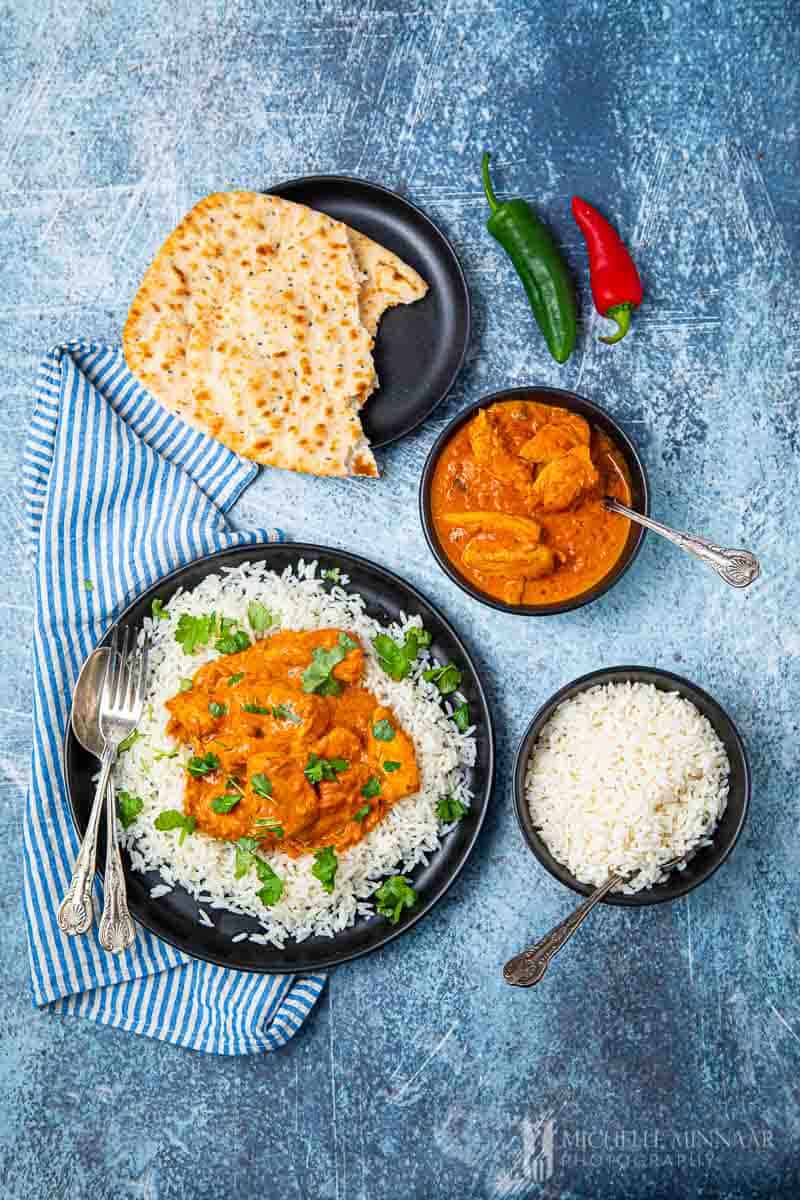 Tips For An Amazing Chicken Chasni Recipe
Be careful when adding turmeric and cumin powders, as they tend to burn easily. You can avoid this by adding a drop of water to the pan just before adding your spices and lowering the flame to a minimum; this will prevent the spices from getting burnt.
Make sure that the cream is not added directly from the refrigerator. Cold cream added to the gravy has a high tendency to split. Keep the cream on your kitchen counter for a while before adding it to the gravy. This will bring it up to room temperature.
Do not overcook this dish as it might render the chicken too soft and break easily.
You can skip adding the mango chutney if you don't want the sweetness in the gravy. Skipping the mango chutney will give you a slightly spicy and sour gravy.
Summary
In conclusion, Chicken Chasni is a mouth-watering dish that combines juicy chicken pieces with a sweet and tangy sauce made from a mixture of yogurt, chutney, and spices. It's a popular dish in Indian cuisine and a staple in many households. Serve it with rice or bread for a delicious and satisfying meal. Whether you're a seasoned cook or just starting out, this recipe is easy to follow and yields delicious results every time. Give it a try and savor the flavors of India in your own home!