Copper Pennies Recipe –  The name originated because this tangy recipe requires carrots to be cut into medallions and marinated in oil, vinegar, and lots of seasonings which gives them the appearance of burnished pennies. This is a great side dish for lots of different meats but goes particularly well with fried chicken, roast turkey, or pork chops.
Copper Pennies Recipe
Copper Pennies recipe is a sweet and sour marinated carrot salad typical of south Africa.
What Is A Copper Penny Salad?
A copper penny salad is a traditional salad from South Africa that is super healthy as it is loaded with vegetables. It is a perfect blend of sweet and sour and works really well for potlucks, barbecues, and picnics as it can be prepared in advance and served as a chilled salad or as a warm side dish. In fact, the longer it marinates the better it tastes.
The star of the show is obviously the carrot, but the onion and bell pepper add lots of extra taste and everything is brought together by the rich tomato soup. This copper penny recipe is very simple to put together and is a great option to take along anywhere as it travels well. You can even put it in a jar and take it to work for lunch. This vintage recipe has been around for decades but has gained popularity of late.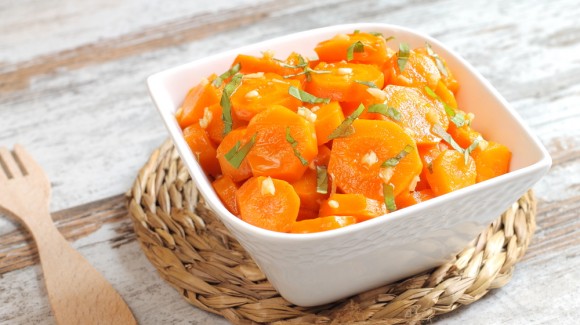 Ingredients to make Copper Pennies Recipe
10 carrots (about 5 cups)
1 medium onion (about 1/2 cup)
1 small green pepper (about 1/2 cup)
1 can tomato soup undiluted
1/2 cup vegetable oil
1 cup sugar
3/4 cup white vinegar
1 teaspoon dry mustard
1 teaspoon Worcestershire sauce
1 teaspoon salt
1 teaspoon black pepper
1 spring basil and parsley (optional)
How to Prepare Copper Pennies Recipe?
Wash, peel, and slice the carrots into 1/4th inch rounds.
Now place the carrots in a medium saucepan and cover with water, heat to boiling over medium-high heat. Reduce heat and cook for an additional 10 minutes or until tender when pricked with a fork.
Drain the carrots and set them aside to cool
Wash and then thinly slice the onions and bell peppers and add to the carrots.
Take a saucepan and add in the soup, oil, sugar, vinegar, mustard, Worcestershire sauce, salt, and pepper and whisk it all.
Bring to a boil over medium heat while whisking to combine soup and oil. Continue to cook and whisk for about 2 to 3 minutes. Set aside and cool to room temperature.
Pour the sauce mixture over the carrot mixture and stir to combine. Toss well so that all the vegetables are coated with the sauce mixture.
Cover and let it sit in the refrigerator for several hours or overnight.
Remove vegetables from the marinade using a slotted spoon and serve in a lettuce-lined bowl (optional)
Garnish with some fresh herbs like basil or parsley. (Optional)
Return any leftover vegetables to the marinade and keep them in the refrigerator for up to 4 days.
Variations for Copper Pennies Recipe
Roast carrots: Use roasted carrots to take this dish a notch higher.
Preheat the oven to 400 degrees F.
Place the peeled and sliced carrots on a baking sheet and top with oil, salt, and pepper. Toss to combine and when the carrots are coated spread them out evenly in a single layer.
Roast for approximately 10-12 minutes for crisp-tender carrots. If you like your carrots more well done, leave them in the oven for a few more minutes. Test the carrots by sticking a fork in them.
When the carrots are done remove them from the oven and allow them to cool.
Following the rest of the steps as above.
Jalapeno peppers: Give a slight twist to this classic recipe with the addition of jalapeno peppers that give the salad a subtle flavor. Adjust the heat intensity by omitting the seeds and veins or including them for a stronger flavor.
Wash and chop 1-2 large jalapeno peppers into small slices.
Combine with the carrots, onions, and bell peppers
Follow the rest of the steps as above.
Tips to Prepare Copper Pennies Recipe
Make this healthy salad even healthier by cutting the oil in half and using a sugar substitute like Splenda.
You can substitute apple cider vinegar for white vinegar.
Copper Pennies recipe is popular as it is a beautifully balanced accompaniment to a heavy main course.
We hope you liked our Copper Pennies Recipe. For more such recipes information, follow our Blog, foodiewish.com.