The Espresso Martini is a classic cocktail that combines the bold flavor of espresso with the smooth taste of vodka. This drink is the perfect pick-me-up for anyone who loves a touch of caffeine with their alcohol. With its easy-to-make recipe and delicious taste, the Espresso Martini is sure to become a favorite.
What is an Espresso Martini?
An Espresso Martini is a delicious cocktail that imparts a strong coffee flavor. It contains espresso, coffee liqueur, and vodka and is garnished with exactly 3 coffee beans. Though not a true martini due to the absence of gin and vermouth, one can't deny the classy and elegant look of this drink in a martini glass.
While many have tried to stake claim over the invention of this cocktail, many agree that it was first invented by Dick Bradsell in 1980 at a bar in London for a woman who wanted something strong enough to wake her up while giving her an alcoholic buzz, thus this beloved cocktail was born.
Let us take a look at the ingredients:
Coffee: The kind of coffee you use in this drink literally makes or breaks it, so make sure to use strong espresso coffee that is brewed in a coffee machine only. Avoid using instant coffee or a french press as it will not give you the desired consistency for this drink.
Coffee Liqueur: Coffee liqueur is just as the name states, a delicious combination of coffee and alcohol with a little bit of vanilla and sugar added to give it a sweet kick. Kahlua and Tia Maria are two well-known coffee liqueur brands that are used in a variety of drinks.
Vodka: Vodka surely needs no introduction. It is one of the most common alcohols out there and for this particular recipe, there is no preference on the type of vodka used. But you can give your espresso martini an even deeper coffee taste with the addition of coffee-flavored vodka.
Simple Syrup: Simple syrup is the ingredient that ties up all the coffee flavors and balances them out with its sweetness. Simple syrup can be easily purchased from most stores or you can even go ahead and make your own simple syrup by boiling together equal portions of sugar and water.
Coffee Beans: While coffee beans are not technically a big part of this drink, coffee beans as a garnish add a fun element to this drink, and traditionally using three coffee beans is known to represent health, wealth, and happiness.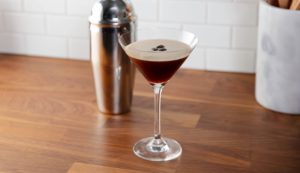 Ingredients:
Vodka 2 oz

Coffee liqueur ½ oz

Freshly brewed espresso 1 oz

Simple syrup ½ oz

Coffee beans 3
Equipment Needed:
Coffee machine

Cocktail shaker

Martini glass

ice
Directions:
Start by brewing the coffee using an espresso machine and place it in the freezer to chill once it is ready.

Place ice into the cocktail shaker and pour in the vodka, simple syrup, and coffee liqueur, and ice.

Add in the chilled espresso and shake it very vigorously so that foam is produced.

Now pour it into the martini glass swiftly so that the foam settles to the top and garnish with the 3 coffee beans and serve.
Notes:
Since espresso is the main ingredient in this drink, having an espresso machine really makes this drink what it is. You can make an espresso and chill it in the freezer until it is ready to use as this prevents the hot espresso from melting the ice and thereby diluting your cocktail. However, if you do not own an espresso machine and still want to make this caffeine-fuelled drink, use cold brew concentrate but under no circumstance should you use instant coffee as it will really ruin the taste of this drink.

The foam that covers the top of this drink is an equally important element that is obtained while using a coffee machine and is necessary for your garnish to stay afloat. if you do not have a coffee machine, you can recreate the foam by adding 1 egg white to the cocktail shaker along with the rest of the ingredients. This addition of egg white while it might be off-putting, does not alter the taste in any way and only works to create the foam that is needed for this drink. Alternatively, you can buy premade cocktail foam that is available in some stores or online.

Coffee beans make the perfect garnish for this drink and you can fancy up this cocktail even more with a quick dusting of coffee powder over the foam.
Summary
Whether you're a coffee lover or just looking for a new cocktail to try, the Espresso Martini is the perfect choice. So grab some espresso, vodka, and Kahlua and give this classic cocktail a try. Cheers!