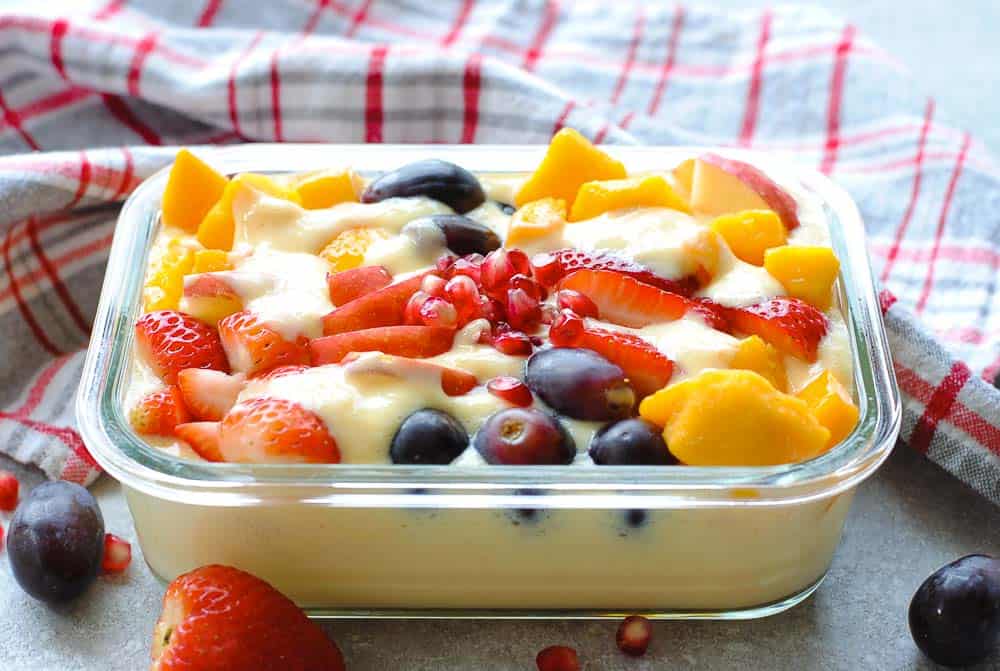 Fruit Custard Recipe: Do you have a sweet tooth? Try out this recipe; it will surely satisfy your sweet craving. All you need is custard powder, which is easily available at any grocery store. No other dessert is as easy as this recipe to make.
The fruit custard is a popular dessert. You can prepare it any time, have as a snack or can consume it after the meal when most of the people love to have some sweets.
You may also like: Start Weaning Your Kid with This Recipe – Suji Ki Kheer
It is quick and easy to make and the best thing about fruit custard is that every required ingredient is mostly available at home; you don't have to buy anything especially for this recipe.
Fruit Custard Recipe Ingredients:
• Milk – 500 ML
• Sugar – 2-3 Tablespoon
• Custard Powder – 2.5 – 3 Tablespoon
• Whipped Cream – 2-3 Tablespoon (Optional)
• Add seasonal fruits or fruits that you love to have.
Fruit Custard Recipe Preparation:
• Take a thick base pan; keep aside 1 cup of milk, rest put all the milk into the pan.
• Take a bowl, put the custard powder into it, use the 1 cup of milk that you kept aside, to dissolve custard powder in the milk.
Please note that we do not use hot milk to make the mixture of custard powder and milk. The custard powder will not dissolve in warm milk, lumps will form and hence you will not get the desired recipe.
Always use milk, which is at the room temperature to make the mixture.
• Once the milk starts to boil, slowly add the mixture into it and stir continuously.
• Also, add sugar and stir continuously
Do not forget to stir continuously; the custard tends to get accumulated at the bottom of the pan.
• Stir till the milk gets thick texture.
• Turn off the stove; allow it to cool for some time.
• Mix the whipped cream in custard.
• Keep it in the refrigerator for 2 hours.
• Before serving, put all the fruits in custard and mix them well.
• You can use pomegranate to garnish.
Note:
• Whipped cream is completely optional, you can skip this step.
• Apple, grapes, banana, mango, papaya, sapota, strawberry, you can add any fruit into it.
• Don't add watermelon.
• You can add crushed nuts according to your choice.
• Add fruits once you refrigerate the custard, consuming cut fruit that is kept for the longer time is not advisable, as they become toxic and may harm your health.