Mouth Melting Gajar Ka Halwa Recipe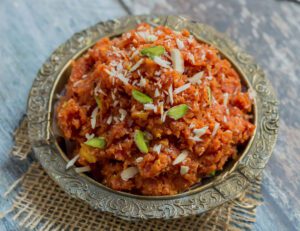 Gajar Ka Halwa Recipe: Many of us wait for the winter season to enjoy the sunlight, fog, warmth of blankets, and needless to mention different food
Type: Gajar Ka Halwa, Indian Sweets, Gajar Ka Halwa Recipe
Cuisine: Gajar Ka Halwa Recipe, Gajar Ka Halwa,
Keywords: gajar ka halwa recipe, recipe gajar ka halwa, how to make gajar ka halwa
Preparation Time: PT15M
Cooking Time: PT45M
Total Time: PT1H
Recipe Ingredients:
Gajar Ka Halwa Recipe: Many of us wait for the winter season to enjoy the sunlight, fog, warmth of blankets, and needless to mention different food and snacks that are available only in the winter season. From revdi to gazak, from fenugreek to radish, and the most wanted and loved "Gajar Ka Halwa" is all available in the winter season.
Gajar Halwa takes a lot of arm efforts but people who don't have sweet tooth even admire it. Many prepare once in a winter season this recipe at home and wait for the red and juicy carrot to arrive.
All the ingredients are easily available, and you can preserve this halwa in the refrigerator for one week. This dish is the heart of the winter season, and on every occasion be it a wedding, festival, or any special occasion, people prefer it.
Serving: 4-5
Preparation Time: 15 Minutes
Cooking Time: 35 – 40 Minutes
Courses: Sweet Dish/Dessert
Cuisine: Indian
Equipment: Pan, Grater and ladle
Calories: 390 Calories/serving
Gajar Ka Halwa Recipe Ingredients:
Carrot – 1.5 Kg
Sugar – 300 Grams
Khoya – 250 Grams
Cashew Nuts – 10 – 15
Almonds – 10 – 15
Cardamom – 5-6
Ghee – 4 Tablespoon
Milk – 1 Cup
Gajar Ka Halwa Recipe Preparation:
Peel the carrots and grate using the hand held grater or food processor.
Take a thick base kadai, put 4 tablespoon ghee in it and add all the grated carrot.
Mix well and roast it in ghee for 2 minutes. Cover the pan and cook it for 5 minutes.
Time being chopped the dry fruits and make the cardamom powder.
After 5 minutes, stir it and gain cover it and cook for another 7-8 minutes. In total, cook it for 15 minutes.
The required texture of the carrot should be tender as well as crunchy. Do not overcook it; the authentic taste of the carrot will lose.
Add sugar in it, cover it and cook it for 3-4 minutes. Keep the flame medium.
Cook the carrot till all water evaporates.
On another flame, roast the khoya.
Take a pan, crumble it and add in a pan. Roast till it melts and color changes. It will give a nice aroma once it is roasted at the desired level.
Khoya will take 5 minutes to roast; simultaneously do not forget to stir the carrot.
Carrots are ready when all water disappears from it. At this stage, you can store it in an airtight jar and make the halwa anytime you desire within 6 months.
Add 1 cup milk in the carrot. This is optional though but will give a nice taste.
Cook it at high flame, till the carrot absorbs all the milk.
Add khoya, dry fruits, and cardamom powder. Mix well. Keep aside a handful of dry fruits to garnish later.
Cook it for 2 minutes, and halwa is ready to serve.
Take them in a bowl and garnish it with the dry fruits.
Enjoy it hot.
Note:
When you preserve the mix of cooked carrot and sugar in an airtight jar, make sure that the water is cooked else it will decay soon.
Stir the halwa continuously to avoid it getting burnt.
When you want to cook the preserved carrot then take a pan melt some khoya in it and add the preserved carrot, dry fruits and cardamom powder in it. The halwa is instantly ready.
Summary
Gajar Ka Halwa, also known as Carrot Halwa, is a traditional Indian dessert that is loved by people of all ages. Made with grated carrots, milk, sugar, ghee, and a blend of aromatic spices, this sweet treat is a perfect way to end a meal. Whether you're looking for a comfort food or just want to indulge in something sweet, Gajar Ka Halwa is a delicious and satisfying option. So why not give it a try and see why it has become such a beloved dessert in India and around the world.