The fruity flavours and girly pink colour make it an excellent choice for a bachelorette party or a night out with your girlfriends. If sweet, light cocktails impress you, then you need to try giggle juice at the earliest. Giggle Juice Recipe is another cocktail with a funky name that will instantly put you in a good mood. Even though breaking into a giggle after a sip of this drink might seem a bit too far-fetched, it will surely make you smile after a long day at work.
Ingredients for Giggle Juice Recipe
¼ cup sugar
3 cups ice
750 ml Moscato
1 can sprite
1 cup vodka
2 cups sliced strawberries
1 lemon
Lemon juice to rim the glasses
Method of Preparation for Giggle Juice Recipe
Dissolve the sugar in the vodka.
Dunk all the other liquid ingredients into the sugar vodka mix.
Engage it off with crushed ice.
Take some granulated sugar on a plate.
Rub lime on the rim of your drinking glasses and then dip them in the sugar.
Pour the cocktail into the sugar-rimmed glasses and serve chilled.
As is the case with most cocktails, the drink must not be over blended. Just a pulse or two is enough to get everything well blended.
Add the ice in measured quantities, or it might leave you with a drink that is either too dilute (if the ice is too much) or too strong (if the ice is less)
If the cocktail is to be served later, avoid adding ice at all initially. Get it off individual glasses with ice, to be served immediately.
Tips for a good Giggle Juice Recipe
Make sure that the drink is served chilled. The temperature makes all the difference.
If you find the drink too sweet for your taste, you could avoid adding any sugar because the sweetness in the Sprite seems sufficient.
If Moscato is too sweet, replace it with Prosecco, a drier, sparkling Italian wine.
Use granulated sugar to dissolve in the drink and powdered sugar to line the rim of the glass.
Dilute or increase the potency of the drink by manipulating the amount of vodka in it.
The good cocktails are made by allowing the fruits to steep in the alcohol for a while, so they get a chance to release their flavours into the drink.
Variations of Giggle Juice Recipe
This drink is so popular that quite a few variations have cropped up since it first appeared. Listed below are a few of them:
Frozen Giggle Juice
Think of this drink as a loaded slushie. Drop in a large amount of crushed ice in your blender and blend all the ingredients the same way you otherwise would. It renders a pink icy drink that can be used to beat the heat.
Popsicles
Pour the same mixture into popsicles moulds and add any fruit of your choice. Pop them in the freezer overnight and be amazed at the beauty of fruits inside a frozen icicle. Add the extra sugar in this case because you will most probably use this as a dessert.
Giggle Juice Jello Shots
Laced or loaded jello shots are all the rage these days. Replace the lemonade in the original recipe with lime jello. You could add vodka and Moscato to this mix and set it to chill in the fridge. Use a little less water than instructed in the jello package if you want more firmly set jello.
Flavoured Giggle Juice
Play with citrus flavours and add them to the giggle juice. Eliminate the lemon and use raspberry, blueberry, pineapple, or orange to make the drink. A splash or two of concentrated flavouring is enough if you are using concentrates, or you could even use crushes of the flavour you want to create.
Giggle Juice Prosecco
As was stated previously, prosecco is an amazing option if you don't like your cocktails too sweet. Play around with what flavours suit you and develop a drier version of the drink to suit your tastes.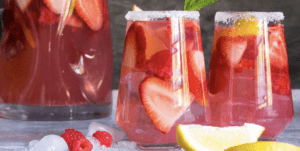 Virgin Giggle Juice
Use the non-alcoholic version of Moscato to come up with this. You will also have to stash away the bottle of vodka. This is a good option if there are going to be underage guests at your party. This version is a lot fruity and sweeter, nonetheless delicious.
With its many variations, the giggle juice recipe is versatile and delicious. Visit our blog foodie wish for more amazing recipes that will surely have you hooked.
Summary
In conclusion, Giggle Juice is a fun and fruity drink that is perfect for any occasion. With its bright colors and delicious flavors, it's sure to put a smile on your face and bring some joy to your day. Whether you're serving it as a special treat for kids or as a refreshing beverage for a party, this recipe is easy to make and sure to be a hit. So, gather your ingredients and give this Giggle Juice recipe a try. Your taste buds will thank you!