Crispy Restaurant Style: Honey Chilli Potatoes Recipe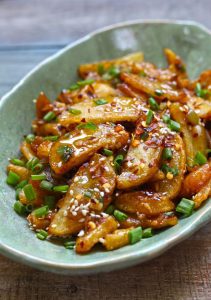 Honey Chilli Potatoes Recipe: Crispy, saucy, delicious honey chilli potatoes are most urging street food and a starter. What makes it stand out is the super
Type: Snacks
Cuisine: Indian Food
Keywords: honey chilli potatoes recipe, chilli potato recipe, chili potato
Preparation Time: PT5M
Cooking Time: PT25M
Total Time: PT30M
Recipe Ingredients:
Honey Chilli Potatoes Recipe: Crispy, saucy, delicious honey chilli potatoes are most urging street food and a starter. What makes it stand out is the super crispiness and varied ingredients used to cook it. Honey and chilli mixture makes it the great appetizer. Toss it in different sauces and sesame seeds. The snack has appealing texture and crunchiness. People can't resist them to have it with mocktails and beer. Mocktail party is incomplete without this snack. The refreshing taste will attract you to have it again and again.
Honey Chilli Potatoes Recipe Ingredients:
Potatoes – 4, medium size
Maida – 2-3 Tablespoon
Rice Flour – 2-3 Tablespoon
Salt – 1 and a half tablespoon
Sesame Seeds – 2-3 Tablespoon
Garlic – 2-3 Cloves
Green Chilli – 4-5
Onion – 1, cut lengthwise
Capsicum – 1 Cup, cut lengthwise
Sugar – ½ Tablespoon
Soy Sauce – 1 Tablespoon
Red Chilli Sauce – 1 Tablespoon
Ketchup – Tablespoon
Black Pepper – ½ Tablespoon (Optional)
Corn Flour – 1 Tablespoon
Honey – 2-3 Tablespoon
Spring Onion – 2 Tablespoon
Red Chilli Flakes – ½ Tablespoon
Water – 5-6 Cup
Oil to deep fry
Honey Chilli Potatoes Recipe Preparation:
Take 4 medium size potatoes, peel them and cut lengthwise.
Now Take a bowl, add potatoes finger, and water to it.
Take a pan, drop in water and salt, and boil it. Now add potatoes pieces into it and let the potatoes boil for 5 minutes.
Note: Don't forget to add salt; it will get into the potatoes while boiling them.
Note: Boil at low flame.
Strain them and use dry ingredients.
Add 1 tablespoon maida and 1 tablespoon rice flour to the potatoes. Mix them well.
Note: It will give a nice coating to them.
Take another bowl and make a thick batter by adding ¼ cup maida and ¼ rice flour. Add ½ tablespoon salt. Gradually add the water and make a thick batter.
Add boiled potatoes to it.
Now deep fry these potatoes. Take a pan, add oil, and allow it to get hot.
Add potatoes wedges one by one in the hot oil.
When they get slightly brown, take them on a plate.
Similarly, fry the second batch.
Simultaneously, roast the sesame seeds. Take the pan, add sesame seed to it.
Roast them at low flame, till they pop.
Now, again deep fry the slightly brown potatoes, till they get golden brown.
Note: This is called flash-frying, remember this time you have to fry at high flame.
Make the sauce now. Take the pan, heat some oil. Add garlic followed by green chilli and roasted sesame seed.
Cook it for 1-2 minutes.
Add onion and capsicum and cook them for 1 minute at high flame.
Add 1 tablespoon ketchup and black pepper.
Note: Ketchup will balance out the flavour and black pepper is optional.
Add 1 cup water to the mixture and boil it.
Take 1 tablespoon cornflour and 3 tablespoon water in the bowl. Mix well.
Add 1 tablespoon to the mixture at a time till the sauce gets thick.
Turn off the flame. Add 2-3 tablespoon honey and spring onion. Give it a nice mix.
Add potatoes and mix well.
Serve hot and garnish it with sesame seeds, red chilli flakes, and spring onion.
The snack is yummy and spicy. Flash frying is a must to ensure crispy and fluffy inside.
Try this recipe at home and enjoy the crispy and crunchy snack.
Summary
Honey Chilli Potatoes are a delicious and easy-to-make snack that's perfect for any occasion. With its crispy exterior and tender interior, combined with the sweet and spicy flavors, these potatoes are a true taste sensation. Whether you're serving them as a side dish or as an appetizer, they're sure to be a hit with your family and friends. So why not try this Honey Chilli Potatoes recipe today and discover the amazing flavors for yourself? Your taste buds will thank you!