Best Way to Make Spicy Kathal Ki Sabji (Vegan Jackfruit Curry) | FoodieWish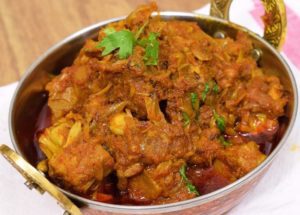 Kathal Ki Sabji (Jackfruit Curry) looks delicious to eat. There is a difference in the way of making. If you want to make Kathal Ki Sabji with spicy gravy.
Type: Indian Dish
Cuisine: Indian Dish, kathal ki sabji
Keywords: kathal ki sabji, jackfruit recipe, kathal recipe
Preparation Time: PT10M
Cooking Time: PT20M
Total Time: PT30M
Recipe Ingredients:
Kathal ki sabji is a delicious and flavorful dish made with jackfruit, a tropical fruit native to South Asia. The tender and juicy jackfruit pieces are cooked with a blend of spices, herbs and other ingredients to create a mouth-watering dish that's loved by many.
Kathal Ki Sabji Ingredients
4 medium-sized onions
7-8 buds of garlic
1-inch slices of ginger
2 tomatoes
4-5 green chilies
300 grams of raw Kathal
Dried spices
1 tablespoon coriander powder
1/4 tsp turmeric
1 tsp red chili powder
1/2 tsp cumin powder
1 tsp Kashmiri red chili
3/4 tsp garam masala
1 tsp Kasuri Methi, Row Spices
1/2 tsp cumin seeds
1 Bay leaf
3 small cardamom
1/2 tsp salt
1 tsp oil
Pressure cooker
Frying pan
Kathal Ki Sabji Recipe:
First, peel onions and grind them in a grinder to make a fine paste, take out this paste in a bowl.

After this, put tomatoes, chilies, ginger, and garlic in a mixer jar and grind them finely, also take out this paste in a bowl.

Cut Kathal (jackfruit) into small pieces, apply oil on the palms while cutting, if you wish, you can remove Kathal (jackfruit) seeds.

Put half a liter of water, Kathal (jackfruit) pieces, 1/2 teaspoon salt and one fourth teaspoon turmeric in the pressure cooker. Put the lid of the cooker on the medium flame and apply a whistle.
After the pressure of the cooker is over, open the lid. Sieve the Kathal (jackfruit) with a sieve to remove excess water.
Heat a pan on high heat. Add oil to it. When the oil starts falling out, remove it from the heat. When it cools down, place it on medium flame again. Add cumin seeds to the oil. Add the bay leaves, cardamom to the sizzling.
After this, first put onion paste in the oil and roast it while stirring. It will take 8-10 minutes. In such a time, the onion will be roasted well and will turn brown in color.
After this, add tomato paste and one and a half teaspoon salt in the pan and mix well. Cook this gravy till oil releases.
After this, leave all the spices (Kasoori methi and Garam masala) in the gravy, add the remaining spices and mix well and fry for 3 minutes.
After this, add boiled Kathal (jackfruit), Garam masala and Kasoori methi to the gravy and mix it well.
To increase gravy, add half a cup of water to the vegetable and mix well. Cover and cook the vegetables for 5 minutes. Remove the lid and add a butter cube to it. Turn off the heat.
Kathal Ki Sabji (Jackfruit Curry) is ready, eat it with Roti (bread).
Summary
Kathal ki sabji is a versatile dish that can be enjoyed as a main course or as a side dish. It is perfect for vegetarians and vegans as it is a great source of protein, fiber, and other essential vitamins and minerals. So, if you're looking for a tasty and nutritious dish, give this kathal ki sabji recipe a try!