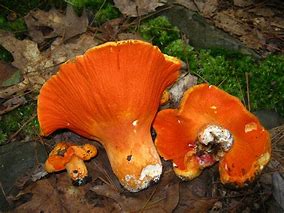 The lobster Mushroom Recipe is an unbelievable yet delicious treat. The complexity and intensity of flavours will surely blow your mind. Lobster mushrooms are a unique and flavorful variety of mushrooms that are highly sought after by many chefs and home cooks alike. These mushrooms have a distinct flavor and texture that is similar to lobster, making them a great addition to a variety of dishes. In this recipe, we'll be showcasing how to cook lobster mushrooms with a simple and delicious preparation.
What Is A Lobster Mushroom?
A Lobster Mushroom is actually not a mushroom but a parasitic fungus that grows on certain mushroom species and gives them a reddish-orange colour that resembles the outer shell of a cooked lobster. They have a seafood-like flavour and a firm, dense texture.
Lobster Mushroom Recipe Terrine Ingredients
Ingredients for Lobster Mushroom Recipe
2.5 lbs fresh lobster mushrooms
1/4 cup fresh chopped herbs like thyme parsley and chives
3 eggs
1 cup heavy cream
2 cloves of garlic
1 cup chopped carrot
1 cup chopped onion,
1 cup chopped celery
Salt to taste
Pepper to taste
1 stick butter
1 tbsp butter for greasing the terrine dish
3 tablespoons grapeseed oil
How to cook Lobster Mushroom Recipe?
Start by preheating the oven to 325 degrees F.
Clean and Slice 1.5 pounds of lobster mushrooms and keep it aside.
Heat 2 oz of butter in a large saute pan and add in the sliced lobster mushrooms. Gently brown them in the butter on medium heat.
Season with salt and pepper and when the mushrooms are browned, cool and reserve them.
Add the remaining 1 lb of lobster mushrooms to a food processor and blend until fine.
Then melt 1 tbsp of the butter in a saute pan and gently saute the ground lobster mushrooms for 5 mins and season with salt and pepper.
Add the chopped carrot, onion, garlic and celery to a food processor and blend until very fine.
Now saute this vegetable mixture in the remaining butter for at least 10 mins and season lightly with salt and pepper
Add the heavy cream and lobster mushrooms and cook on medium heat for about 5 minutes.
Pour the mushroom cream mixture into a mixing bowl and allow it to cool.
Whisk the eggs and herbs and add them to the mushroom cream mixture. Check the seasoning of the mixture for salt and pepper and adjust if necessary.
Lightly grease a terrine dish. Place the slices of cooked lobster mushroom in the bottom of the dish, then cover with a layer of the cream mixture. Continue in this pattern until the pan is nearly filled and add a few slices of lobster mushroom as a garnish.
Bake the terrine in the oven for 30 minutes or until it is set. Once the terrine is fully cooked, cool overnight.
How can you serve Lobster Mushroom Recipe?
To serve the terrine, gently heat the outside of the dish using warm water, this helps to loosen it. Now slide a knife around the edge of the terrine and put a plate on top of the dish and invert it to release the terrine. Slice the terrine and serve.
How Can A Terrine Be Eaten?
A Terrine can be eaten as a sandwich filling between 2 slices of bread
It can be eaten along with a side salad or a warm steak
It can be eaten as an appetizer along with cheese, crackers, pickles etc or you can just eat it as it is.
Lobster Mushroom Cakes
Ingredients to make Lobster Mushroom Cakes
Fresh lobster mushrooms 1/2 lb
Salt 1/2 teaspoon or to taste
Fresh ground black pepper 1/2 teaspoon
Diced green onion 1/4 cup
Fresh sliced chives 1 tablespoon
Fresh chopped thyme 1 teaspoon
Smoked paprika 1 teaspoon
All-purpose flour 1 tablespoon
1 large egg
1 egg yolk
Oil for frying as needed
How to make Lobster Mushroom Cakes?
Wash, clean and shred the lobster mushrooms using the shredding attachment on a food processor or a box grater.
Now mix the shredded mushrooms thoroughly with salt and allow to sit for 10 minutes.
Squeeze the shredded mushrooms to remove as much water as possible, then mix with the diced onion, chopped herbs, flour, eggs and seasonings.
Now take a non-stick pan and heat 2 tablespoons of the oil until it is shimmering.
Take a small amount of the mushroom mixture and form it into cakes and fry for a few minutes on each side until golden brown.
Place on a cookie rack to cool
Serve with eggs or tomato ketchup or any condiment of your choosing.
Summary
So there you have it, a simple and delicious lobster mushroom recipe that is sure to impress your taste buds. Whether you're a fan of mushrooms or just looking for a new and interesting dish to try, this recipe is definitely worth a try. Serve it as a side dish or add it to your favorite recipes for a burst of flavor. Enjoy!