Moong Dal Cheela Recipe prepared with split moong lentil is a delicious and healthy North Indian breakfast option. Moong Dal is full of protein, soluble and insoluble fibre and consists of beneficial antioxidants, which makes it suitable for weight loss and beneficial for diabetic patient as well.
You may also like: Weight Loss Recipe – Besan ka Cheela
The recipe can be made with minimal cooking oil making it suitable for those who have health issues like PCOD, heart disease or diabetes. You have kids at your house, must prepare it, they will surely love this recipe.
You can use paneer stuffing to twist it.
Moong Dal Cheela Recipe Ingredients:
Moong Dal – 1 Cup
Salt – 1 Tablespoon (according to your taste)
Green Chilli – 1, chopped (avoid it if making for a kid)
Coriander Leaves – 1 Tablespoon
Red Chilli Powder – ¼ Tablespoon
Onion – 1, finely chopped
Oil/Ghee – 4-5 Tablespoon
Moong Dal Cheela Recipe Preparation:
Soak the dal overnight, it will get double its size.
Make a paste of it, using a grinder.
Check the consistency, if it is very thick, add some water into it.
Add all the ingredients into it and mix well. The consistency should be medium pouring. It should not be very thin or very thick.
Take a pan, heat it. Apply some oil to the pan.
Pour the batter in the middle of the pan and spread across evenly.
Roast it at low flame; colour at the top surface will change.
Apply oil at the corner and top of the cheela.
Flip the cheela, and roast it from another side.
Roast till the colour changes.
Cheela is cooked from both sides and now it's ready to serve.
Serve it with green coriander or ketchup.
Stuffing Preparation: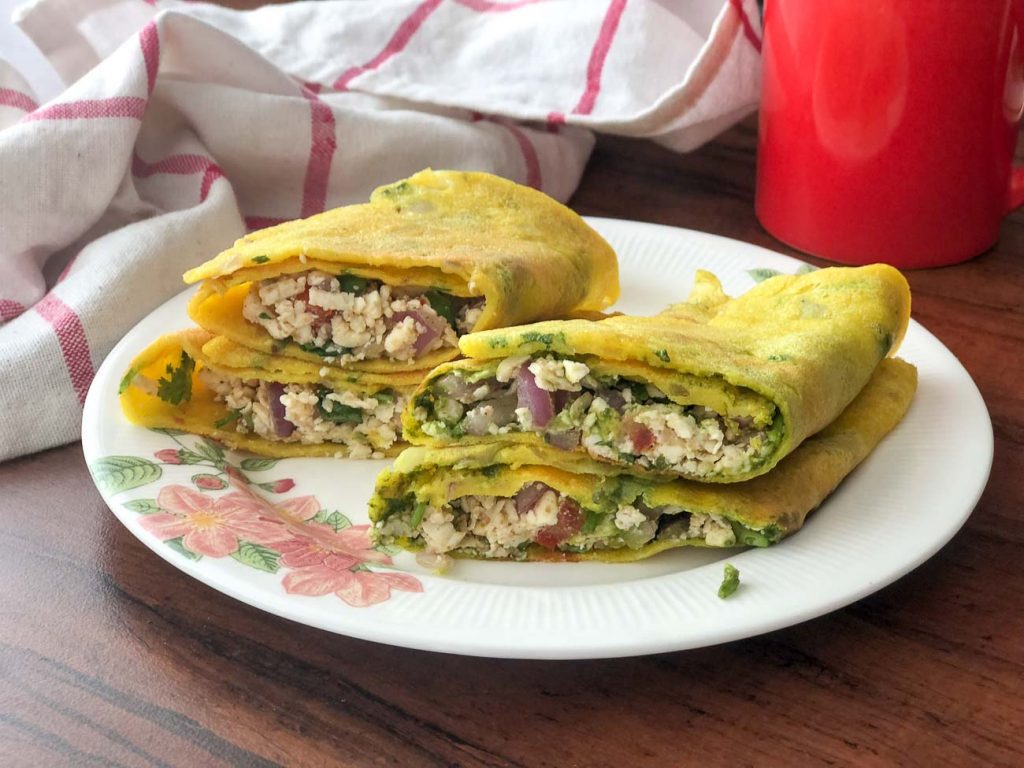 If you wish to prepare the stuffing, then follow these steps.
Take a pan, heat it. Add ½ tablespoon oil.
Now add 1 finely chopped onion, sauté for 2-3 minutes, add ¼ salts.
Now add crumbled paneer and sauté for 1-2 minutes.
Stuffing is ready; take them out in a bowl.
Once the cheela is roasted from both the side, add some stuffing in the middle of the cheela and fold it.
Note:
If you are preparing for kids, do not use green chilli.
Cheela without stuffing also tastes delicious, so the stuffing is completely optional.
Instead of cottage cheese, you can make potato stuffing as well.