Soft and Fluffy Mysore Bonda Recipe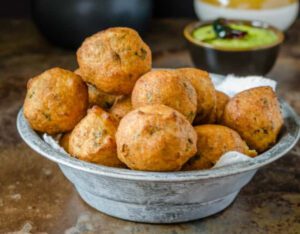 Mysore Bonda Recipe: South Indians' favorite tiffin and snack is Mysore bonda. Mysore bonda is also named as maida bonda.
Type: Indian Food, South Indian Cousin, mysore bonda recipe
Cuisine: mysore bonda recipe, mysore bajji, mysore bonda
Keywords: mysore bonda
Preparation Time: PT15M
Cooking Time: PT25M
Total Time: PT40M
Recipe Ingredients:
Mysore Bonda Recipe: South Indians' favorite tiffin and snack is Mysore bonda. Mysore bonda is also named as maida bonda. The name itself indicating that its origin is from Mysore. One of the tastiest evening snacks from Mysore cuisine. People from Andhra Pradesh popularly call it as Mysore Bajji. It is one of the veg recipes.
As the Mysore bondas are deep-fried it generates some nutritional values. It deliveries the low cholesterol and high vitamin levels to the body. Mysore bonda has a crunchy layer outside and soft part inside.
Due to the presence of curd it gives a crisp feel while eating. With the little effort and in easier way this bajji can be made. Many people enjoy the feast of Mysore bonda. In all cuisines, restaurants and small hotels the menu contains this item.
It is unsafe to use maida frequently which may results in the acidity and constipation problems. No matter with the maida many of delicious food items can be made but which may leads to obesity problems.
Even it is one of the reasons to make your health spoil. Intake of this Mysore bonda once in a while is not that affective to the body.
Many are afraid to make crunchy bondas at home due to many reasons. There is no guarantee of using fresh material at outside hotels to make Mysore bonda. So the homemade recipe is the option.
The preparation as per exact quantities does not make your time waste. Below is the process of making Mysore bonda or Maida bonda instantly.
Ingredients Required for Mysore Bonda Recipe:
Maida – 1/4 cup
Rice flour – 2 tablespoons
Curd – 4 tablespoons
Salt – as per taste
Oil – for deep fry
Cumin seeds – 1/2 tablespoon
Water – as required
Ginger – 1/2 inch(finely chopped)
Baking soda – 1/2 tablespoon
Mysore Bonda Recipe preparation process:
Make a batter by mixing of maida, rice flour and salt.
Along with these ingredients add curd and mix it in a right way with the water little by little such that the thick batter is formed. The batter should be like semi solid manner.
If the batter becomes too liquid add little amount off flours to get in a thick way.
Let it to marinate for 2-3 hours.
After soaking, mix the batter for few minutes so that no lumps are remained.
Now add finely chopped ginger, cumin seeds and blend it well.
Take oil in a pan for deep fry.
Make a round shape with the finger tips and drop into the oil gently. Fry it both the sides till the color changes into brown in medium flame.
Take out the fried bondas in to a plate and drain the excess oil with the tissue papers.
The enjoyable, delicious Mysore bondas are ready to get served. Enjoy it with chutneys.
Tips:
Curd which is sour also gives a good taste.
Chopped onions, slit coconut pieces and coriander leaves also can be added to the batter for additional taste.
If it is marinated for whole night then fresh curd can be used.
Summary
And that's a wrap on our Mysore Bonda recipe! We hope you enjoyed making and eating this crispy and flavorful Indian snack. If you have any questions or comments, feel free to reach out. Until next time, happy cooking and enjoy your Mysore Bonda!