Poha Recipe: Most Loved Breakfast Option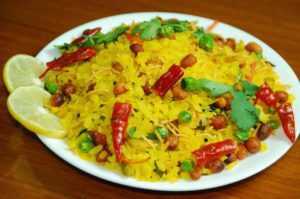 Poha Recipe: Poha, white flattened rice, is a popular breakfast option across India. The best part about this dish is it can be cooked in a variety of ways.
Type: healthy breakfast dishes
Cuisine: Recipes of Poha
Keywords: how to make poha, recipes of poha, poha recipe
Preparation Time: PT15M
Cooking Time: PT15M
Total Time: PT30M
Recipe Ingredients:
Today in this article we will talk about Poha Recipe, Poha, white flattened rice, is a popular breakfast option across India. The part about this dish is it can be cooked in a variety of ways. It all depends upon the taste and preference of people.
Poha is low in calories; it has the fat content of only 25%, making it a good option for those who want to lose their weight without compromising a delicious option. It is gluten-free, rich in iron and a good source of healthy carbohydrates. The good probiotic option also controls the blood sugar level.
The traditional Poha recipe is easy to cook; you can prepare it for breakfast or else eat it as a snack. Some people love spicy one, some likes to have sweet and sour poha, while others may want to add any veggies to it.
Not only has it had variation in cooking but its name also differs from region to region. In Bihar, it is called as 'Chura', In Maharashtra, it is known by 'Kande Poha', some call it as a Chivra and some as Poha.
Poha Recipe – Ingredients:
• Poha – 2 cup
• Potato – 1, cut in small pieces
• Tomato – 1, cut in small pieces
• Onion – 1, finely chopped
• Salt – ½ Teaspoon
• Turmeric Powder – ¼ Tablespoon
• Red Chilli Powder – ¼ Tablespoon
• Mustard Seed – around ½ Tablespoon
• Peanuts – ½ Cup
• Ghee/Vegetable oil/Coconut oil/Olive oil – 1 and a half tablespoon
• Lemon – Half (Optional)
• Sugar – ½ Tablespoon (Optional)
• Fennel – ½ Tablespoon (Optional)
• Curry leaves – 5-7 Leaves (Optional)
• Green Chilli – 2, finely chopped
• Green Coriander Leaves – 2 Tablespoon
How to Make Poha?
• Start by soaking the poha, take the strainer or colander, put poha into it and wash thoroughly. Keep it aside for 10 minutes.
• Take ½ tablespoon sugar and half lemon juice in a bowl, mix them well and keep it aside.
• Heat a pan, add ½ tablespoon ghee into it (you can also add more ghee, but I prefer to use less ghee/oil).
• Put peanuts into it, roast for 2-3 minutes. Take the peanuts out in a bowl.
• Now put 1 teaspoon ghee in the pan. Add mustard seeds and fennel seeds (fennel seeds are optional), stir them. Now add curry leaves (skip it in case you don't have.)
• Now add onions to it. Roast them until it turns golden brown.
• Add tomatoes; stir it for 3-4 minutes, until they get cooked. Also, add turmeric powder and red chilli powder.
• Once the tomatoes are cooked, add potatoes and cover the pan for 3-4 minutes. Check whether the potatoes are cooked for not. Once you are able to crush the potatoes, stir all the ingredients properly.
• Now add Poha, peanuts, lemon juice and sugar mixture that we prepared in the second step. Mix all of them very well.
• Garnish it with coriander leaves and the delicious poha is ready to serve.
Note:
• You can use cashew nuts instead of peanuts. Similarly roast them.
• The mixture of lemon juice and sugar is completely optional. Add only if you like to have a sweet and sour taste.
• You can also add other vegetables like beans, peas, carrot, and capsicum along with potatoes.
• You can also use sev and bhujia to garnish it.
Summary
Poha is a popular and easy-to-make dish in India, made from flattened rice and a variety of spices and seasonings. The dish is typically prepared by soaking the flattened rice in water and then cooking it with spices, onions, potatoes, peanuts, and other ingredients to create a delicious and filling dish. Poha is commonly enjoyed as a quick breakfast or light snack, and can be served with a side of chutney or yogurt. With its simple preparation, versatility, and delicious flavor, it's no wonder that Poha is a staple in many Indian households. So why not give it a try and make it a part of your daily meal routine!