Rava idli is a variation of idli or a savoury rice cake made using semolina. Rava idli translates to semolina idli in the Kannada language, which is the official language of the state of Karnataka from where this dish originated. It was invented by the restaurant chain Mavalli Tiffin Rooms (MTR) of Bangalore. During World War II, when rice, a staple item required in idli preparation, was in short supply, they experimented in making idli using semolina and created Rava idli.
It is usually found in restaurants that serve Udupi cuisine, but it has become so popular that most mainstream restaurants also do it. Rava idli is served hot and is to be eaten along with coconut chutney. A chutney is a savoury condiment that is prepared using various ingredients. Any vegetable, fruit, or nut can be turned into a chutney.
Traditionally idlis are made with rice and ground lentils; this batter must be soaked, ground, fermented, and then steamed into round cakes.
Rava idlis are easier to make because the batter is prepared by tempering the semolina with spices and veggies and then mixing it with yoghurt and a leavening agent. This leavening agent reacts with the yoghurt of the batter to produce airy and fluffy Rava idlis. The batter is steamed using an idli stand, a three or four-tier steel contraption with shallow concave moulds. The batter is poured into these moulds and then put into a steamer for a few minutes.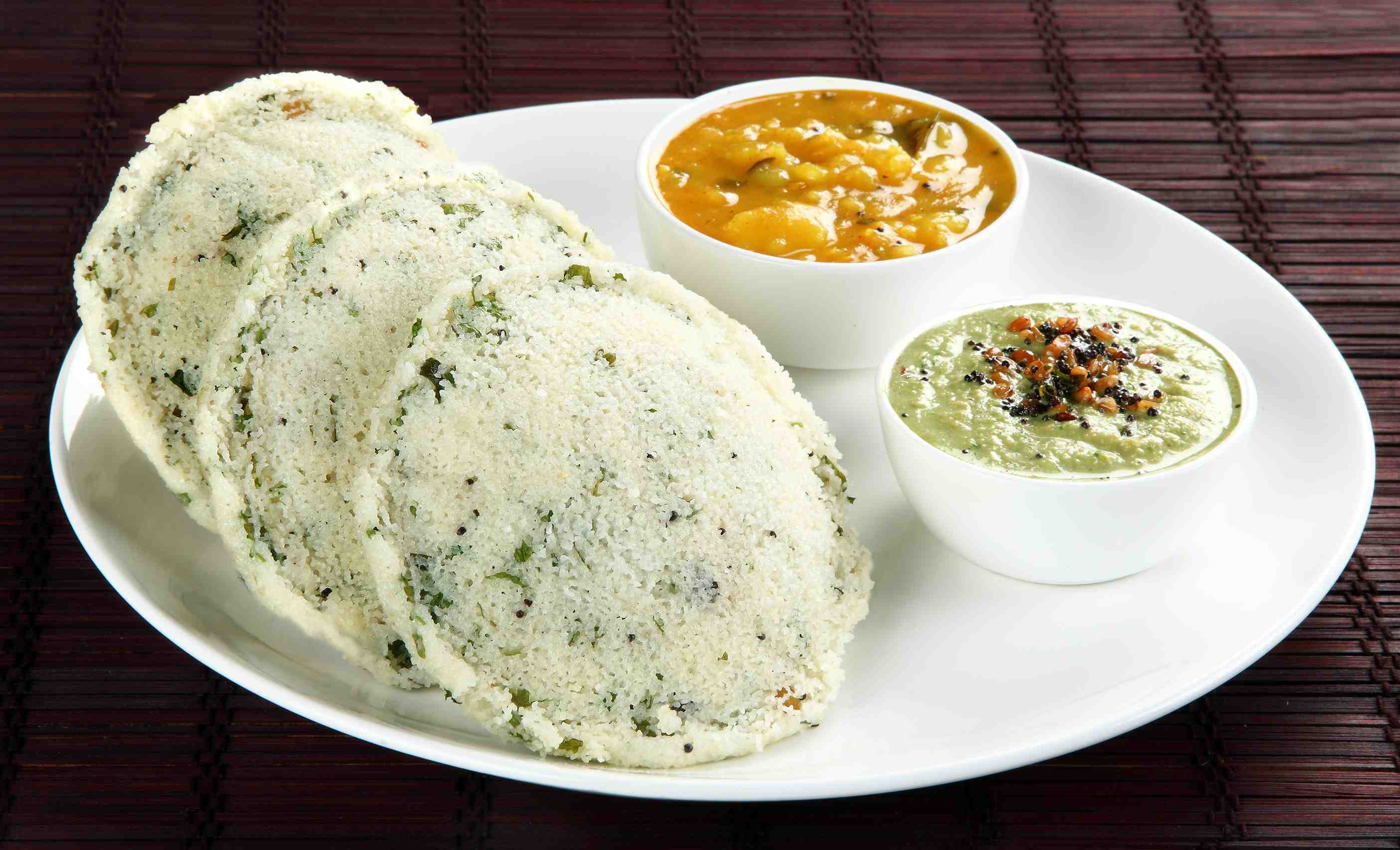 Rava idli recipe
Ingredients:
1 tsp ghee
1 tsp mustard seeds
¼ tsp asafetida
¼ cup chopped cashew nuts
1 tsp grated ginger
One sprig chopped curry leaves
2 tbsp minced cilantro
2 cups semolina
2 cups yoghurt
Two finely chopped green chillis
½ tsp baking soda
1/2 cup grated carrot
Salt to taste
Equipment needed:
Idli stand
Steamer or pressure cooker
Tongs
Directions:
Pour ghee into a large skillet and allow it to heat up. Add the mustard seeds and asafetida.
Once the mustard seeds splutter, add the cashew nuts, grated ginger, curry leaves, and cilantro and saute for 1 min.
Now add the grated carrot and saute for a few more mins.
Add the semolina and roast it, frequently stirring for at least 5-10 mins over medium heat.
Turn off the heat and stir in the yoghurt and salt. Allow the mixture to stand for 15 mins.
Now add water to this batter until it changes consistency. It should be thicker than pancake batter. Stir in the baking soda.
Spray the idli moulds with cooking spray and fill the idli batter to an inch under the brim.
Pour an inch of water into the steamer, place the idli stand, and let it cook on high flame for 5 minutes. If using a pressure cooker, follow the same but leave out the regulator or whistle so that the steam can escape.
Now reduce the flame and let it cook for another 10 mins.
Turn off the heat and remove the idlis from the moulds by using a butter knife.
Rava idlis are always served with an accompaniment. Usually, it is coconut chutney which is quintessential to most south Indian breakfast dishes. While there are several variations of a chutney, The most basic chutney recipe uses garlic, green chillies, mustard seeds, and cumin seeds.
Coconut chutney recipe:
Ingredients:
¾ cup grated coconut
2 tbsp fried peanuts
One garlic clove
Two green chillis
½ tsp cumin seeds
¼ cup water
Salt as needed
1 tsp oil
One sprig of curry leaves
A pinch of asafetida
¼ tsp mustard seeds
One broken red chilli
Directions:
Add the coconut, fried peanuts, garlic, green chillis, cumin seeds, and salt to a blender and blend until smooth; add water only if needed.
Once it is smooth, transfer to a serving bowl.
Now pour 1 tsp oil in a pan and once it has heated up, add the mustard seeds.
Once the m mustard seeds begin to splutter, add the broken red chill and the curry leaves.
Once the curry leaves turn crisp, add a pinch of asafetida and pour this over the coconut chutney.
Serve along with the breakfast dish.
Summary
And that's a wrap on our Rava Idli recipe! We hope you enjoyed making and eating this delicious and soft South Indian dish. If you have any questions or comments, feel free to reach out. Until next time, happy cooking and enjoy your Rava Idli!