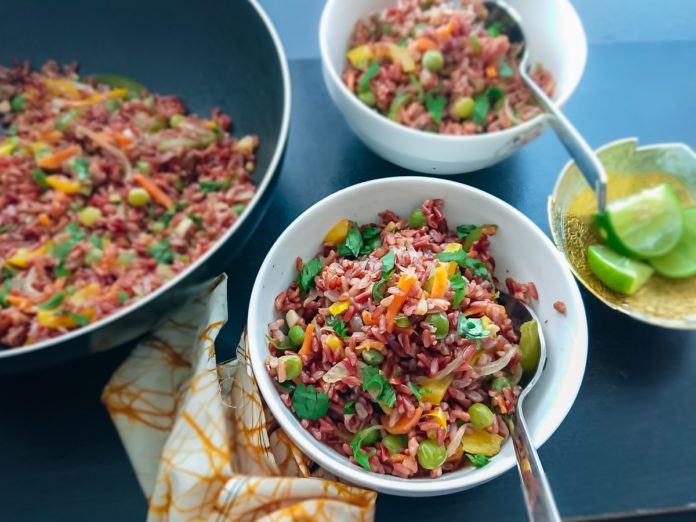 Red Rice Recipe – Red rice is the next thing in healthy eating. It is an absolute god sent for people trying to lose weight due to its zero fat content, high nutritional value, and mild earthy – nutty flavour. It contains 10 times more antioxidants than brown rice, limiting free radical damage to the body and thus preventing the risk of cancer and other ailments. Although it is now easily available in most markets and stores, this rice is grown mostly over the eastern Himalayas, making it a popular dish in Bhutan.
Red Rice Recipe
It is also grown in Madagascar, southern Africa, the Philippines, France, and even south India. This special variety of rice gets its name due to its anthocyanin content, and since it is only partially hulled, it retains its red husk.
What Are Anthocyanins?
Anthocyanins are water-soluble vacuolar pigments that appear red, blue, or purple in colour depending on their PH, and they impart this colour to some fruits, grains, and vegetables.
How does eating red rice help?
Promotes weight loss
Reduces high cholesterol
It helps prevent premature ageing of the skin
Helps in better diabetes control due to low glycemic index
Rich in essential nutrients like iron, calcium, magnesium, phosphorus, and selenium
Maintains healthy bones and teeth and prevents osteoporosis
Strengthens digestive system due to high fibre content
Easy Red Rice Recipe
Red rice takes significantly longer to cook than white rice, so make sure to use adequate water. Usually, 1 cup of red rice requires about 2.5 cups of water, so measure accordingly. The red rice will cook in 40 minutes or so, depending on the producer's amount of red husk left behind. The darker the colour of the red rice, the longer will be the cooking time.
Try these 2 quick and easy recipes that are simple and healthy.
Veggie Red Rice
Ingredients:
20 gms unsalted butter
2 red onions finely chopped
2 tablespoons olive oil
2 red peppers finely chopped
2 cups rinsed red rice
5 cups boiled water
Salt as needed
Method of preparation for Red Rice Recipe:
Start by heating butter and oil in a saucepan over medium heat.
Then peel 2 onions and finely chop them and de-seed 2 red peppers and chop finely.
Add the onions and red peppers once the saucepan is hot enough and turn up the flame. Stir fry until brown and soft; this usually takes about 5-6 minutes.
Then add the red rice to the saucepan and reduce the flame to the minimum, fry the rice well, and season with salt as needed.
Add boiled water to the saucepan and allow the rice to cook. Once it simmers, cover with a lid and allow to cook for another 40 mins.
Switch off the flame after this and leave aside to rest for at least 15-20 minutes.
Garnish with a few thinly sliced spring onions, kale, or watercress, and enjoy!!
Points to remember:
You can use any vegetable of your choice in the rice for the above recipe, provided it is finely chopped.
If you prefer your red rice to be spicier, substitute green chillies instead of red peppers or use both if you feel brave.
Alter the garnishing as per your preference with arugula, radish sprouts, or spinach; you can also add seeds to give it a bit of crunchiness, such as flax seeds, sunflower or pumpkin seeds.
Red Rice With Garlic
Ingredients:
Rinsed red rice 1 cup
Olive oil 1 tablespoon
Vegetable stock or water 2.5 cups
Peeled and crushed garlic 3 cloves
Method of preparation:
Start by heating the olive oil in a saucepan over medium heat.
Add the rinsed red rice and fry for 2-3 mins.
Then add the vegetable stock or water if you prefer and allow it to come to a boil.
Once it starts boiling, reduces the flame, adds the garlic, and cover with a lid.
Allow it to cook for at least 45 mins while stirring occasionally.
Once cooked, switch off the heat and leave to rest for 15 mins.
Conclusion
So, what are you waiting for? Add Red Rice Recipe to your diet and start reaping the health benefits today. Both these recipes are a play on the amazing Asian fried rice. Jazz them up to your way, though.