Texas Roadhouse Chili Recipe – I'm guessing you have come to this recipe because you visited one of the Texas Roadhouses…..and fell for their food; especially, Texas Chili. Not gonna lie, me too. The meat, the spices, the beers, the jukebox- a mood for days. So, here is a from-scratch, step-by-step take on Texas Roadhouse Chili. Remember, The real Texas chili has no tomatoes or beans.
To bean or not to bean for Texas Roadhouse Chili Recipe
The Texas chili is different compared to other chili recipes. After much protest from customers, there are now Texas Roadhouse chilis with beans. This depends on its location. Most menus are designed to suit the local palate. Some restaurants whip their own recipes. The use of black beans, kidney beans, even white bean variety can temper the dish. The dish concentrates on chili peppers, giving it a reddish color. Thus the name, Texas Red chili or Cowboy Chili.
The pepper business of Texas Roadhouse Chili Recipe
The dish is based on peppers, one often finds themselves in a stew of 'which pepper?' Personally, I prefer Jalapenos and serrano peppers. More jalapenos than serrano make the dish milder. If you want it even milder, use more of ancho or poblano. If you are one for the robust level of heat, habanero, or ghost pepper would suit you.
Beef-itting for Texas Roadhouse Chili Recipe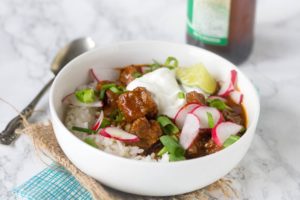 The choice of meat is very subjective. Different meats have different fat content. Cubed chuck roast is a choice in most Texas Roadhouses; Although, it cooks for at least 2-3 hours. This will give the dish a beefy flavor. Yet, some use ground beef, which is also delicious. Ground lean beef as a whole will not be as flavourful. An almost 85% blend of ground chuck and ground sirloin is good. Go ahead with whichever you are comfortable with.
Improvise for Texas Roadhouse Chili Recipe
Toppings: Toppings the chili with shredded cheese, sour cream, jalapenos, green onion, avocado, coriander, or oregano. Sprinkling some lime gives it a citrusy, fresh taste.
Liquid: Broth or stock will tenderize the meat and keep the moisture. Beer is also an option, but choose the one you really like. Brown ale, stout are other choices.
Spices: Add red pepper flakes instead of powder. Beer and tomatoes make the dish festive.
Others: 1-2 Tbsp vinegar, cocoa powder.
Stir the pot with:
Ingredients for Texas Roadhouse Chili Recipe
3 ancho peppers

3 poblano peppers

3 jalapenos peppers

2 serrano peppers

1 lb ground beef

2 tsp cumin, smoked paprika, dried oregano; each

Salt & pepper

2 Tbsp olive oil

1 small diced yellow onion

1 bell pepper (1 cup)

1 Tbsp chili powder

4 cloves garlic; minced

1 cup beef broth or beer

2 Tbsp tomato paste

1 tomato; diced

1 ½ Tbsp brown sugar and Worcestershire sauce
How to Make Texas Roadhouse Chili Recipe?
In a large pot or Dutch oven on medium-high heat. Heat oil and cook the beef for 2-3 minutes undisturbed until edges start browning.

Drop-in all the chopped peppers along with salt & pepper. Break the beef and mix the seasoning with a spoon. Leave it on the stove for another 5 minutes with occasional stirring. The beef should not be completely cooked.

Remove the beef aside onto a plate. If there is no oil left or the pot looks dry add another 1 Tbsp oil.

Reduce the flame to medium, Sautee the onion, bell peppers with occasional stirring till they are soft. Add the garlic, chili powder, oregano, cumin, paprika. Salt & pepper for taste. Mix it all till it gets aromatic.

Put the tomato paste, stir occasionally. The tomato paste will caramelize in a minute or so.

Pour the broth or beer along with diced tomato, Worcestershire sauce, brown sugar into the pot.

Slowly add the cooked beef to the pot; over a medium-high flame bring it to a boil.

After the boil, lower the flame back to medium. Cover the pot, let cook for 30 minutes with occasional stirring.
Serve Texas Roadhouse Chili Recipe with:
Baked potatoes

Nachos

Cornbread

Herbs, limes

Sour cream

Slaw

Tortilla chips

Shredded cheese

Fritos

Kale salad

Onion (diced or rings)

Rice

Mac and cheese, too.
Summary
The leftovers of the Roadhouse Chili Recipe taste good even on the next day. Cooldown to room temperature before refrigeration. It can last up to 3-4 days. Just reheat on medium flame before enjoying it the next day. The dish can be frozen in a container for almost 6 months. To reheat, thaw in the refrigerator overnight. Then heat it on medium flame.