Rosca de Reyes recipe, also known as "Three Kings Bread", is a famous traditional Mexican recipe. It is a sweet bread that is prepared on the Feast of the Three Kings. This feast is celebrated by Christians a few weeks after Christmas, in honour of the three kings who arrived from the East to pay homage to Jesus when he was born.
Rosca De Reyes Recipe
Rosca De Reyes Recipe has become a popular snack purchased from street-side bakeries in recent times, both in Mexico and in the United States. It is topped with candied fruit, and the bread is arranged in the shape of a crown, representing the kings and their splendour.
The tradition followed while baking Rosca De Reyes Recipe
There is an age-old tradition that is kept up till today while this bread is being prepared. The baked wraps a small figure of the Baby Jesus in wax paper and places it inside the bread in one of the bread rings. The one who finds it is supposed to make tamales on Candelaria Day in February. It is uncertain where this tradition originated, but it is still followed to keep up the fun spirit of the season.
Ingredients used to make Rosca De Reyes Recipe
To make the bread:
1/2 cup warm water
7 gms dry active yeast
565 gms all-purpose flour
150 gms of sugar
3 large whole eggs
3 egg yolks combined with 4 tbsp milk
1/4 tsp salt
1 1/2 tbsp orange extract
169 gm butter
Orange zest, grated
To make the topping:
1 egg yolk
3/4 cup of all-purpose flour
6 tbsp margarine
1/2 cup superfine sugar
Dried and candied fruits of choice
1 tbsp whole milk or water
White sugar for sprinkling on bread
White sugar to be sprinkled on the bread after it is done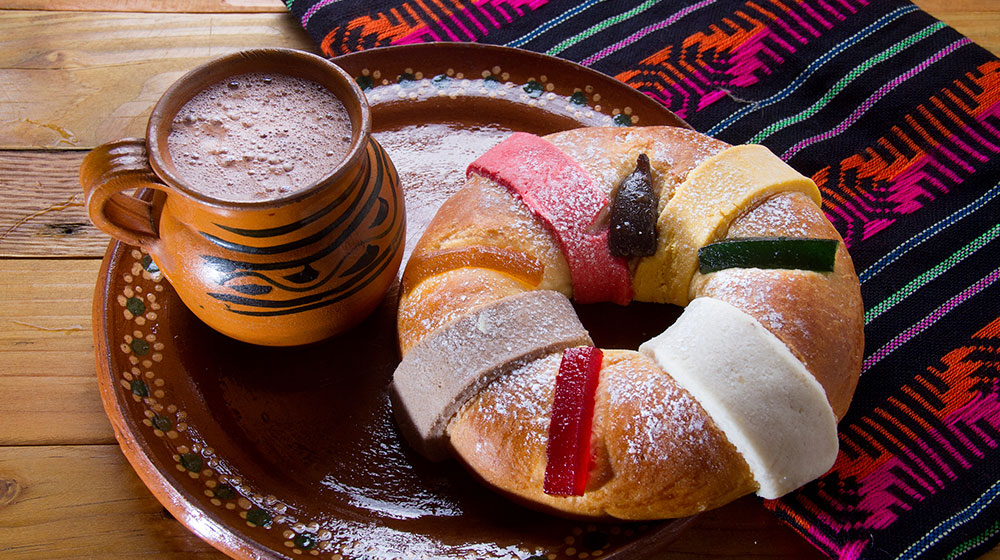 Procedure To Make Rosca De Reyes Recipe
Take lukewarm water in a bowl and add the yeast to it. Make sure that the water is not hot, or it will kill the yeast. Let it rest for a few minutes while the yeast is activated. When you notice that the water has taken on a muddy colour and bubbles are floating on the top, add 1/2 cup of flour. Cover this mixture and keep it in a dry, warm place to rise. It should take around 25 minutes to double in size.
Mix the remaining flour with the eggs, egg yolks, sugar, orange extract, and orange zest, salt, and butter. Mix till the mixture is crumbly.
Mix this dough with the yeast dough. Knead them together till they are fully incorporated. You may add some dry flour if the dough is too tacky. It should take around15-20 minutes. Knead till the dough is soft and still a little wet. Adding too much dry flour at this stage will make the bread dry once it has baked.
Let this soft, elastic dough rises for around 1 1/2 to 2 hours until it has doubled in volume again. If there is no warm spot in your kitchen, you can turn on the light in the oven and stick the dough in that to keep it warm. Keep it covered with plastic wrap or a wet towel.
Beat the margarine with the powdered sugar till it is creamy in a separate container. Add the flour and egg yolk and set aside. This mixture will be used to decorate the bread.
Once the bread has completed rising, turn it over on a floured surface and shape it to form a large ring.
Transfer this to a lined baking tray and cover and let it rise again for about 45 minutes.
Preheat your oven to 375 degrees.
Brush the dough with egg wash (made by mixing the egg with water or milk) twice. Add the candied fruit and other toppings of your choice. Bake for 10 minutes at 375 and then reduce the flame to 350 for a further 10 minutes or until a golden brown colour is achieved.
Take out of the oven and allow it to cool on a wire rack. This can be enjoyed for up to the next 3 days if stored in an airtight container.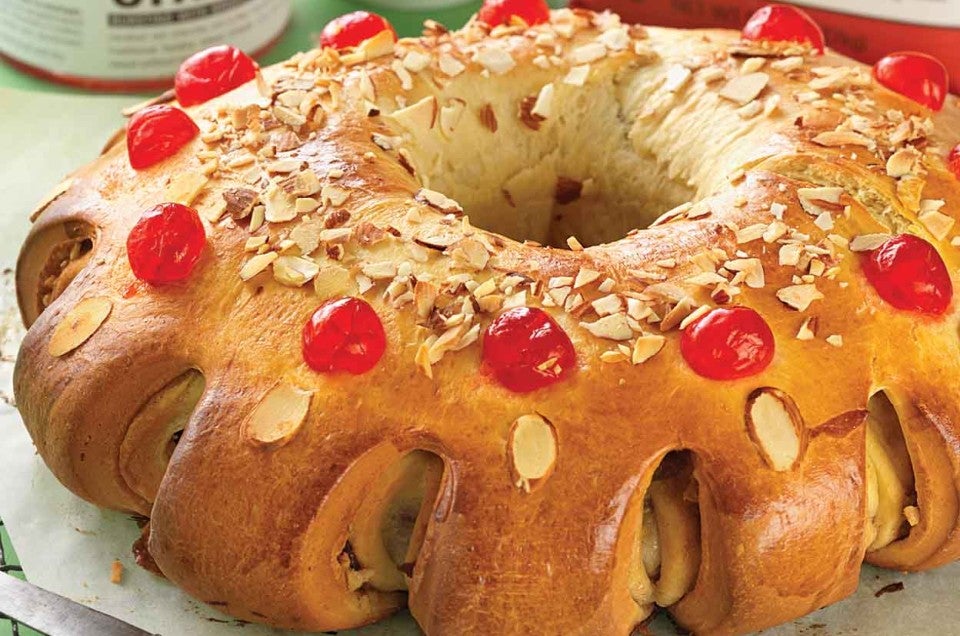 Final Thoughts
This Rosca de Reyes recipe yields a soft and spongy cake that can be enjoyed for tea or any time of the day. It has a reasonable shelf life, but that is mostly not needed because it is so delicious that it is mostly finished in a day or two.