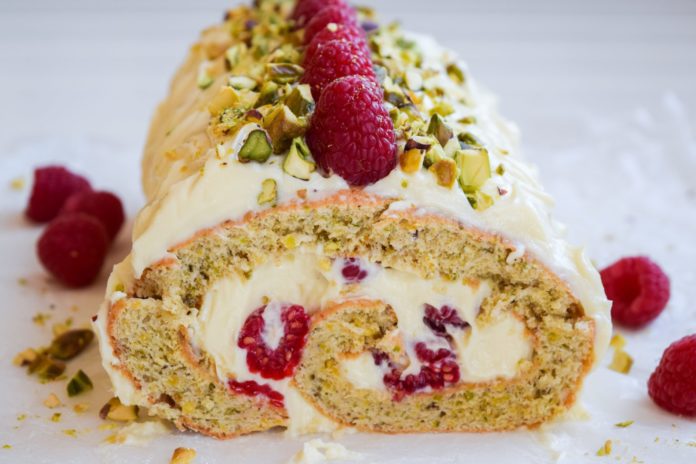 Roulade Recipe
Roulade recipe is a sweet or savory dish that is traditionally found in various European cuisines. The term roulade originates from the French word rouler, meaning "to roll".
Chicken Roulade
Juicy chicken rolls filled with sweet and savory ingredients
Ingredients:   
2 tablespoons vegetable oil
1/2 large yellow onion, finely chopped
2 minced garlic cloves
Coarse salt to taste
Freshly ground black pepper to taste
2 teaspoons toasted pine nuts
2 teaspoons raisins
1 bunch finely chopped fresh Italian or curly leaf parsley
4 boneless skinless chicken breasts
4 teaspoons grated Pecorino Romano cheese
1 cup all-purpose flour, for dusting
Directions:
Heat 1 tablespoon of oil over medium heat in a large frying pan.
Add the onion, and cook until the onion turns soft and slightly golden.
Add the garlic, and season with salt and pepper. Saute the mixture for 1 minute.
Soak the raisins in water for about 15 minutes to rehydrate them, you can also use wine or fresh juice for a richer taste.
Drain the raisins and chop them and add them to the onion and garlic mixture.
Now toast the pine nuts by placing them in a dry pan over low heat, stir occasionally until slightly brown and add them to the onion and garlic mixture.
Add in the chopped parsley and allow the mixture to cool to room temperature.
Preheat the oven to 375°F.
Place the chicken breasts in individual plastic bags and use a meat tenderizing mallet to pound them until they're about ¼ inch thick. Generously season them with salt and pepper on both sides and allow them to come to room temperature.
Now place the pounded chicken on a cutting board or clean surface and spoon the onion mixture and the cheese over it. Roll up each chicken breast as tightly as you can, and then dust with flour.
Heat the remaining tablespoon of oil in a large frying pan over medium-high heat. Sear the rolls for about 2 mins per side until they are golden brown and then transfer them to the oven.
Bake for at least 15-20 mins so that a meat thermometer inserted into the thickest part of the chicken is 155°F
Remove from the oven and allow it to rest on a cutting board for at least 5 mins. Then slice it into circular rolls and serve.
Notes:
You can use different ingredients and seasoning depending on what you have available.
Once the chicken breasts are rolled, tie each breast with three strings of kitchen twine, with one in the middle and one at each end.
You can also use toothpicks or skewers to achieve a similar effect
You can also wrap the raw chicken rolls in plastic wrap, and refrigerate overnight before cooking.
Sweet Berry Meringue Roulade
A meringue roll filled with fresh cream and berries.
Ingredients:
Cornstarch 1 tsp
Vanilla extract 1 tsp
White wine vinegar 1 tsp
Egg whites of 4 large eggs
Sugar 5 oz
For the filling
1 cup heavy whipping cream
1/2 cup fresh raspberries
1/2 cup chopped fresh strawberries
confectioner's sugar for dusting
Directions:
Preheat the oven to 325ºF and line a tray with baking paper approx 11″x16″ size.
In a small bowl mix the cornstarch, vanilla, and vinegar until smooth and set it aside.
Now in another bowl, whisk the egg whites until stiff. Then whisk in a little sugar, and a little of the prepared cornstarch paste, and continue adding until they are completely mixed in.
Pour the egg white mixture into the tray. Smooth out the surface with a wooden spoon.
Bake for 25 minutes or until golden colored.
Place a towel on the counter and cover it with a sheet of baking paper, sprinkled with confectioner's sugar. Turn over the baked meringue onto the paper.
Peel away the lining paper and place a new piece of baking paper on top, then roll the meringue using the towel as an aide and let it cool.
Whip the heavy whipping cream until stiff peaks are formed.
When the meringue has cooled, unroll it, and remove the top paper; spread the whipped cream all over it.
Add the chopped berries to the whipped cream and re-roll the dessert. Dust generously with confectioner's sugar.
Carefully move to a serving plate, and add a few berries for decoration.
We hope you liked our Roulade Recipe. For more such information, follow our Blog, foodiewish.com.