Shrimp Burger recipe is a welcome change from the usual boring and predictable hamburgers. A burger patty is something that has been experimented on excessively. The fact that you can make a burger filling out of anything that you desire certainly has a lot of appeal.
The origin of the modern-day burger is still unclear with several people trying to stake claim over its creation. According to this, the burger dates back to America where it was made for the first time in the 1800s.
How To Pick Your Shrimp For The Burger?
The main ingredient in these shrimp burgers is of course shrimp but the kind of shrimp used in the burger greatly influences its taste.
Try and procure wild-caught shrimp as they tend to have a sharper taste as opposed to farm-raised shrimp.
How To Clean Shrimp?
If using frozen shrimp start by thawing it by removing the shrimp from its packaging and placing the shrimp in a ziplock bag and then submerging this bag in a bowl of warm water for 10-20 mins. Once it has thawed proceed to clean it.
Pull off the legs first and the skin covering the shrimp. Leave the tail on if you like or pull the tail off too.
Using a small knife, cut along the top of the shrimp.
Then using a fork or even just the tip of the knife, pull out the black vein that is visible.
Place the cleaned shrimp in a bowl and rinse with clean water.
Once they are clean, pat them dry and proceed to cook.
Crispy Shrimp Burger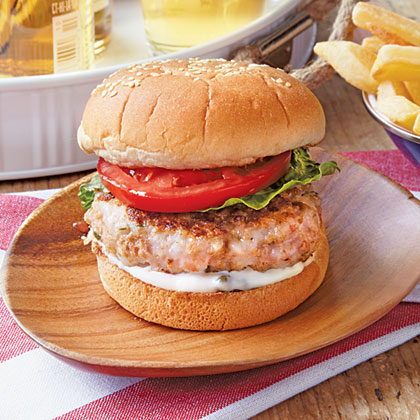 Ingredients:
Raw shrimp 1 lb
Minced garlic 2 cloves
Chopped red onion 1
Paprika 1 tbsp
Chopped parsley 1 tbsp
Chilli powder 1 tbsp
Breadcrumbs ½ cup
Olive oil 2 tbsp
Directions:
Start by peeling and deveining the raw shrimp
Take a small bowl and add in the breadcrumbs, paprika, and chili powder and mix well.
Now put the shrimp in the food processor along with the onion, garlic, and parsley.
Let it pulse until it forms a nice thick paste.
Once done, scrape off gently with a spatula and put it into a bowl.
Now add the breadcrumb mixture into the same bowl and give it all a good mix.
Start forming the mixture into balls and then flatten them out to form round patties.
Then take a non-stick pan and add in the olive oil and let it heat up.
Once the non-stick pan is heated up, place the patties and allow them to cook for at least 5 mins, flipping them halfway until they are golden brown on each side.
Once the patties are cooked, assemble your burger and enjoy!
Notes:
Play around with your burger to achieve the flavor that you desire.
Change the toppings with lettuce, onion, tomato,or even avocado and bacon
Have fun with the condiments by trading up the usual ketchup and mayo for aioli and barbeque sauce.
Asian Style Shrimp Burger
Ingredients:
For the burger patty:
1 lb raw shrimp
¼ cup chopped onion
¼ cup chopped red pepper
¼ cup chopped cilantro
1 piece ginger
1 chopped jalapeno
2 garlic cloves
1tbsp lemongrass paste
Fish sauce to taste
Salt to taste
Pepper to taste
For the sauce:
2 cloves garlic
½ cup mayonnaise
½ tsp sugar
2 tsp fish sauce
1 tsp lime juice
Salt to taste
Pepper to taste
Other ingredients:
Buns
Grilled pineapple rings
Directions:
Add ⅓ of the shrimp, ginger, garlic, chili, lemongrass paste, and a little bit of salt and pepper to a food processor and pulse well until a paste is created.
Now add the remaining shrimp and the onion, red pepper, cilantro, and fish sauce and pulse until a chunky mixture is formed.
Apply a bit of oil on your hands to prevent the mixture from sticking and then shape them into balls and flatten them to form patties.
Put the sauce ingredients in a blender and blend until it is smooth.
Preheat your grill and brush oil over the patties.
Then place them in the grill and allow to cook for 7 mins flipping them halfway.
Assemble your burger along with the grilled pineapple rings and sauce and enjoy!
Summary
A shrimp burger is a delicious and unique twist on the classic burger, made with seasoned and grilled shrimp patties, lettuce, tomato, and a variety of other toppings. It is a great option for those who are looking for a healthier and more flavorful alternative to beef burgers, and is a must-try for anyone who loves seafood and burgers.