Sloppy Joe Recipe By Pioneer Woman – Sloppy Joe recipe by pioneer woman is one of the good one! This deliciously sweet and savoury sandwich with ground beef is a hearty, messy but quick dish that is sure to become a family dinner favourite. It supposedly originated in 1930 in Iowa, when a cook named Joe added tomato sauce to his loose meat sandwiches, Thus the sloppy Joe sandwich was born.
Sloppy Joe Recipe By Pioneer Woman
In the 19th century, ground beef gained popularity as a nourishing and economical food option. People were always looking for fillers to stretch that meat. So a loose meat sandwich ticked off all of the boxes and became a popular midwestern delicacy.
What is a sloppy Joe?
A sloppy Joe is a sandwich consisting of beef that has been ground up, onions, tomato sauce, Worcestershire sauce, and a few other seasonings served on a hamburger bun.
While in a true sense a sloppy Joe refers to the sandwich, it is not exclusive. Sloppy Joe can also be spooned over french fries with some hot melted cheese, you can also pour it over a waffle or use it in a grilled cheese sandwich to elevate the taste.
While there is a pre-made sauce available to make a sloppy Joe, making your own sauce from scratch is something you will not regret doing. Making your own sauce also helps you perfect the balance of flavors
Sloppy Joe recipe by pioneer woman: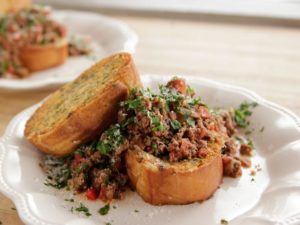 Ingredients to make Sloppy Joe Recipe By Pioneer Woman
Butter 2 tbsp.

Ground beef 2 1/2 lb.

Diced onion 1/2

Diced green bell pepper 1 large

Minced garlic cloves 5

Ketchup 1 1/2 cup

Water 1 cup

Brown sugar 2 tbsp.

Chilli powder 2 tsp.

Dry mustard 1 tsp.

Red pepper flakes as per taste

Worcestershire sauce as per taste

Tomato paste 2 tbsp.

Tabasco sauce as per taste

Salt as per taste

Freshly ground black pepper as per taste

Bread rolls

Butter for the rolls
How to cook Sloppy Joe Recipe By Pioneer Woman?
In a large skillet or dutch oven, add butter and keep over medium-high heat.

Mix in the ground beef and cook until brown, breaking it apart into small crumbles as it cooks.

Once the beef has cooked, drain and discard the fat as this excess grease prevents the beef from soaking up all those seasonings and flavors. Transfer the beef to a serving bowl and keep it aside.

Now to the same skillet, add onions, green pepper, and garlic and cook for a few minutes until vegetables begin to get soft, this usually takes about 3 mins.

Add the beef back to the skillet along with ketchup, brown sugar, chili pepper, dry mustard, and water, and cook for a min.

Mix in the tomato paste, Worcestershire, salt and pepper, and Tabasco as per taste.

Cook over medium heat for 10-15 minutes, until mixture, has thickened to your preference.

Slather the rolls with butter and brown on a griddle or skillet. Spoon meat mixture over the rolls. You can even add a slice of cheese to take it up a notch.

Serve with a side salad or fries, kettle chips, or just about anything else.
While the above Sloppy Joe Recipe By Pioneer Woman is for a skillet, sloppy Joes can also be made in a crockpot by browning the beef and then adding all the ingredients and cooking on low for 4-6 hours or on high for 2-3 hours.
Pro tips to make the Sloppy Joe Recipe By Pioneer Woman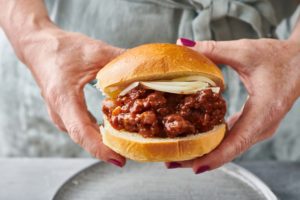 Buns:
Toasting your buns make all the difference so make the extra effort and don't skip on this step as it helps to hold the sauce well.
Heat a skillet on a high flame and add a knob of butter.

Once melted, place the cut buns over it and allow to toast.
Sauce:
Sauce consistency is the key to a great sloppy Joe.
Test out the consistency by dragging a spoon through the mixture. It should leave a trail.

It needs to be reduced further if the sauce flows back immediately.
Summary
The great thing about sloppy Joes is that you can add anything to it that suits your fancy. You can even fillin the filling with pickles or a slice of melted cheese. Just be creative. You can also try adding a thickening agent by combining 1 tbsp cornstarch with 1 tbsp of water.