Snickerdoodle recipe without cream of tartar is one of the most popular recipes searched online these days. Snickerdoodles are popular cookies that are rolled in cinnamon sugar to give them their characteristic flavour. Their crinkly and cracked top is another feature that discerns these cookies from the others. They are much loved in the US and other countries as well. Let's check more details about Snickerdoodle Recipe Without Cream Of Tartar.
Snickerdoodle Recipe Without Cream of Tartar
These are a variation of the traditional sugar cookies, except that sugar cookies are covered in sugar while these are rolled about in cinnamon sugar. Snickerdoodle Recipe Without Cream Of Tartar are popular as street snacks and desserts, and a few ice cream brands also serve snickerdoodle flavour ice cream.
Snickerdoodle Recipe Without Cream Of Tartar is used in the original snickerdoodle recipe for leavening. However, some people find that leads to a metallic and zesty taste and tend to leave that out in their homemade preparations. The cookies made without cream of tartar also have a better bite and are therefore chewier.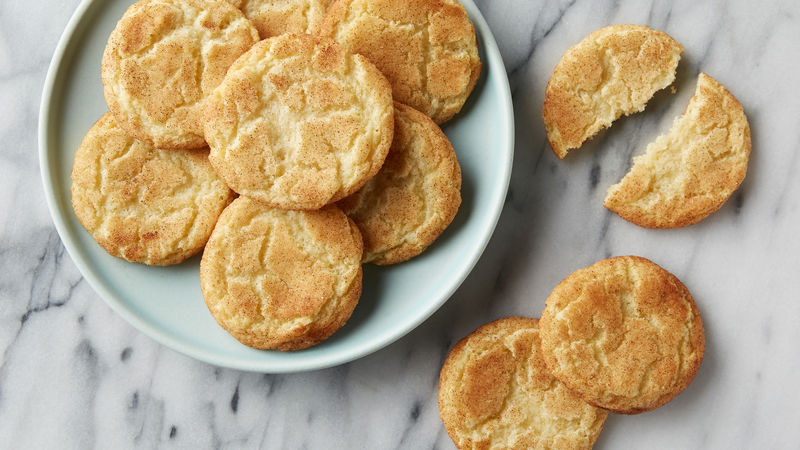 The Chemical reaction involving cream of tartar
Snickerdoodle Recipe Without Cream Of Tartar is used because of the way that it reacts with baking soda. The acidic cream of tartar and alkaline baking soda mingle together in the wet batter and, under the heat of the oven, undergo a chemical reaction that produces carbon dioxide. This carbon dioxide gas escapes the cookie batter and causes the cookies to rise and then crumble, giving them their characteristic crinkly top and chewy edges.
Cream of tartar also reacts with the gluten formed in the cookie and weakens its structure. This gives the cookie its slightly mushy centre.

Snickerdoodle without cream of tartar recipe
Preparation Time: 25 minutes
Cooking Time: 6 minutes
Total Time: 31 minutes
Ingredients Used in Snickerdoodle Recipe Without Cream Of Tartar
396 gms, all-purpose flour
5 gms, baking powder
3 gms, sea salt
227 gms, unsalted butter at room temperature
340 gms sugar
2 eggs
7 gms vanilla
45 gms sugar
7 gms cinnamon
Method to prepare Snickerdoodle Recipe Without Cream Of Tartar
Set the oven to preheat at 400 degrees F.
Sift your flour a minimum of 4 times. This allows for the flour to be well aerated and very fine.
Add baking powder and salt to the flour.
Beat the butter and sugar with an electric whisk on high. Keep whisking until the lumpy, sand-like mixture is creamy.
Add the dry ingredients to the wet ones, whisking them in till they are fully blended.
Make the cinnamon sugar by stirring cinnamon powder into powdered sugar.
Now roll the cookie dough balls in this and place them on a baking tray lined either with parchment paper or a silicone mat.
Repeat this process with all the dough balls and place them slightly apart on the baking tray.
9. Cook until the cookies are a deep golden brow. They should look crisp and dry.
10. Cool them while they are in the tray for 5 minutes, and then remove them from it and cook them for an additional 45 minutes on a cooling rack.
Tips to get the Delicious Snickerdoodle cookies
A snickerdoodle without cream of tartar can be as good as an original one if you follow a few tips.
Always sift your flour 4-6 times for this recipe. It ensures that the flour is rid of all impurities, well-aerated, and is very fine.
Weighing always gives more accurate results than measuring, as you can be 100% sure when you weigh your ingredients.
The 1:3 ratio is ideal when making cinnamon sugar. That is 1 teaspoon cinnamon to every 3 teaspoons of sugar.
If you love a softer cookie, ensure that they are not overbaked. Please wait for the edges to firm up and remove them from the oven while the centre looks still unset.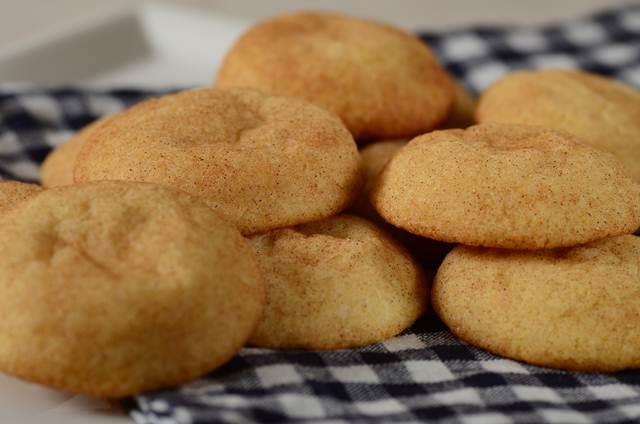 Summary
With its soft and chewy center and crunchy cinnamon sugar coating, a warm snickerdoodle cookie is the ultimate comfort food. Whether you're serving them for dessert or indulging in a sweet snack, these cookies are sure to bring a smile to everyone's face. So, whip up a batch today, and enjoy the classic flavor of Snickerdoodles in your own home.