Soft and Sponge Rasgulla Recipe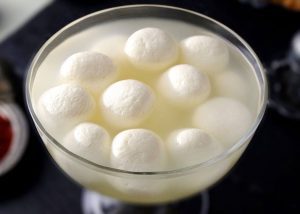 Sponge Rasgulla Recipe: Foodies, how many you like the dessert – Sponge Rasgulla. Indian sweets are full of variations, from Kashmir to Kanyakumari
Type: Rasgulla Recipe, Sponge Rasgulla Recipe, Indian Sweets
Cuisine: Rasgulla Recipe, Sponge Rasgulla Recipe, Indian Sweets
Keywords: sponge rasgulla recipe, sponge rasgulla, bengali rasgulla
Preparation Time: PT10M
Cooking Time: PT1H
Total Time: PT1H10M
Recipe Ingredients:
Spongy Rasgulla Recipe: Foodies, how many you like the dessert – Sponge Rasgulla. Indian sweets are full of variations, from Kashmir to Kanyakumari, every state has one or more unique sweet. Rasgulla is a famous Indian dessert made with the chenna but originated in Bengal. This is the most demanded sweet during the festive time; almost everyone loves to buy it. But give it a thought to prepare it in your kitchen. This recipe is made up of milk and sugar, although preparing it is a tricky matter. Follow these steps and you will get the perfect outcome.
Once you try this recipe, you will forget it to purchase rather will prepare at the times. Almost all the sweets are easy to prepare but sometimes we are scared to give it try thinking about what will be the outcome.
I tried this many times, but at the initial level not achieved the desired result, now I have reached the perfection level, thus I planned to share this recipe.
Prep Time: 10 mins
Cook Time: 1 hr
Total Time: 1 hr 10 mins
Course: Dessert
Cuisine: Indian
Servings: 8 Pieces
Calories: 106kcal
Equipment: Pan, ladle
Follow these steps to prepare a delicious Sponge Rasgulla Recipe at home.
Sponge Rasgulla Recipe Ingredients
1 Liter Milk preferably cow
2 Bowl Sugar
1 Lemon
10 Cup Water
Sponge Rasgulla Recipe Preparation
Take a pan, add milk to it. Let it boil. Stir it occasionally so that cream would not separate from the milk. When it boils, turn off the gas. Keep it for 1 minute.
Note: Prefer to take full cream milk, do not use the tetra pack or skimmed milk.
Squeeze one lemon in the bowl; add 2-3 tablespoon water in it.
Start to add the lemon juice in the milk, start by adding 1 tablespoon, and continue till the chenna and whey separates.
Take a pan; place a cotton cloth over it. Pour the chenna on that, so that all the whey removes from it.
Wash it with the water to make it cool and to remove the sourness of the lemon. Note: do not throw the whey, use to knead the dough or use to prepare the lentils.
Hang the cloth at a suitable location so that extra moisture could remove but do not squeeze it otherwise it will become very dry.
Take a big pan; add 2 cup sugar and 10 cup water. Allow the sugar to completely dissolve in it.
Now, knead the chenna and make it soft and smooth. With the help of fingers and palm knead until it becomes smooth. Now prepare small balls of chenna.
Do not make the string syrup, keep the consistency watery.
Now damp these balls in the syrup. Do not flip them for at least 2-3 minutes. Keep the flame high for 2-3 minutes, after that keep it medium-low flame.
After 2-3 minutes, flip the balls, flip it very softly, else they will break.
Boil them for 15 – 17 minutes, check after 5 minutes they will turn fluffy and spongy.
After 15 minutes, take them in a bowl along with the sugar syrup; dip them in the syrup for 7-8 hours before serving, so that Rasgulla can absorb the syrup.
Important Notes:
While preparing it, keep certain things in mind. First is that, the chenna should not be very dry to very moist. If it is dry, then the Rasgulla will not become spongy and if it is moist, they may break in the syrup.
If the chenna is moist, you can add ½ tablespoon white flour, and if it dries add little water to it. The perfect dish also depends upon the kneading; do not knead more than 3-4 minutes.
Also, do not make the syrup thick; add the balls in watery consistency syrup, so that the balls can absorb the sweetness.
These festivals try this sweet dish at home. I am sure, you will love it.
Summary
Sponge Rasgulla is a delicious and unique dessert that's enjoyed by people all over India. With its spongy texture, combined with its sweet syrup, Sponge Rasgulla is the perfect choice for anyone looking for a sweet and satisfying treat. Whether you're serving it for a special occasion or simply indulging in a sweet snack, Sponge Rasgulla is sure to delight.