Spicy meatloaf recipe is a classic dish that has its origins somewhere in middle Europe. This is one of the standard items on the menu in an American household during the holidays or sometimes even during the week.
History Of The Dish
Believe it or not, meatloaf was once upon a time considered to be the poor man's dinner. Minced-up meat was readily available, and this was a convenient recipe that anyone could throw together in a jiffy.
The better cuts were supposedly reserved for the owners of the house while the maids receive mostly leftover meat that they proceeded to grind, roast, season, and enjoy.
We have for you 3 variations on this classic dish that is sure to get you drooling:
Classic Spicy Meatloaf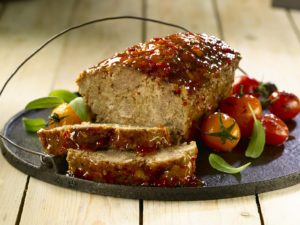 This is a popular version that is still much in use today.
Ingredients
3 pounds beef (ground)

1 pound hot Italian sausage

1 cup chopped onion

4 eggs

1 1/2 cups plain bread crumbs

1 package seasoning mix

1/3 cup milk

3 tbsp mustard

1 tsp garlic salt

1/2 tsp salt

1/2 tsp pepper

Ketchup, to drizzle on the top

4 large potatoes
Instructions To Prepare
Preheat the oven to 350°.

Bring together all the ingredients in a large mixing bowl. Leave out the ketchup and potatoes.

Mix them well until they are thoroughly combined.

Form the meat mixture into a loaf and transfer it to a baking dish.

Peel and cut each potato into 8 pieces.

Place potatoes along the edges of the meatloaf.

Top meatloaf with ketchup, or barbecue sauce.

Cover with foil and cook for 90 minutes.

Uncover and cook for an additional 15 minutes, or until meatloaf is cooked thoroughly.
Low Carb Meatloaf Recipe
Celebrations begin for the health-conscious. Here is a recipe where you can get the maximum taste with minimal calories.
Ingredients
1 tbsp olive oil (or any other oil of choice)

½ onion, diced

2 cloves garlic, minced

1 ½ lbs lean ground beef

½ teaspoon Italian seasoning

½ teaspoon salt

¼ teaspoon pepper

2 Tablespoons fresh parsley

1 large egg

¼ cup parmesan cheese

¼ cup almond flour

⅓ cup low carb tomato sauce

1 tbsp brown sugar
Instructions For Preparation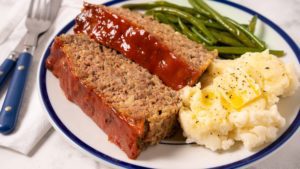 Preheat oven to 400°F.

Line a small pan with foil and spray some cooking spray on it.

Cook onion and garlic in olive oil until tender. Cool this completely.

Combine all meatloaf ingredients in a bowl and mix well till they are well combined.

Form into a 3″x8″ loaf and place on prepared pan.

Bake 30 minutes uncovered. Top with topping and bake an additional 30-40 minutes or until loaf reaches 160°F.

Rest for 5-10 minutes prior to serving.
Sweet And Spicy Meatloaf Recipe
Don't be fooled by the name. This recipe is quite the killer when it comes to spice. You can make it as mild or as hot as you like by simply moderating the ingredients.
Ingredients
2 tbsp olive oil

2 ripe green bell peppers, diced

2 red bell peppers, diced

1 large yellow onion, diced small

3/4 cup panko breadcrumbs

1/2 cup whole milk

2 heads garlic

1 cup tomato ketchup

1/4 cup steak sauce

1/4 cup sriracha

1/4 cup maple syrup

1 tbsp Montreal steak seasoning

2 pounds 80/20 ground beef

1 pound sweet Italian sausage

3 large eggs

1 bunch fresh Italian parsley, chopped

Kosher salt and freshly ground black pepper
Method Of Preparation
Heat olive oil till it gets a golden sizzle. Now saute the green peppers, red peppers, and onions in this hot oil. Wait for the vegetables to cool down completely before progressing to the next stage.

Now, preheat your oven to 350 F.

Now roast the garlic and mash it to make a fine paste.

Now combine the breadcrumbs, milk, and garlic in a bowl until they are well combined. Keep combining until the mixture begins to look a little like oatmeal.

The ketchup, steak sauce, sriracha and maple syrup are to be combined in a separate bowl. Whisk them together to make sure they are well combined.

Add the steak seasoning to the sauce mix.

Now mix the beef, eggs, sauteed pepper, and onion mixture. Add half of the meatloaf mixture into this. Mix it together and bake for 35 – 40 minutes.
Summary
Meatloaf is a classic comfort food dish that is made by combining ground meat, bread crumbs, eggs, and seasonings, and baking it in the oven until fully cooked. There are many variations of meatloaf, but the addition of suji, Ritz crackers, or Wheat Thins can give it a unique texture and flavor.