Spicy Onion Chutney Recipe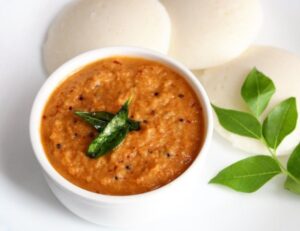 Onion Chutney Recipe: Onion chutney is complementary to the Indian meal. From North to South, East to West, Indian culture is full of a variety
Type: Onion Chutney Recipe, Indian Cuisine, Chutney Recipe
Cuisine: Onion Chutney Recipe, Indian Cuisine, Chutney Recipe
Keywords: onion chutney recipe, onion chutney, how to make onion chutney
Preparation Time: PT10M
Cooking Time: PT20M
Total Time: PT30M
Recipe Ingredients:
Onion chutney is complementary to the Indian meal. From North to South, East to West, Indian culture is full of a variety of foods be it sweet, main dish, bread, or side dish like chutneys. Almost all chutneys are a blend of different spices. Each has its eccentric flavor. Onion chutney is easy and delicious to make.
Onion Chutney Recipe Ingredients:
Onion – 5 Medium size
Oil – 3/4 Cup
Garlic Cloves: 7-8
Tamarind – 2-3 Tablespoon
Coriander Seeds – 1 Tablespoon
Fennel Seeds – 1 Tablespoon
Cumin Seeds – 1 Tablespoon
Whole Red Chilli – 4-5
Fenugreek Seeds – ¼ Tablespoon
Mustard Seeds – 1 Teaspoon
Urad Dal – 1 Tablespoon
Kalonji – ¼ Teaspoon
Kashmiri Red Chilli – 1 Tablespoon
Onion Chutney Recipe Preparation:
Clean the onion, peel them, and cut length-wise.
Heat ¾ cup oil in the pan. Add garlic cloves in it.
We are taking more oil to preserve it for a long time. You can take less oil as well.
Cook the garlic for 10 seconds. Do not overcook it otherwise it will have more of garlic flavor.
Add onions and mix well. Cook it on low flame to remove the raw taste of it and till it turns light pink.
At this stage, add tamarind. Cook it for 2-3 minutes. Instead of tamarind, you can also add dried mango powder.
Turn off the flame, and allow it to cool.
Prepare the spices for it.
In a pan, add coriander seeds, fennel seeds, and cumin seeds. Roast on low flame. Roast it for 1-2 minutes and add whole red chilli in it. Again roast it for few seconds.
Turn off the gas, add fenugreek seeds.
Allow it to cool and make a fine powder of it. Also, grind the onions and make the paste of it.
Now again, heat the oil in the pan. Add mustard seeds, cumin seeds and urad dal in it. Also, add kalonji and Kashmiri red chilli. Roast all the spices.
Add onion paste in it. Mix well.
Add the roasted spices and salt as per taste.
Add ¾ cup water and cook well.
Consistency will change. It will have semi-thick consistency.
The chutney is ready to serve.
Summary
Onion chutney is a tangy and flavorful condiment that adds a delicious twist to any dish. Whether it's served as a dip or a spread, this chutney is a versatile addition to your culinary arsenal. So why not try this Onion Chutney recipe today and add some extra zing to your meals? Your taste buds will thank you!