Sushi bake recipe is a trending sushi dish that rose to popularity around mid-April 2020 while the whole world was in lockdown. It is believed to have started in Manila Philippines where even some shops had it as part of their takeaway menu. It is inspired by the California roll which has been deconstructed, layered, and then baked in a casserole.
Sushi Bake Recipe
This warm and creamy mixture is then ladled on seaweed sheets and topped off with avocado and cucumber slices. It is great for potlucks, barbeque parties, and other large gatherings since it is so easy to prepare. The good thing about this dish is that since it is a casserole, you can get away with putting your leftovers or just about anything into this sushi bake.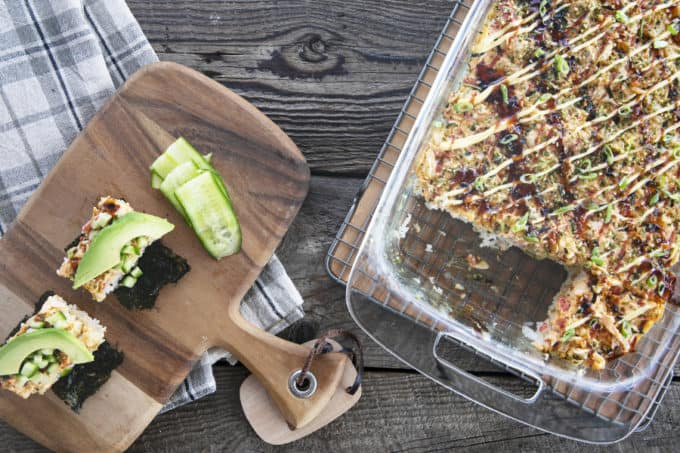 What Is Sushi?
Sushi is a dish that originated in Japan and is basically rice that is flavored with vinegar and then mixed with seafood or vegetables. Sushi is derived from a Japanese word meaning "sour rice".
Since rice is at the heart of this sushi dish, it is important to have the correct type of rice while attempting this Sushi Bake Recipe. Always use short grain or medium grain rice to achieve the texture and stickiness that is needed for sushi.
What Is Furikake?
Furikake is a Japanese condiment that is sprinkled over cooked rice. It usually consists of a mixture of dried fish, sugar, salt, seaweed, and sesame seeds thus giving it a crunchy, salty, and nutty taste.
What Is Unagi Sauce?
Unagi sauce is a golden brown thickened sauce made with sugar, sake, mirin, and soy sauce giving it a sweet, salty, and slightly smoky taste. It is usually drizzled over sushi.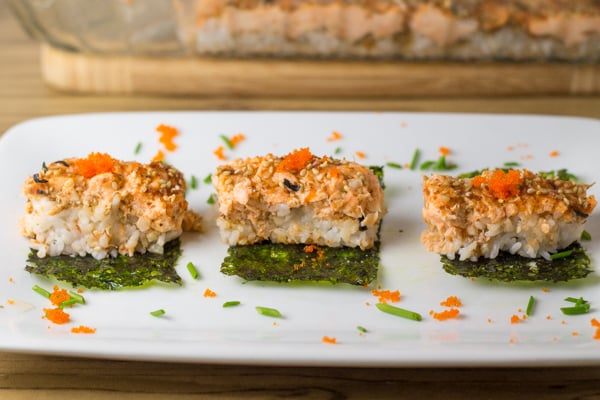 Ingredients for sushi rice:
Rice vinegar 3 tablespoons
Granulated sugar 3 tablespoons
Salt 1 tablespoon
Cooked white rice 3 cups
Ingredients for sushi bake recipe:
Softened cream cheese 1/2 cup
Mayonnaise 1/2 cup
Diced imitation crab 6 ounces
Finely chopped Cucumber 1/4 cup
Sliced green onion 1/4 cup
unagi sauce 2 tablespoons
Furikake ¼ cup
Avocado and cucumber slices for garnish
How to Prepare Sushi Bake Recipe?
Rinse the sushi rice thoroughly in a colander and let it drain for 15 minutes. Cook rice according to the package instructions.
Add rice vinegar, sugar, and salt in a small bowl and microwave for about 30-45 seconds. Mix well until sugar and salt have dissolved.
In a large bowl, add the hot rice and pour the vinegar mixture over the rice. Mix well using a spoon until rice is well coated. Set it aside to cool completely.
Next, preheat the oven to 450 degrees F.
Take another bowl and add cream cheese, mayonnaise, crab, cucumber, and green onion and stir until well combined.
Spread the rice mixture evenly in a 9×13 baking dish and sprinkle half of the furikake over the rice.
Now add a layer of the creamy crab mixture.
Drizzle the unagi sauce over the crab mixture and cover with the remainder of the furikake.
Place in the oven and bake for 10-15 minutes or until the top just starts to brown and bubble.
Cut the sushi bake into small portions. Spoon a piece of this creamy goodness onto a nori sheet and top with avocado and cucumber slices, then wrap it slightly and enjoy!
Sushi Bake Recipe Variations
Miso salmon – Make a miso salmon bake by using canned salmon and 2 tbsp of miso
Tuna salad –make a tuna salad bake by using drained canned tuna and mix in some sliced scallions.
Spicy – Make your sushi bake spicy by mixing in 2 tablespoons of sriracha into the crab mix and top with an extra drizzle of sriracha while serving.
Cheesy – make your sushi bake an oozy cheesy affair with an extra layer of shredded cheddar cheese on top before baking.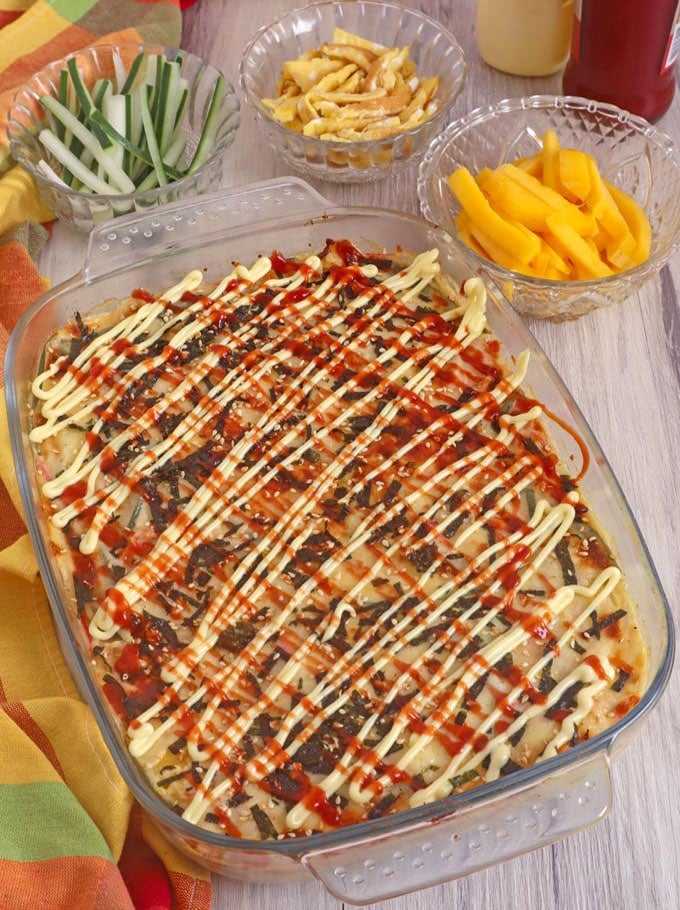 How To Store The Sushi Bake?
Sushi Bake can be kept in the refrigerator for up to 3 days using an airtight container.
How To Reheat Sushi Bake?
Sushi Bake can be heated up in the microwave for 30 secs to 1 min or you can heat it in an oven for 10-15 mins at 325 degrees F.
Summary
Sushi Bake is a delicious and innovative twist on traditional sushi that is perfect for those who love the flavors of sushi but don't have the time or skills to make it from scratch. With its layers of sticky rice, creamy avocado, savory nori, and juicy seafood, this dish is both satisfying and flavorful. Whether you're entertaining guests or simply looking for a quick and easy meal, Sushi Bake is a great option.