Tandoori Chicken Recipe - Authentic Appetizer of North India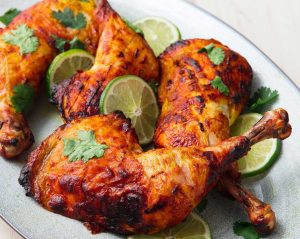 Tandoori Chicken Recipe: Tandoori Chicken reminds us of a smoky flavoured spicy soft chicken dish which even increases our appetite.
Type: Tandoori Chicken Recipe, Indian Food
Cuisine: Tandoori Chicken Recipe, Indian Food
Keywords: tandoori chicken recipe, recipe for tandoori chicken, how to make tandoori chicken
Preparation Time: 5M
Cooking Time: 1H
Total Time: 1H5M
Recipe Ingredients:
Tandoori Chicken Recipe: Tandoori Chicken reminds us of a smoky flavoured spicy soft chicken dish which even increases our appetite. It is a Mughlai cuisine and generally quite juicy but mostly it is served as the starter. It is cooked in an oven or sometimes on the stovetops. But the best quality tandoori Chicken can be made on the fire directly to get the smoky flavour out of it.
You may also like: Make Delicious Butter Chicken at Home
Tandoori chicken or tandoori murgh is one of the major dishes of North India. Here, murgh means chicken and similarly tandoori means the clay oven. The whole dish is prepared by marinating the chicken with several spices and then grilling on the clay oven. So many people prefer this item over many other chicken recipes because:
✅ Tandoori chicken is spicy but not hot. So children can eat them with utmost enthusiasm.
✅ No oil or butter is used to make tandoori chicken and that is why it is considered to be a healthy chicken dish for health-conscious people.
✅ The spices which are used in tandoori Chicken are mostly available in our household and that is why there is no problem regarding the availability of the raw materials.
Tandoori Chicken Recipe Ingredients:
500 grams of chicken
Half a cup of Greek yogurt
1 tablespoon of ginger garlic paste
1 teaspoon of garam masala
1 teaspoon of chilli powder
1 teaspoon of coriander powder
1 teaspoon of Kasuri methi
Pinch of pepper
Pinch of turmeric powder
Salt to taste
1 tablespoon of lemon juice
2 tablespoons of mustard oil
Tandoori Chicken Recipe Cooking Method
The whole recipe of tandoori chicken is divided into two parts, the first part is the marination of chicken and the second part is the grilling.
Marination of Chicken:
✅ At first, take some Greek yogurt in a bowl and add ginger garlic paste, garam masala, salt, red chilli powder, turmeric powder, Kasuri methi, and pepper and coriander powder. Mix all the elements properly.
✅ Now you have to mix everything with some lemon juice and oil. The whole thing should be thick and not dripping in nature.
✅ Then make some gashes in the chicken and marinate the spicy yogurt into those gashes.
✅ You have to keep it this way for at least 6 hours. If you lower the time, the chicken may not be as juicy and soft as you want. So you need to keep ample time while making tandoori chicken.
The Grilling of the Chicken:
✅ To start the grilling, first, you need to preheat the oven for around 15 minutes with 240 degree Celsius of temperature.
✅ Then you need to place a full-size foil on the oven to control the dripping. And then place the grilling rack on the tray.
✅ Now you have to put the chicken pieces on the rack and grill them for about 15 minutes.
✅ After grilling it for 15 minutes, baste the remaining marinade on the chicken or you can mix some oil and chilli powder and baste them on it. And do the same after flipping the chicken.
✅ After that, you have to cook it again for around 10 minutes. You can always adjust the time according to the sizes of chicken.
✅ To get the smoky flavour, you can burn some charcoal in a bowl and place them inside the oven. You can also use the last 5 minutes to place the chicken pieces on the uppermost rack to have the charred effect on the chicken.
✅ Finally serve the tandoori Chicken after brushing some oil on them to keep it soft and moist.
It is one of the most famous appetizers and you can have them as a starter item with some lemon pieces and onion rings.
We hope you liked our Tandoori Chicken Recipe. For more such recipes follow our Blog foodiewish.com
Image Source