Tangy Raw Mango Chutney Recipe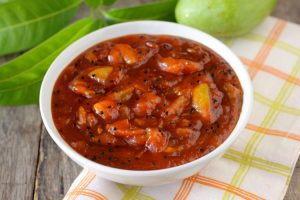 Raw Mango Chutney Recipe: Summer is the season of mangoes. We all wait for the summer season to enjoy the unique taste, different beverages
Type: Dip
Cuisine: Indian
Keywords: Raw Mango Chutney
Preparation Time: PT5M
Cooking Time: PT40M
Total Time: PT45M
Recipe Ingredients:
Raw Mango Chutney Recipe: Summer is the season of mangoes. We all wait for the summer season to enjoy the unique taste, different beverages, and the most wanted chutney. Many people love to make the mangoes chutney; it gives the extra flavour to the meal. From the mango shakes to ice-cream, we all embrace its flavour in one form or the other. Mango chutney is one of the forms that many people love to prepare and it can be stored for up to one year without any preservatives.
Take a few precautions and enjoy this chutney throughout the year.
Serving: 1 Bowl
Preparation Time: 5 Minutes
Cooking Time: 45 Minutes
Courses: Side Dish
Cuisine: Indian
Equipment: Pan, Grinder and ladle
Calories: 100 Calories/serving
Raw Mango Chutney Recipe Ingredients
Raw Mango – 1 Kg
Sugar – 900 Grams
Turmeric Powder – ¼ Teaspoon
Salt – ½ Teaspoon
Red Chilli Powder – 1 Teaspoon
Cumin Seeds – ¼ Teaspoon
Carom Seeds – ¼ Teaspoon
Fennel Seeds – ¼ Teaspoon
Black Cumin Seeds – ¼ Teaspoon
Fenugreek Seeds – ¼ Teaspoon
Cardamom Powder – ¼ Teaspoon
Raw Mango Chutney Recipe Preparation:
Wash mangoes thoroughly, strain the water. Make sure no water remains on the surface of the mangoes.
Peel it and grate each mango.
Take a pan; do not turn on the gas. Add the mango pulp in it. Add 900 grams of sugar and mix well.
Sugar must be in the same quantity as mangoes. You can taste and add the sugar in it at a later stage.
Now turn on the flame, keep it low. Mix well. Cook it for 10 minutes.
You will see it has the watery consistency. Further, cook it for 5-10 minutes.
At this stage add 1 teaspoon red chilli powder, ¼ tablespoon turmeric powder, and ½ teaspoon salt. Mix well.
Keep cooking at low flame; side by side prepare the spices to add at the later stage.
Take a pan; add cumin seeds, carom seeds, fenugreek seeds, fennel seeds, and black cumin seeds. Add ¼ teaspoon of all these seeds.
Roast it for 1-2 minutes, turn off the gas. Make the fine paste.
Check the chutney, the total time to cook it is around 45 minutes. The consistency should be liquid.
Once all the water drains and it has the liquid consistency, turn off the gas.
Add the prepared spices and ¼ teaspoon cardamom powder. Mix well.
Chutney is ready to serve.
Keep it in an air-tight jar, away from the moisture to increase the shelf life.
Note:
Don't burn all the water; else the chutney will get hard. You have to be careful while turning off the flame.
Turn off when it has the liquid consistency when it cools down, it will further get hard.
You can drain the extra water later but if it turns rigid, nothing can be done at this stage.
Summary
Mango Chutney is a sweet and tangy condiment that is a staple in Indian cuisine. Made with ripe mangoes, sugar, spices, and vinegar, this chutney adds a delicious burst of flavor to any dish. Whether you're serving it with samosas, kebabs, or just as a dip, Mango Chutney is a versatile and delicious option that is sure to be a hit. So why not give it a try and see why it has become such a beloved condiment in Indian cuisine.