Traditional Bengali Doi Katla Recipe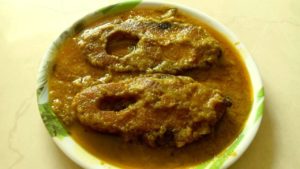 Doi Katla Recipe: Bengali recipes are mouth-watering. Surveys have already shown how Bengalis are well recognized to be the best cook all over India.
Type: Doi Katla Recipe, Indian Food, Indian Cuisine
Cuisine: Doi Katla Recipe, Indian Food, Indian Cuisine
Keywords: doi katla, doi katla recipe, recipe doi katla
Preparation Time: PT10M
Cooking Time: PT1H5M
Total Time: PT1H15M
Recipe Ingredients:
Doi Katla Recipe: Bengali recipes are mouth-watering. Surveys have already shown how Bengalis are well recognized to be the cook all over India. Their hand expertise in yummy delicacies one can ever imagine. Since West Bengal is very near to the Bay of Bengal, this state has an abundant supply of a variety of fish. Having a lot of options in the fish category, fish in West Bengal has a number of fish recipes.
Here is a recipe for "Doi Katla". As the name suggests Doi, is the Bangali of the word curd. While Katla is the Bengali of the fish name Catla(also goes by the name Asian Carp)
So let's get started with the recipe of Doi Katla Recipe.
Ingredients required for Doi Katla Recipe
6 pieces of Katla fish
1 kg of curd
1 tablespoon turmeric powder
1 tablespoon red chili powder
1 tablespoon coriander powder
1/2 tablespoon cumin seeds
1 tablespoon cumin powder
3 medium pieces of onions(two diced for frying, while one diced for making onion paste.)
2 medium-sized tomatoes (One diced for tomato paste, while the other one diced for frying)
2 Bay leaf
1 medium-sized ginger(for ginger paste)
10gm ginger paste
Mustard oil
Salt to taste
Marinating process for Doi Katla
The fish pieces need to be marinated with 1 tablespoon of turmeric powder, 1 tablespoon of red chili powder, 1 tablespoon of oil and 1/2 teaspoon of salt. Mix the ingredients well with the fish. Keep it for 15 minutes. While in another pot mix 1 teaspoon of turmeric and red chili powder with whisked curd. Place it aside.
Now let's start with the cooking…
The first step in Doi Katla cooking process is to heat the mustard oil in a cooking pot. Take 1 full teacup of mustard oil for frying the fishes. Do not place the fishes as soon as you place the oil in the cooking pot. Observe, once the oil is heated good, slowly place the fish one by one into the pot.
Once the fishes have turned golden brown take those out from the cooking pot and place it aside.
Add cumin seed as mentioned above, along with the two bay leaves.
Then add the diced onion pieces in the cooking pot along with the diced tomato. Add the mentioned amount of turmeric powder, red chili powder, coriander powder, cumin powder. Add ginger paste, garlic paste, onion paste, and tomato paste to the spice mixture stir it well till the mixture gives a fine scent along with a brick red color. Add water as per the requirement.
Once you see a layer of oil over the mixture of spices, add the curd mix into the mixture. Mix the paste well. Let this cook for 10-15 minutes until the mixture has turned golden brown with a sweet delicious scent. Add some salt as per the requirement. Add water whenever you find the mixture getting all dried up.
After 10- 15 minutes place the fish pieces into the mixture. And again cook for 10 -15 minutes in low steam.
After 10-15 minutes taste the gravy. See if anything more is required for the curry or not. Add water and salt to taste as per requirement. Cover it up for another 4-5 minutes.
Your Doi Katla is now ready to serve.
Well cook time for this Doi Katla recipe is approximately about 1 hour and 30 minutes
Doi Katla can be eaten with naan or luchi, but it tastes great with hot basmati rice.
I hope you have found this recipe interesting, tasty, delicious and helpful.
Summary
And that's a wrap on our Doi Katla recipe! We hope you enjoyed making and eating this delicious and tangy Bengali fish dish. If you have any questions or comments, feel free to reach out. Until next time, happy cooking and enjoy your Doi Katla!