Traditional Gulab Jamun Recipe with Khoya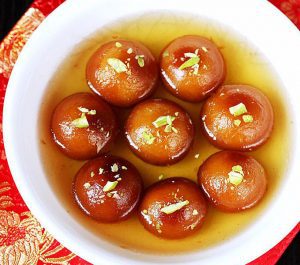 Traditional Gulab Jamun Recipe: Gulab Jamun is one of the fanciest sweet dishes that people love to have it almost every occasion.
Type: Gulab Jamun Recipe, Indian Sweets, Indian Sweet Recipe
Cuisine: Gulab Jamun Recipe, Indian Sweets, Indian Sweet Recipe
Keywords: gulab jamun recipe, how to make gulab jamun, how to make gulab jamun soft
Preparation Time: PT15M
Cooking Time: PT1H
Total Time: PT1H15M
Recipe Ingredients:
Traditional Gulab Jamun Recipe: Gulab Jamun is one of the fanciest sweet dishes that people love to have it almost every occasion. Wedding, inauguration, festivals, birthday party or any other get together, this recipe is heart and soul for every occasion, without which celebrations are incomplete.
Many people think that soft gulab jamun that satisfies the taste buds is tough to prepare. Yes, it requires little efforts but it is not at all that rigid. So, remove this wrong notation from the mind and try this recipe.
Although there are various ways to prepare the gulab jamun like you can make from semolina, bread but the most authentic and traditional way is by using khoya.
In this post, I am sharing the Traditional Gulab Jamun recipe made with khoya.
Serving: 10 – 12 Pieces
Preparation Time: 15 Minutes
Cooking Time: 1 Hour
Courses: Sweet Dish
Cuisine: Indian
Equipment: Pan, ladle and strainer
Calories: 120 Calories/piece
Traditional Gulab Jamun Recipe Ingredients:
Milk – 1 liter, full fat
Lemon – 1
Khoya – 500 Grams
Sugar – 1 and a half cup
Water – 1 liter
Maida – 1 tablespoon
Semolina – 1 tablespoon
Cardamom Powder – 1 Tablespoon
Traditional Gulab Jamun Recipe Preparation:
✅ Make the chenna, boil the milk. Add diluted lemon water in the boiling milk; stir it so that the chenna separates from the whey. To dilute the lemon water, add the 1 tablespoon water in the lemon juice.
✅ Prepare the sugar syrup. Add 1 and half cup sugar and 750 ml water in the pan. Allow it to boil. Also, add 1 tablespoon cardamom powder and 2 drops of lemon juice in the syrup.
(Lemon juice is used here so that sugar will not get crystalized and to remove the impurities).
✅ Now strain the chenna. Use the cotton cloth to separate whey from chenna. Add cold water in the chenna after straining it.
(Wash the chenna thoroughly so that lemon flavor removes from it.)
✅ With the help of the palm, mash the chenna. Bring it to the smooth texture. Keep it aside. Do not over-beat it.
✅ Take crushed khoya, again make it smooth with the help of palm. Make sure all the grains remove from it.
✅ Now add chenna, ¼ tablespoon cardamom powder, 1 tablespoon maida, and 1 tablespoon semolina in it. Prepare the soft dough.
(We are adding semolina to make it a bit crispy and to give it a nice binding)
✅ Now make the small balls from the dough. Meanwhile, check the sugar syrup. Make the thick consistency sugar syrup.
✅ Divide the syrup into two parts, and add little water in 1 part. Boil it for 2-3 minutes and turn off the gas.
✅ Fry the balls. Heat the oil in the pan. Keep the flame medium to low. One by one drops all the balls in the oil.
✅ Budge the oil with the help of ladle; make sure not to touch the balls. Do not move them, till they float upwards.
✅ When they float upwards, flip the sides and fry till they turn dark brown.
✅ Once they turn the dark brown, remove from the oil and dip in the diluted sugar syrup. Allow it to dip for 15-20 minutes.
✅ Now one by one dip these jamuns in the thick syrup, and keep it aside for 2-3 hours.
✅ Gulab Jamun is ready to serve.
Note:
Do not dip the gulab jamun in very hot sugar syrup or cold sugar syrup. Always dip in the lukewarm syrup.
Use two rounds of sugar syrup to dip them, one is diluted and the other one is thick.
First dip in the diluted, so that the syrup reaches well in the inner layer. Do not dip more than 15-20 minutes, otherwise, they may break.
After 20 minutes, dip in the thick syrup for some time.
Summary
Gulab Jamun is a traditional Indian dessert that is made from a dough of milk solids, flour, and sugar. The dough is deep-fried until golden brown and then soaked in a sweet syrup made from sugar and water flavored with cardamom and rose water. The result is a soft, pillowy dessert with a sweet syrup that is both delicious and satisfying. Whether you are serving it for a special occasion or just as an after-dinner treat, Gulab Jamun is a must-try. So, gather your ingredients and give this traditional Indian sweet a try. Your taste buds will thank you!