Turkey meat is considered to be healthier than most as they are low in saturated fats. As they are thin slices, they also cook quite fast making them a great option for an easy weeknight dinner. So try these recipes if you would like a change from the regular proteins.
Turkey Cutlet Recipes
Turkey cutlet recipes for an easy, healthy, and delicious meal.
What are Turkey Cutlet Recipes?
Turkey cutlets or turkey chops as they are often called are thin and tender, boneless, tsp skinless slices of turkey breast that are easily available in packs of 6 in most supermarkets.
White wine turkey cutlets
Ingredients for Turkey Cutlet Recipes (White Wine)
Turkey cutlets 6
Dried rosemary ½ tsp
Dried sage ½ tsp
Paprika ½ tsp
Salt ½ tsp
Ground black pepper ½ tsp
Olive oil 6 tsp
Finely diced garlic cloves 4
Dry white wine ⅓ cup
Chicken broth ⅓ cup
Chopped parsley 2 tbsp
How to make Turkey Cutlet Recipes (White Wine)?
Place the turkey cutlets in a flat dish.
Take a bowl and add in the rosemary, sage, paprika, salt, and pepper and pour in about 3 tsp of olive oil and mix well.
Now pour this mixture over the turkey cutlets and make sure it coats the cutlets evenly on both sides.
Place a non-stick skillet on medium-high heat and spray it with 1 tsp olive oil.
Place the cutlets in this skillet making sure they do not touch or overlap.
Flip the cutlets over after 2 mins and allow to cook for another 1 min until it has cooked through.
Remove from heat and place on a plate and cover the plate with aluminum foil to retain heat.
In the same skillet pour 1 tsp of oil and reduce the heat to medium.
Add the garlic to this hot skillet and stir constantly and let it cook for at least 1 min.
Now add in the white wine and chicken broth and let it simmer until the sauce is reduced
Now add in the parsley and a little bit of salt and pepper to taste.
Now transfer the cooked cutlets back to the pan and ladle the sauce over the cutlets and serve.
Parmesan crusted turkey cutlets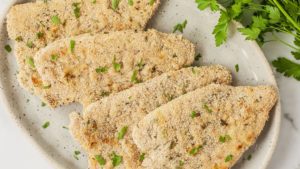 Ingredients for Turkey Cutlet Recipes (Parmesan Crusted)
Turkey cutlets 4
Eggs 2
Breadcrumbs ⅓ cup
Parmesan cheese 2 tbsp
Butter 1 tbsp
Salt to taste
Ground black pepper to taste
Olive oil 1 tsp
How to Make Turkey Cutlet Recipes (Parmesan Crusted)?
Place the cutlets on a clean work surface and season well with salt and pepper.
Mix, the parmesan cheese and breadcrumbs in a bowl.
In another bowl, beat only the egg whites and set aside.
Dip the cutlets in the egg white and then dredge through the breadcrumb mixture making sure that both sides are well coated.
Place a non-stick skillet on medium heat and add in the butter and olive oil.
Once the butter has melted, place the cutlets in the skillet keeping some space between them.
Cook for at least 12 minutes flipping them halfway until they are cooked through and are golden brown.
Transfer to a plate and garnish with some lemon wedges and serve.
Turkey cutlet parmesan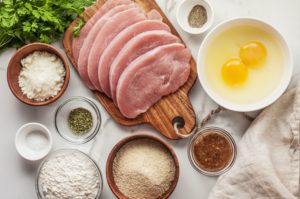 Ingredients for Turkey Cutlet Recipes (Parmesan)
Turkey cutlets 4
Egg 1
Milk ½ cup
Seasoned breadcrumbs 1 cup
Olive oil 2 tbsp
Finely diced onion 1
Finely diced red bell pepper 1
Sliced mushrooms ½ cup
Tomato sauce 1 jar
Shredded mozzarella 8 oz
How to Prepare Turkey Cutlet Recipes (Parmesan)?
Start by preheating the oven to 350 degrees F.
In a small bowl, beat the egg and the milk together and set it aside.
Place the breadcrumbs in a flat dish and set it aside.
Now dip the turkey cutlets in the egg mixture and then in the breadcrumb mixture.
Make sure that both sides of the turkey cutlet are well coated with the breadcrumbs and shake off the excess.
Now place a non-stick skillet over medium heat and pour in the olive oil.
Place the cutlets in the skillet and do not let them overlap.
Let the cutlets cook for at least 8 mins flipping them halfway so that they are golden brown on each side and cooked through.
Remove the turkey cutlet from the skillet and place it in a baking dish.
In the same skillet, add the onion, bell pepper, and mushrooms and cook until tender and place over the cutlets.
Pour the sauce and the parmesan and bake for 20 mins.
Then add the mozzarella and cook until it has melted.
Spoon over pasta and enjoy!
Summary
Turkey Cutlets are a delicious and versatile option for your next meal. Whether you're pan-frying, baking, or grilling them, turkey cutlets offer a lean and nutritious option that's both easy to prepare and packed with flavor. With its tender and juicy texture, combined with its ability to absorb marinades and spices, turkey cutlets are a great choice for any meal. So why not try one of these turkey cutlet recipes today and discover the delicious possibilities for yourself? Your taste buds will thank you!