Turkey Steak Recipes From Slimming World – Slimming World is a UK-based slimming company. Turkey Steak Recipes Slimming World have been much sought after. The fact that turkey is delicious while still being high on protein is one of the major factors. Slimming World has healthy recipes for you to recreate in your kitchens. They will give you double the taste with half the calories.
Why Are Health Freaks In Love With Turkey?
Of late, Turkey has become a staple to the diet of every serious health fanatic. Listed below are a few reasons that explain why that might be:
Turkeys are packed with proteins, which is a must for building muscle mass. Eating only one turkey breast can provide you with almost 30gms of protein.
Turkey consumption can increase good cholesterol levels in your blood (HDL) and lower bad cholesterol (LDL). Some studies have proved that regular turkey consumption can lower the free cholesterol in your blood.
The antioxidant selenium is present in abundance in turkey meat.
Tryptophan, which is an amino acid, is also present in turkey meat.
Turkey meat is loaded with nutrients and vitamins. This makes it an excellent choice for someone who wants great taste along with the goodness of maximum health benefits.
Mexican Turkey Steaks
This is a delicious recipe that renders a tender and well-spiced turkey steak. Turkey meat has a slightly grainy texture, so it holds well onto the spices. This is a good option if you are aiming for an early healthy dinner.
Ingredients
1 tsp chilli powder
1 tsp garlic powder
1 tsp onion powder
½ tsp crushed red pepper flakes
½ tsp dried oregano
2 tsp smoked paprika
1 ½ tsp ground cumin
½ tsp sea salt
½ tp black pepper
1 pinch ground cinnamon
1 cube chicken stock
2 turkey steaks
1 tin Tesco Taco mixed beans
1 lime
Cooking spray
Method of Preparation
Make a marinade by mixing chilli, garlic, and onion powder. Add the red flakes, oregano, and smoked paprika—season with cumin, salt, and pepper.
Once all the powders are mixed, add the juice of a lime to the mix and make a pasty mixture.
Massage the turkey breasts with this mixture and leave the meat to marinate for 2-4 hours.
Spray a large frying pan with cooking oil, and once the pan is hot enough, add the turkey breasts to it.
Sear each breast for at least 2 minutes, each side. Cook for longer if you feel the need.
Once the meat is almost done, add the tin of beans and let the meat simmer in the vegetable mix for a while.
Serve hot with rice or a salad.
Turkey Pizza Melts
This recipe is good for cheat days, so you won't feel guilty about stuffing yourself with all that cheese. Having said that, this is still a recipe that aims to provide maximum health benefits. Since the bread is replaced with turkey breasts, that cuts out most of the carbs in the first place. Try it once, and you might find yourself a healthy replacement for the sinful takeaway pizza.
Ingredients
4 turkey breasts
Low-calorie cooking oil spray
115ml chicken stock
400 gm vine tomatoes
2 yellow peppers
1 tbsp tomato puree
1 tsp dried oregano
½ tsp dried red chilli flakes
200 gms mozzarella cheese
Salt and pepper for seasoning
Handful of parsley
Handful of basil
Method of Preparation Of Turkey Steak Recipes Slimming World
Prepare the turkey breasts by flattening them. Wrap the breasts with cling film and use a rolling pin to flatten them.
Spray a large frying pan with cooking oil and put the turkey breasts to fry on them. Fry for 1-2 minutes on each side.
Once the turkey breasts have been cooked through completely, this should take no more than around 4 minutes per breast; keep them in a warm place to use later.
Add chicken stock to the same pan and reduce it by simmering it for a while.
Add the vine tomatoes, peppers, tomato puree, oregano and chilli flakes. Cook for 4-5 minutes until the vegetables have softened and the stock is well reduced.
Preheat your oven to 350F
Place the tomato mixture on the turkey breasts and top with the pieces of mozzarella.
Please place them in the oven for around 10 minutes until the cheese has melted and is bubbling.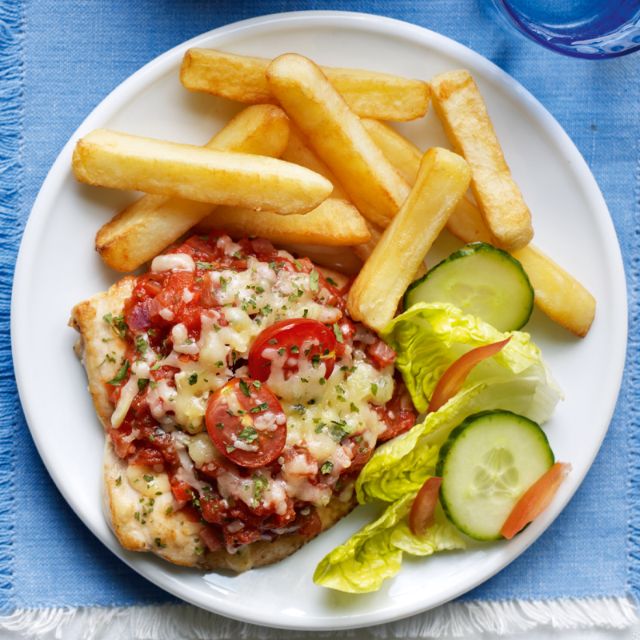 Summary
In conclusion, Turkey steak is a delicious and healthy alternative to traditional beef steak. With its low fat content and high protein content, it's a great choice for anyone looking to eat a healthy, nutritious meal. There are many different recipes you can try with turkey steak, ranging from classic grilling to more exotic, flavorful dishes. So whether you're looking for a quick weeknight dinner or a special occasion meal, there's a turkey steak recipe out there for you. Enjoy!