Yellow Dal Tadka Recipe: In our city Yellow Arhar or Toor Lentils (Pigeon Peas) is commonly used to make Dal Tadka in almost all restaurants. Let's check out in this post how to make delicious Dal Tadka at your home?
You may also like:
Yellow Dal Tadka Recipe Details
Recipe type: Main Course
Cuisine: Indian
Yield: 2 Servings
Prep time: 10 mins
Cook time: 20 mins
Total time: 30 mins
Ingredients Required for Making Dal Tadka
1 Cup or 200 grams of Arhar Dal (Pigeon Peas)
Water as per requirement
1 Spring Onion or Scallion
1 Tomato
2 tablespoon of Coriander Leaves
1/2 (half) tablespoon of Black Mustard Seeds
1/4 (one-fourth) tablespoon of Cumin seeds
1 Green Chilli
1 Pinch of Heeng or Asafoetida Powder
1 inch of Ginger
4 cloves of Garlic
Turmeric Powder as per taste
Sugar as per taste
Salt as per taste
Yellow Dal Tadka Recipe Cooking Method
1. Take 1 cup or 200 grams of Arhar Dal and wash it very well using cold running water. After washing, soak the Dal for at least 10 minutes.
2. Now, take a 3 Liter pressure cooker and put Dal inside it: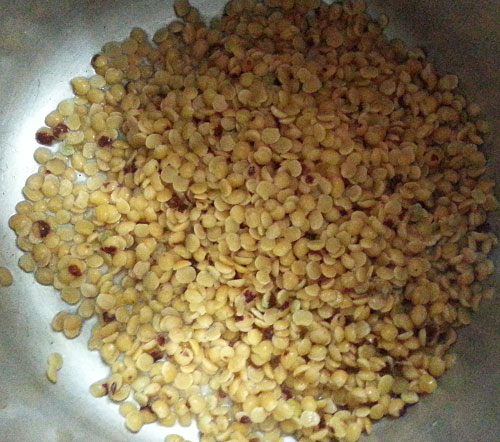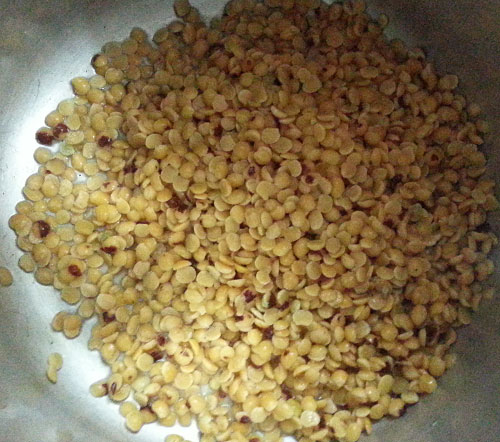 Start pouring water into the cooker, so that the level of water comes at least 5 to 6 cm above cooker surface: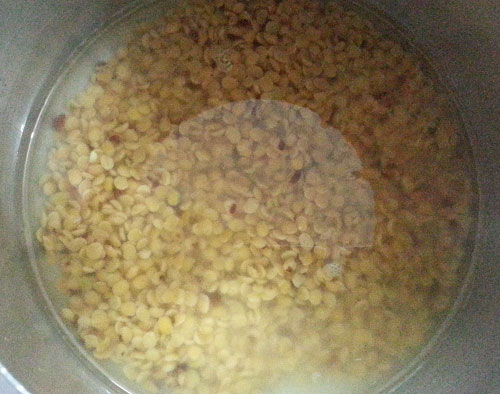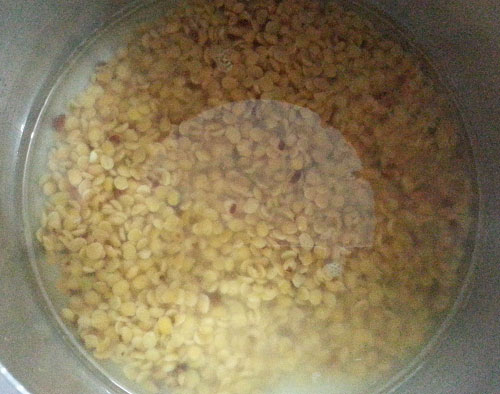 3. Close the lid of cooker tightly and start heating it. When you hear first two whistles, turn off the heat and allow the cooker to cool naturally.
Important Note: The quality of Dal as well as Water determines the total cooking time of boiled lentils. If you are using low quality Arhar Dal or Hard Water, then the Dal may take more cooking time.
4. Open the cooker and you will see your Dal has been cooked.
Important Note: Use a tablespoon to take out some cooked lentil grains from the cooker and try to mash them with your finger. If the grains are soft and breaks easily, then the Dal is fully cooked.
In case the grains are bit hard OR you want to increase the consistency/doneness of the Dal, then it needs more pressure cooker whistles. Keep in mind, for more whistles you may need to add more water.
5. While the cooker is cooling off, take a Frying Pan or Karahi or Tadka Pan and pour 2 tablespoon of vegetable oil in it. Heat the pan, so that the oil becomes hot for frying.
6. Add 1 Pinch of Asafoetida (Heeng) and half tablespoon of Black Mustard Seeds into the oil. Remember, when you add mustard seeds into hot oil, they will start crackling, so you need to be extra careful with your skin.
7. Now add One Fourth tablespoon of cumin seeds, 1 Green Chilli (chopped into small pieces), 1 inch of ginger (chopped into small pieces), 4 cloves of Garlic (chopped into pieces), 1 full spring onion (finely chopped) and 1 chopped tomato in the pan.
Also add turmeric powder, salt and sugar in the pan as per your taste. Mix everything very well and cook for at least 2 minutes.
8. Once everything is cooked, put the content of the pan inside boiled Arhar Dal in a separate utensil. Heat the utensil for around 2 minutes and mix everything very well.
9. Your Dal Tadka is now ready to be served with Jeera Rice or Plain Rice.
Image Source