Green Peas Masala Rice Recipe is very quick to prepare and tasty too. In this recipe, we are using fresh green peas and green capsicum. When your children are not eating food, do prepare this rice, they will for sure love it.
You may also like:
Recipe Details:
Preparation Time: 15 mins
Cooking Time: 20 mins
Serves: 3
Green Peas Masala Rice Recipe ingredients
2 cup cooked rice
1 cup fresh green peas (if you don't have fresh peas you can use frozen)
1 large capsicum
1 tsp ginger and garlic paste
1/4 tsp fennel powder
1 cup finely chopped onions
2 green chilies finely chopped
Whole garam masala (2″ cinnamon stick, 2 big cardamoms, 3 cloves)
4-5 cashew, optional
1 tsp mustard seeds
1 tsp cumin seeds
2 tsp noodles masala (optional; you can add more as per your taste)
2 tsp coconut powder
5 tsp oil
Salt to taste
Few coriander leaves for garnish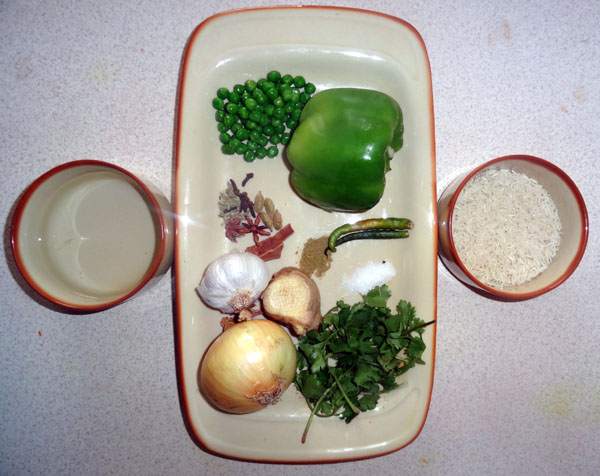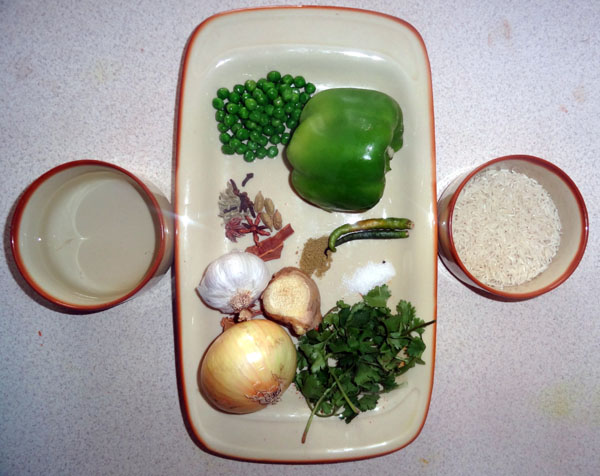 Green Peas Masala Rice Recipe Method
Take a heavy bottom pan and put oil in it. When it is hot, add whole garam masala.
Then add mustard seeds and cumin seeds and stir it for some time.
Now add chopped onions and green chilies and fry them until onions becomes light brown color. Then add ginger and garlic paste and saute it for few seconds.
Now add chopped capsicum, green peas, and salt. Close the lid and let them cook for some time.
After peas are done you can add fennel powder, noodles masala, coconut powder, cashews, and mix well.
Your masala is ready now. Finally, add cooked rice in to that masala and mix well.
Garnish with fresh coriander leaves and serve hot.
Serving Instructions
Serve green peas masala rice with raita or any curry.
Image Source