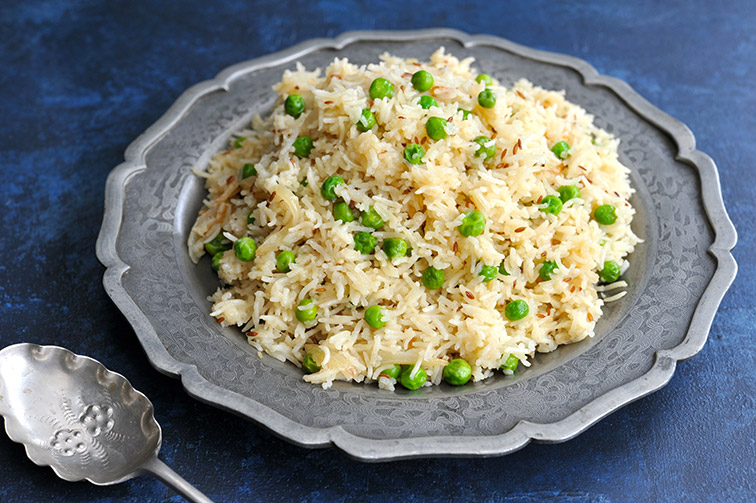 Jeera Matar Pulao Recipe: If you are getting tired of eating Steamed Rice every day at your home or office, then let's check out in this post how to make Jeera Matar Pulao instantly at your home? Some people may even call this recipe as Jeera Matar Chawal or Jeera Matar rice.
You may also like:
Jeera Matar Pulao Recipe Details:
Recipe type: Main Course
Cuisine: Indian
Serves: 2
Prep time: 10 mins
Cook time: 5 mins
Total time: 15 mins
Jeera Matar Pulao Recipe Ingredients
2 Cups or 400 grams of common rice.
2 Cups or 500 mL of Water
50 to 80 grams of boiled Peas
1 tablespoon of Jeera (Cumin Seeds)
3 tablespoon of Ghee or Dalda (Hydrogenated Vegetable Oil) or Butter or Normal Vegetable Cooking Oil
2 Green Chilies
1 inch of Ginger
Salt as per taste
Raisins or Kishmish (optional)
Shallow fried Cashew Nuts or Kaju (optional)
Jeera Matar Pulao Recipe Cooking Method
Important Note: The following cooking procedure is not meant for Basmati Rice. It's applicable only for cooking common rice.
1. Wash the Rice very well using cold running water and soak it in water for at least 10 minutes.
2. After 10 minutes, put the rice inside 3 Liter pressure cooker and pour 2 cups or 500 mL of water into it. The level of water must come at least 3 cm above rice surface. If you want, you can also add 1 tablespoon of vegetable oil in the cooker.
3. Tightly close the lid of cooker and start heating it until you hear first whistle. Lower down the heat and cook the rice for another 1 minute. With cooker lid tightly closed, turn off the heat and leave the cooker to cool naturally.
4. Once the cooker has been cooled off, open the lid and you will see your rice are fully cooked:
5. While the cooker is cooling off, take a frying pan (or Karahi) and pour 2 tablespoon of ghee in it. Heat the pan so that the Ghee starts melting.
6. Now, put salt as per your taste, 1 tablespoon of Jeera (Cumin Seeds), 2 Green Chilies (chopped into small pieces), 1 inch Ginger (chopped into small pieces) and 50 grams of boiled peas into the Ghee and mix everything very well
7. Keep frying all the above for at least 2 to 3 minutes. Now, take out cooked rice from the cooker and put it into the pan
8. Mix all the above very well and keep frying for another 2 minutes. Your Jeera Rice is now ready to be served hot with Arhar Daal Tadka etc.
Note: You can also put some Kishmish (Raisins) and shallow fried Kaju (Cashew Nuts) in above recipe.
Image Source