Rajasthan Special: Jodhpuri Pyaz ki Kachori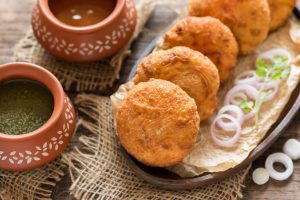 Pyaz ki Kachori Recipe: Rajasthan, the land of kings, is a renowned tourist destination but it is heaven for foodies as well.
Type: Pyaz ki Kachori Recipe, Jodhpuri Pyaz Ki Kachori, Indian Food, Marwari Food, Indian Cuisine
Cuisine: Pyaz ki Kachori Recipe, Jodhpuri Pyaz Ki Kachori, Indian Food, Marwari Food, Indian Cuisine
Keywords: Pyaz ki Kachori, pyaz kachori recipe, jodhpuri pyaz ki kachori
Preparation Time: PT20M
Cooking Time: PT45M
Total Time: PT1H5M
Recipe Ingredients:
Pyaz ki Kachori Recipe: Rajasthan, the land of kings, is a renowned tourist destination but it is heaven for foodies as well. Its snacks are famous throughout the country. Bikaneri bhujia, dal bati churma, malpua, mawa lassi are some of the mouth-watering delicacies that have gained the popularity, now available in many restaurants. Pyaz kachori also called as Kande kachori is the Jodhpuri snack that has become the popular street food in many places. Generally, people love to have it at breakfast or prefer it as an evening snack.
Mostly, we prepare the stuffing with moong dal, peas, or potatoes but the pyaz kachori has the unique taste, it is flaky and crispy outside and spicy and juicy inside.
This is the perfect recipe for a party snack, kitty party, family get-together, or office party. If you follow all the tips and suggestions, then the recipe isn't very complicated. Many people think that preparing it at home is a tough task, it is little time consuming but yes not as tough to prepare.
All the ingredients are mostly available in everyone's kitchen, so prepare it any time, or any occasion you want to.
Prep Time: 20 mins
Cook Time: 45 mins
Total Time: 1 hr 5 mins
Course: Appetizer, Snack
Cuisine: Indian
Servings: 14 Peaces
Calories: 186kcal
Equipment: Pan, ladle, Grinder, Pressure Cooker
Pyaz ki Kachori Recipe Ingredients:
2 Cup White Flour
½ tbsp Carom Seeds
1 tbsp Fennel Seeds
1 tbsp Coriander Seeds
1 tbsp Cumin Seeds
4 Onions Medium size
3 Potatoes Boiled
¼ tbsp Asafoetida
2 Green Chili
1 inch Ginger grated
2 tbsp Salt
2 tbsp Gram Flour
1.5 tbsp Red Chili Powder
¼ tbsp Turmeric Powder
¼ tbsp Lemon Juice
1 tbsp Sugar
½ tbsp Garam Masala
1 tbsp Green Coriander Leaves
Pyaz ki Kachori Recipe Preparation:
Kachori Preparation:
Start by preparing the dough. Take a mixing bowl; add 1 and a half cup white flour (maida). Take ½ tablespoon carom seeds, crush with your hands, and add them in the white flour.
Salt ½ tablespoon salt or add as per your taste.
Add ¼ cup oil. This is a necessary step.
Mix well with the help of hands. Also, do not forget to mix it evenly.
Slowly add the water to knead the soft dough. Cover it and keep it aside for 15 minutes.
Kachori Stuffing Preparation:
Before preparing the stuffing, you need to make the masala, which is essential for the stuffing.
Take a pan; add 1 tablespoon fennel seeds, cumin seeds, and coriander seeds altogether. Roast them for 1-2 minutes.
Let it cool and grind it to make a bit coarse masala.
Keep ready 4 medium size onions, finely chopped and 3 potatoes peeled and mashed.
Take a pan, add 3 tablespoon oil, and allow it to heat. Add the grind masala and roast. Add ¼ tablespoon asafoetida and 2 finely chopped green chili. Sauté for 2 minutes to remove the spiciness of green chili.
Add ginger and roast it for 1 minute. Add onions and roast. Do not roast it completely. Keep the flame medium while roasting. Note: If you roast them at high flame, they may leave more water and you will not get the desired taste.
Add 1 tablespoon salt to the onion, to expedite the roasting process.
When the onions are semi-cooked, add 1.5 red chilis and ¼ turmeric powder. Give it a nice mix. (Add the red chilli according to your taste).
Add 2 tablespoon gram flour, so that it absorbs the extra water. (It is needed to bind the stuffing).
Add the potatoes and add ¼ lemon juice. Note: You can use dry mango powder as well, but lemon juice is the better choice.
Add 1 tablespoon sugar; it will give the nice taste followed by ½ tablespoon garam masala.
Mix well, finally add green coriander leaves and turn off the gas.
Remove the stuffing in the plate and allow it to cool. Once, it gets cool. Make the desired balls. I prefer to make a bit bigger than lemon.
After making all the stuffing balls, now again knead the dough and prepare small balls of dough.
Take a small portion of the dough, flatten it with the hands and expand it by keeping edges thin and center thick. You can also use the rolling pin and make the small poori.
Now add stuffing in the center, bring all the edges together and make the ball. Press and flatten it. Prepare all the kachori's in this way.
Take a pan, heat the oil, and slowly drop the kachori in the oil. Do not place more than 4 kachori at the time. Keep the flame low while frying.
Fry till they turn light golden brown and fluffy, fry both the sides. It will take around 15 – 20 minutes.
Take them on a plate; Pyaz ki kachori is ready to serve. Serve hot.
Summary
Serve the delicious snack with the tamarind chutney or green chutney and any beverage of your choice. While preparing keeps some points in mind, take the suggested amount of oil while kneading the dough. It will make the kachori crispy. Knead the soft dough; do not knead the hard dough.
Keep the potatoes quantity low and onions more. Potatoes are used only for the binding purpose and deep fry it on low flame.