Halwai Style Rasmalai Recipe With Secrets | FoodieWish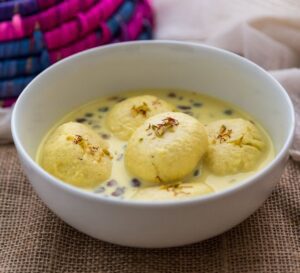 Halwai Style Rasmalai Recipe: Rasmalai is one of the main Indian sweet dishes that many of us are tempted to have it.
Type: Indian Sweet, Dessert
Cuisine: Indian Sweet, Rasmalai
Keywords: rasmalai recipe, rasmalai recipes, recipes for rasmalai
Preparation Time: PT15M
Cooking Time: PT40M
Total Time: PT55M
Recipe Ingredients:
Halwai Style Rasmalai Recipe: Rasmalai is one of the main Indian sweet dishes that many of us are tempted to have it. It is like a cheesecake dipped in a delicious, mouth-watering, and flavored saffron and cardamom cream.
These cottage cheese flattened balls are first dipped in the sugar syrup and then rested in rabri, or cream for about 4 hours.
This is the Bengali sweet but it is accepted enthusiastically all over the country. It is easy to prepare yet tricky. So prepare it at home and enjoy the smooth, lip-smacking sweet.
Servings – 8-10 Pieces
Preparation Time – 15 Minutes
Cooking Time – 2 Hours
Courses – Sweet Dish
Cuisine – Indian
Equipment – Kadai, Colander, Ladle
Calories – 330 per Piece
Rasmalai Recipe Ingredients:
Saffron – ¼ Teaspoon
Cardamom Powder – ¼ Teaspoon
Milk – 1.5 Litres
Vinegar – 2 Teaspoon
Sugar – 500 Grams
Corn Flour – 1 Teaspoon
Pistachio – 8-10, grated
Almonds – 8-10, grated
Kesar Orange Color – 1 Pinch
Yellow Color – 1 Pinch
Rasmalai Recipe Preparation:
Add one-liter toned milk in the kadai, and stir till it boils. Too much fat in the milk can change the texture of rasmalai, so it is recommended to use low-fat milk.
Curdle the milk. Use two tablespoon vinegar and the same quantity of water.
Turn off the flame, once it is boiled and let it cool. Time being, take a bowl; place a colander on that covered with the muslin cloth.
Pour in some vinegar in the milk and stir it continuously to make the chenna.
Put this mixture in the colander to separate the chenna from the whey.
Thoroughly wash the chenna.
Collect all corners of the muslin cloth and drain the extra moisture from the chenna.
Keep it aside for 10 minutes.
Prepare the syrup. Add 500 grams of milk in the pan. Add saffron in it. Saffron is added to the taste.
Add the cardamom powder; this recipe is incomplete without it.
Add nuts to it. You can skip this step.
Mix all these ingredients for about a minute.
To give it a color, add kesar orange and yellow color.
Keep stirring it till until boils. Now boil it for another 2-3 minutes.
Add 100 grams of sugar and cook it for 4-5 minutes.
Don't overcook it; keep the consistency thin so that the rasmalai absorbs it well.
Now prepare the syrup. Take a big pan; add 400 grams or about 2 cups of sugar and 6 cups of water or 1.5 litres of water in it.
Let the sugar dissolve in water.
Make the rasgullas, till the syrup is prepared.
Take the chenna on a plate. Check the texture. It must be dry with a little moisture. If you find it very dry, add 2 drops of water in it, and if it is very moist, squeeze it to get rid of extra water.
Knead with the help of palm to make it fine and smooth. The texture should not be grainy.
Now add one teaspoon cornflour in it. Again knead it for 2-3 minutes to mix it well.
Prepare the balls from it. Take a small portion, roll it between the palms, and press it to give it a rasmalai shape.
Put this rasmalai in the boiling syrup. Place it very gently. Cook it on high flame for about 15 minutes. Cover the lid. Check between for after 2-3 minutes.
Use very light hands to turn them after 5-6 minutes.
After 15 minutes, turn off the flame and let them rest in hot syrup for 5 minutes.
Take a pan; add 10 ice cubes in it. Put some hot syrup in that.
Add all the rasmalai in the pan; we are doing this to stabilize it and to make the rasmalai spongier. Rest it for 30 minutes.
Take one rasmalai, press it with a light hand to remove the extra syrup, and put it in the milk. Repeat the process.
Keep it aside for 4 hours, so that the rasmalai can absorb all the color and flavor from the milk.
Keep it in the fridge. Check after 4 hours.
The rasmalai is ready to serve.
Summary
And that's a wrap on our Rasmalai recipe! We hope you enjoyed making and eating this creamy and delicious Indian dessert. If you have any questions or comments, feel free to reach out. Until next time, happy cooking and enjoy your Rasmalai!