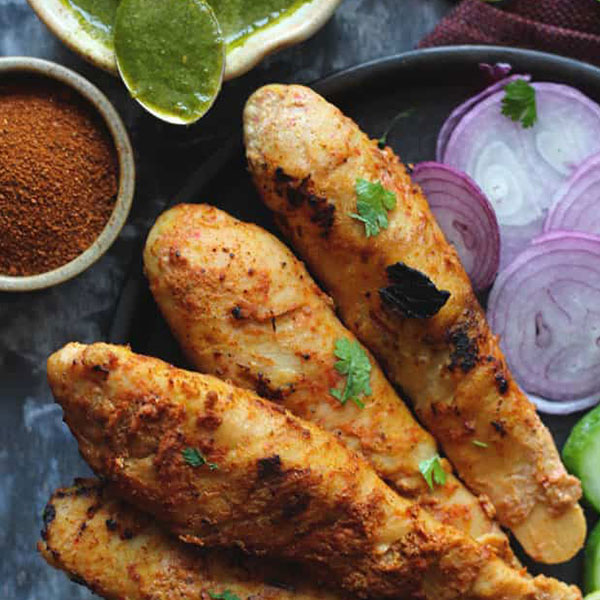 Soya Chaap Tikka Recipe: The lip-smacking vegetarian recipe can be cooked in very little time, a good evening snack, or a snack for the party or get together. You can make it without tandoor either directly on flame or on Tawa.
You may also like: Paneer Tikka on Tawa Recipe
Soya Chaap is easily available in the market and the version of chicken masala tikka, must try this vegetarian recipe, you will love it to the core.
Prep Time: 20 mins
Cook Time: 30 mins
Total Time: 50 mins
Course: Main Course
Cuisine: Indian
Servings: 4 People
Calories: 126kcal
Equipment: Tawa
Soya Chaap Tikka Recipe Ingredients:
4 Soya sticks
6 tbsp Curd
Salt to Taste
4-5 tbsp Fresh Cream
4-5 tbsp Butter
2 tbsp Kashmiri Red Chili Powder
1 tbsp Chaat Masala
1 tbsp Kasuri Methi
1 tbsp Black Pepper
½ tbsp Cumin Seed Powder
¾ tbsp Garam Masala
½ tbsp Pudina Powder
½ tbsp Black Pepper
½ tbsp Turmeric Powder
Food Colour (Optional)
1 Onion (Finely Chopped)
1 Green Chili (Chopped)
2 tbsp Green Coriander Leaves
Soya Chaap Tikka Recipe Preparation:
Prepare to marinate. Take a mixing bowl. Add 6 tablespoon curd.
Now add all the masala, add 2 tablespoon Kashmiri chili powder, ½ tablespoon garam masala, ½ tablespoon chaat masala, 1 tablespoon kasuri methi and black salt. ½ tablespoon cumin seeds powder and salt as per taste. Add pudina powder followed by ½ tablespoon turmeric powder and black pepper.
Add 2 tablespoon melted butter and food colour if you wish to.
Take the soya sticks, wash them.
You can cut them in two ways. First, slice it long and remove the stick. I prefer this way; it has a much better flavour.
The second way is to remove the stick and dice them into 2-3 cubes.
Add Chaap pieces in marinate. Add 2 tablespoon fresh cream (this is optional)
Keep aside for 30 minutes.
Note: the longer you keep, the better the flavour. I prefer to keep it for 2 hours. In case, there is a short of time, then keep it for 30 minutes.
Take a stick. Place the Chaap pieces in the stick.
Note: If you don't have a stick, you can cook it on Tawa as well.
Place it over the direct flame. Cook until black spots appear.
Note: Each stick will take around 2-3 minutes to cook.
Take it down from the flame and brush them with the butter.
After brushing them, again cook it for 1 minute on direct flame.
Take out the Chaap pieces form the stick and cut them.
Now, this is the final and main steps for the chaap.
Put the cooked Chaap in the mixing bowl. Add onion and coriander leaves and 1 lemon juice. Also add 1 green chili, ½ tablespoon red chili powder, garam masala, chaat masala, and 2 tablespoons fresh cream. Do not forget to add 2-3 tablespoon melted butter.
All ingredients are in and serve it with the onions and green coriander chutney.
Image Source