Traditional Festive Recipe Mixed Vegetable Pongal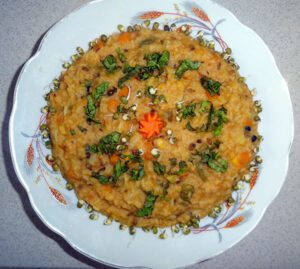 Vegetable Pongal is very popular South Indian breakfast. In this recipe, I have used green moong sprouts and corn. Sprouts are very good for
Type: Vegetable Pongal, South Indian Breakfast, Indian Food
Cuisine: Vegetable Pongal, South Indian Breakfast, Indian Food
Keywords: vegetable pongal, mixed vegetable pongal, vegetable pongal recipe
Preparation Time: PT10M
Cooking Time: PT25M
Total Time: PT35M
Recipe Ingredients:
Vegetable Pongal is very popular South Indian breakfast. In this recipe, I have used green moong sprouts and corn. Sprouts are very good for health. Kids love this pongal very much. Also I have used sambhar powder, which gives an awesome flavor to it.
Preparation time: 10 mins
Cooking time: 25 mins
Serves: 3
Vegetable Pongal Recipe Ingredients: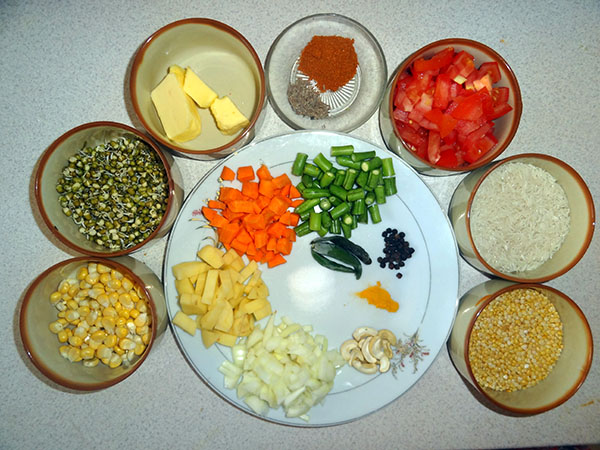 3/4 cup rice
3/4 cup moong dal
4 tbsp butter or ghee
1 tsp cumin seeds
10-15 black pepper (coarsely crush them)
1 chopped onion
3 chopped green chilies
1 chopped carrot
1 chopped potato
8-10 chopped beans
1/4 cup moong sprouts
1/4 cup fresh corn kernels
1 large chopped tomato
1/4 tsp turmeric powder
Salt to taste
2-3 tbsp sambar powder (optional)
Vegetable Pongal Recipe Preparation:
For this recipe, always use 1:1 ratio of rice and moong dal. First soak them separately for 30 mins.
Heat 4 tbsp of ghee in a pressure cooker and add cumin seeds in it, let them splutter for a minute, then add crushed black pepper.
Now add onions and green chilies, fry them until the onions becomes soft.
Now add all vegetables, moong sprouts and sweet corn and let them cook for about 5 mins.
Then add chopped tomatoes, turmeric powder, salt and sambhar powder then mix well and cook for another 3 more mins.
Finally add soaked rice and moong dal and then water in the ratio of 1:3(for 1 cup of rice and moong dal, add 3 cups of water).
Then pressure cook the pongal until 3 whistles then it is ready to serve.
Serving Instructions:
Serve hot with either coconut chutney or groundnut chutney.
We hope you liked our Vegetable Pongal Recipe. For more such recipes follow our Blog foodiewish.com
You may also like: